PollyGrind scares up last-minute venues
October 15, 2014 - 10:08 pm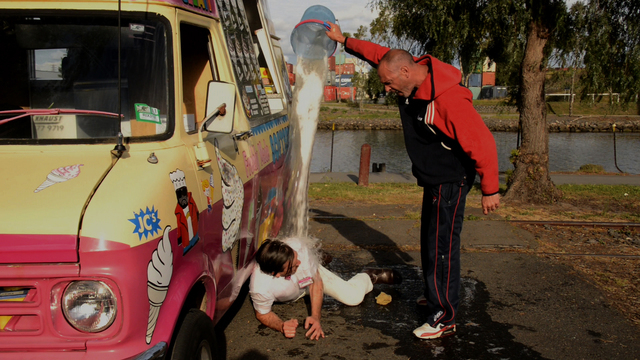 With entries such as "Lust of the Vampire Girls" and "She-Devils PGH," many of the movies Chad Clinton Freeman watches sound like titles in Satan's Netflix queue.
"I see tons of bloody or just-trying-to-be-shocking-or-whatever films," he says of others he screens as the founder and director of the PollyGrind Film Festival.
But if you want to scare him, truly horrify him, take away his venue seven days before the start of his annual celebration of underground cinema.
This year's edition, set for Thursday through Saturday, was a struggle almost from the beginning. Theatre7, the festival's downtown home, closed. Freeman couldn't reach a deal with downtown's Inspire Theater. He was in talks with the now-shuttered Wolf Theater at the Clarion. Every movie theater chain in town either rejected him or wanted too much money, he says, until he found a home at the Century Theatres at South Point.
Then, on Oct. 9, Freeman says, someone in the chain's corporate offices in Plano, Texas, demanded to see screeners of all the PollyGrind entries, some of which were unfinished at the time.
"By noon, I had the filmmakers sending over stuff," he says. "And then by 3 o'clock, I was told to call, and they said they were canceling." (A spokesman for Cinemark, which owns the Century brand, was unavailable for comment.)
"When that happened, it just really knocked everything out of me. … It was so hard just to get that venue," Freeman says. "I just kind of shut down that day."
Then celebrated local B-movie filmmaker Albert Pyun stepped in, contacted Galaxy Theatres, and Freeman soon had a theater, the Galaxy Green Valley Luxury+, 4500 E. Sunset Road, for Thursday's opening night.
For Friday night, Freeman turned to Hell Town Studios and Back Lot, 6425 W. Richmar Ave., which will host screenings in its theater and under the stars on its cemetery set. PollyGrind will wrap up Saturday at the zombie-themed pizza bar The End, 4821 Spring Mountain Road.
Among the festival's highlights are the Australian dark comedy "Chocolate Strawberry Vanilla," which Freeman calls his favorite out of "a little over 800" submissions; "Memory Lane," a feature-length thriller made for less than $300; and a free 10 p.m. Thursday panel that includes local grindhouse legend Ted V. Mikels showing off the teaser for his next movie, "Paranormal Extremes: Text Messages from the Dead." (For a complete schedule and ticket information, see PollyGrind.com.)
"PollyGrind I think scares some people because they don't understand. They think it's just craziness," Freeman says of its wild reputation. But he calls this year's edition of the festival — "I love to say (it's) where arthouse meets grindhouse" — the most mainstream yet.
Mostly, though, he's just glad there is a festival this year after all the last-minute scrambling.
"The way the festival has actually turned out with the three totally different days … I'm happier the way it is now. I just didn't want to deal with what I had to deal with" to get there.
■ Get outta town: Speaking of film festivals, the third annual Laughlin International Film Festival will take place Thursday through Sunday at the Phoenix Stadium 9 inside the Laughlin Outlet Center. For more information, see www.laughlinfilmfestival.com.
Contact Christopher Lawrence at clawrence@reviewjournal.com or 702-380-4567.