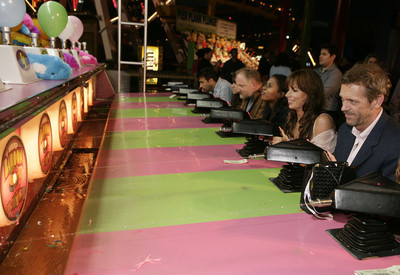 As you may have guessed by now, it takes something special to get me off the couch. Like the pizza delivery guy at the door. Or the smoke barreling out of the kitchen the next day when I forget I'm reheating what's left of that pizza.
Nine days at the Beverly Hilton, surrounded by the likes of the ladies from "Desperate Housewives" and the guys from "The Shield"? That'll do it, too.
As you read this, I'm at the Television Critics Association's summer press tour in Beverly Hills, trying to get a handle on — and, in turn, help you understand — what is shaping up to be the strangest fall season in memory.
Which is appropriate, since press tour often is the strangest place this side of Neverland Ranch.
Lavish parties thrown by the networks have included everything from batting practice at Dodger Stadium to a swimming pool full of models at the then-trendy Skybar to Fox's now-traditional takeover of the amusement park on the Santa Monica Pier that lets critics, among other things, drive bumper cars with the stars. (And how "Bumper Cars with the Stars" hasn't become a summer reality series is beyond me.)
I've had cocktails in "Buffy the Vampire Slayer's" Sunnydale, raided the candy store in "Gilmore Girls' " Stars Hollow and had cheesesteak in "American Dreams' " version of 1960s Philadelphia, where the show's cast eerily turned up in costume and in character.
I've also been serenaded by Donny Osmond, and I once got an autographed self-help book from Dr. Phil that I swear has mystical powers. Although that's for another column.
So back to the helping you part.
This year's press tour has even more news value than usual. We're roughly two months away from the start of the fall season, and nobody has any idea what to expect.
In any other year, critics would have received pilot episodes for all but one or two of the new fall series by early June, and word of which shows to anticipate and which to avoid already would have trickled down to anyone who cared.
So far, thanks to a process that was turned upside down by the writers strike, CBS has sent out four of its five new series, Fox has sent out one of its two — sadly not the one anybody wanted to see — and that's it.
While everyone's been buzzing about Fox's "Fringe," the new series from J.J. Abrams of "Lost" and "Alias" fame, we'll be seeing it for the first time this week. (Yes, a bootleg copy was leaked online a few weeks ago, but I'm holding out to watch the expensive, special effects-heavy drama on the hotel's 42-inch plasmas.)
And while most of the attention being given to The CW's "90210" update surrounds the revolving door of original cast members who will or won't be reprising their roles, we'll finally get a look at the fresh-faced newcomers the struggling network is banking on. (Of course if they don't pan out, I'm sure Jennie Garth and Shannen Doherty could carry the show for a couple of years with weekly, elaborate, "Dynasty"-style catfights.)
Over the next week, the networks and their cable siblings will trot out the casts and behind-the-scenes talent for each of their new series, as well as several returning ones, for press conferences and small group or one-on-one interviews.
If that's not enough access, should you find an interesting actor or actress enjoying a quiet moment at one of the many parties, he or she has to talk to you. It's like a law or something. Although anyone who was caught up in the Great Crush of 2000 — the claustrophobia-inducing scrum of middle-aged men that engulfed then-19-year-old newcomer Jessica Alba — can tell you that policy has its disadvantages.
And while the whole thing may sound a lot like TV fantasy camp, there's a reason press tour has become known as the Death March with Cocktails.
The days are long, stretching from around 8:30 a.m. until 10 or 11 p.m. And spending the better part of an hour listening to actors and writers congratulate themselves for some wretched series that everyone in the room knows won't last a month is even less fun than it sounds.
But I'll be there for every last minute of it, so I can help you make sense of the upcoming season the closer we get to the fall.
I'll also be blogging news, gossip and all the general wackiness throughout the next week at www.reviewjournal.com/blogs/vegasvoice.
And believe me, I'm not complaining. The busier I can keep myself, the less free time I'll have to call the sitter to see how my couch is doing without me.
Christopher Lawrence's Life on the Couch column appears on Mondays. E-mail him at clawrence@reviewjournal.com.
ON THE WEB Christopher Lawrence blogs from the Television Critics Association press tour in Los Angeles Read the blog REALITY CHECK DeAnna Pappas chose Jesse over Jason on the finale of "The Bachelorette." And Christina outlasted Petrozza to win "Hell's Kitchen." Other reality show contestants getting the boot last week include: • "America's Best Dance Crew": Phresh Select • "Celebrity Circus": Rachel Hunter • "Greatest American Dog": Michael and Ezzie • "I Survived a Japanese Game Show": Darcy (again) • "Last Comic Standing": God's Pottery and Esther Ku • "Legally Blonde the Musical: The Search for Elle Woods": Natalie • "The Mole": no episode aired • "Nashville Star": Tommy Stanley and Pearl Heart • "Shear Genius": Matthew • "So You Think You Can Dance": Comfort and Thayne — REVIEW-JOURNAL