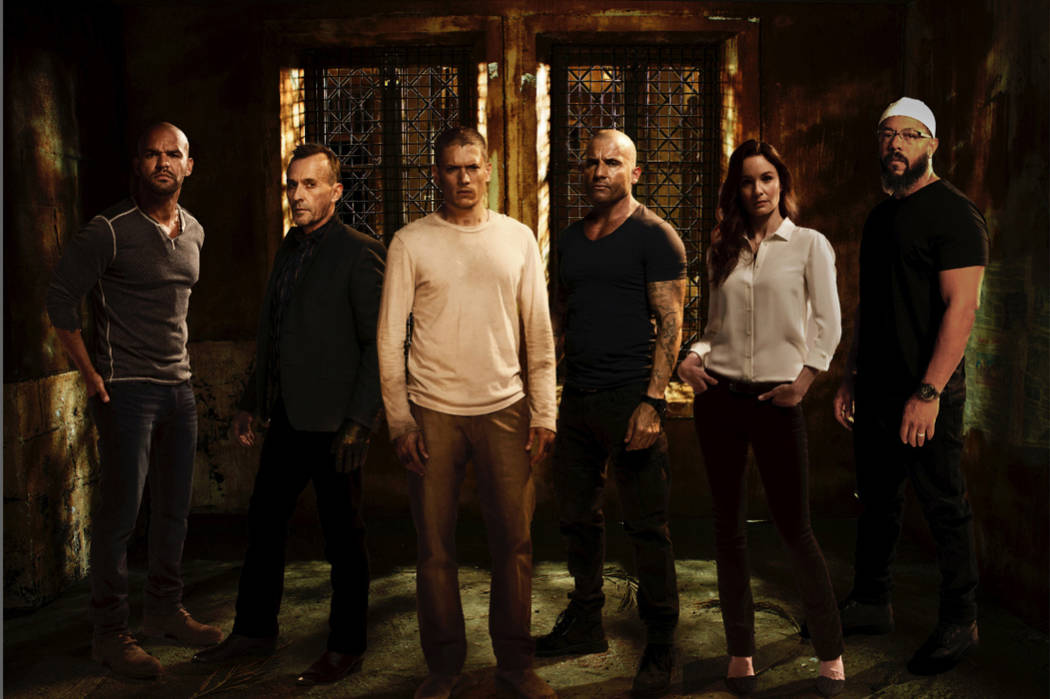 'So they're bringing back 'Prison Break,' too?" my dad asked. "Is it with a new cast?"
Nope.
Even though the 2009 series finale killed off the drama's lead, Michael Scofield (Wentworth Miller), as he sacrificed himself in an electrical explosion so the love of his life, Dr. Sara Tancredi (Sarah Wayne Callies), could escape to freedom during the show's approximately 87th prison break. And even if he hadn't, he'd be dead anyway because of a brain tumor.
But there Michael is — alongside Sara, his brother Lincoln (Dominic Purcell) and fellow escape artists Sucre (Amaury Nolasco), C-Note (Rockmond Dunbar) and the unfortunately named T-Bag (Robert Knepper) — in the nine-episode event series that kicks off at 9 p.m. Tuesday on Fox.
This is the part where I should mention the point of this column: If you have questions about television, send them to me at clawrence@reviewjournal.com or on Twitter @life_onthecouch, and I'll use my powers for good to answer some of them here each week.
To save you some time, if our TV listings are wrong, it's usually because someone at the channel decided to air something else after announcing its schedule, and no, I don't know why the commercials always seem to be louder than the show you're watching.
Anyway, back to the return of "Prison Break."
It's the latest of Fox's legacy series to be reborn — following last year's successful relaunch of "The X-Files" and this year's so-so reboot of "24" — and it surely won't be the last. (Fingers crossed for that "O.C." revival, so long as they keep Marissa Cooper dead and buried.)
It isn't just Fox, of course. Netflix has spun off "Full House," aired new episodes of something resembling "Arrested Development" and reunited those Gilmore girls. Showtime is bringing back "Twin Peaks" for another cup of coffee in May. And NBC has ordered 10 episodes of "Will & Grace" for later this year, an "L.A. Law" reboot is in the works, and rumors of "Law & Order's" return are harder to kill than, well, Michael Scofield.
As for why "Prison Break," it's gained a new generation of fans thanks to all four of its seasons being available on Netflix. And recognizable brand names are needed more than ever to cut through the clutter in this era of too-much TV. It's part of the reason why Fox also had "Lethal Weapon" and "The Exorcist" on its fall schedule.
To the real question, though, of how is Michael alive? Well, let's just say electrocutions and brain tumors are nothing considering that Sara's severed head was delivered to Lincoln in a box — kudos to him for not wailing "What's in the box? What's in the box?!" — only for her to return to the series the following season.
Contact Christopher Lawrence at clawrence@reviewjournal.com or 702-380-4567. Follow @life_onthecouch on Twitter.
Shows to know for the week ahead
Eli McCullough (Pierce Brosnan) amasses a dynasty built on ranching and oil in "The Son" (9 p.m. Saturday, AMC), a 10-episode drama that spans 150 years.
■ Dim-bulb heiress Gene (co-creator and Bishop Gorman grad Jillian Bell) heads to college in the second season of "Idiotsitter" (10 p.m. Thursday, Comedy Central).
■ Louis C.K. debuts the first of two stand-up specials scheduled for this year, this one titled simply "Louis C.K.: 2017" (Tuesday, Netflix).
■ "Archer" (10 p.m. Wednesday, FXX) continues to break the comedy mold, this time with Sterling as a gumshoe in 1947.
■ "Prison Break" ( 9 p.m. Tuesday, FOX) keeps gaining new generations of fans as fans catch up on the past four seasons on Netflix.