Puzzling 'John From Cincinnati' makes viewers ask 'Huh?'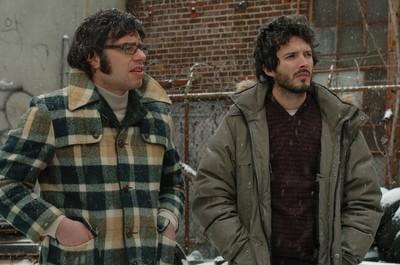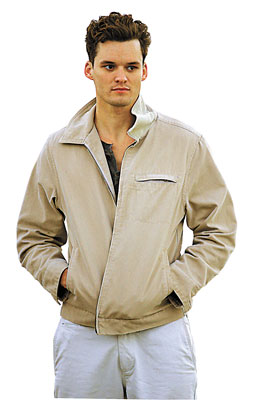 Those hoopleheads canceled "Deadwood" for this?
If you stuck around after last night's finale of "The Sopranos" for the premiere of "John From Cincinnati" (9 p.m. Sundays), you've got to be wondering what all the fuss was about.
Last May, somebody at HBO fell in love with what "Deadwood" creator David Milch was pitching for his follow-up project, and the acclaimed western's final season was quickly derailed to rush "John" into production.
If Chris Albrecht hadn't already lost his job as HBO's chairman and CEO for allegedly assaulting his girlfriend last month at the MGM Grand, the outcry from "Deadwood" fans this week would have sealed his fate.
It's not that it's bad, it's that I'm already three episodes into "John" and I have no idea what's going on.
A levitating surfer? A bird that brings the dead back to life? Rebecca De Mornay playing the grandmother of a 13-year-old?
Still, all of that makes more sense than the title character.
Looking like an extra from "The Flamingo Kid," John (Austin Nichols) shows up in Imperial Beach, Calif., with a vocabulary consisting primarily of "The end is near." Everything else out of his mouth is something he parrots back, nonsensically, from other people, which automatically paints him as one of TV's three magical A's: alien, angel or autistic. No one's saying which.
And while it's nice to see some familiar "Deadwood" faces — Jim Beaver (Ellsworth), Dayton Callie (Charlie Utter) and Garret Dillahunt (Jack McCall/Francis Wolcott) — "John" lacks that traditional sense of excitement and grandeur that's missing from HBO's latest crop of original series.
Take "Big Love" (9 p.m. today). The Henricksons, America's first family of polygamy, are dealing with the fallout from having their lifestyle exposed in the first season finale. But other than that, nothing much happens in the first five episodes.
It's a slightly different show this season. Consciously or not, there seems to be a greater emphasis on showing just how far outside mainstream Mormonism polygamy really is. And Bill Paxton's keeping his pants on, which is an improvement over last year, when his bare backside appeared so often it drew its own paycheck.
But while the action may be sparse, "Big Love" is worth watching just for the scene in which Mary Kay Place, as one of the wives of corrupt polygamist leader Roman Grant (Harry Dean Stanton), tries to explain her family tree: "It's kind of complicated, so try to follow along. I'm 32 of 56 children. And when I married Roman, I became my own stepgrandma because my father married Roman's daughter Bailene. So, little Josie, that makes you my stepgrandma and I'm your stepmom. And when I had (her son) Alby, he became my great-uncle and I became his great-great-grandmother. Which, of course, makes me my own grandmother."
That sense of humor is shared by HBO's newest comedy, "Flight of the Conchords" (10:30 p.m. Sunday). It's an interesting departure, but one that only sporadically works.
The series focuses on the title musicians — Jemaine Clement and Bret McKenzie, billed as New Zealand's fourth most popular folk parody duo — and their quest to make it in New York, despite having only one obsessive, lusty fan.
The musical comedy, much of which appears to have been shot on film stock left over from a 1970s porno, is a return to the laughs-on-a-budget style of "Tenacious D" and "Mr. Show," with just a hint of "Extras."
Depending on your level of sobriety, "Conchords," which feels like something you'd stumble across in the wee hours on BBC America, probably will strike you as either a brilliant piece of performance art or the dumbest thing you've ever seen.
Either way, it seems destined to make more of a splash on YouTube than become a mainstream hit like HBO's last remaining show with any buzz, "Entourage" (10 p.m. Sunday). But even that isn't immune to the channel's malaise.
The fourth season of the every-guy's-fantasy series gets off to an odd start with a fake documentary about the filming of the boys' dream project, "Medellin." And Perry Reeves now gets star billing as Ari's wife, which can only mean more of the superagent's home life and less of his interactions with his gay, Asian assistant Lloyd that make for some of the comedy's best moments.
Bottom line: HBO needs "Deadwood" now more than ever. If "Jericho" fans can bring that inferior drama back from cancellation by sending 50,000 pounds of peanuts to CBS, just think what "Dead"-heads could accomplish by inundating HBO with 50,000 pounds of something integral to that series.
Horse plop, anyone?
Reality roundup: Hung Huynh, executive sous chef at Restaurant Guy Savoy, represents Las Vegas on the new season of "Top Chef" (10 p.m. Wednesday, Bravo).
Christopher Lawrence's Life on the Couch column appears on Mondays. E-mail him at clawrence@reviewjournal.com.
CHRISTOPHER LAWRENCELIFE ON THE COUCH