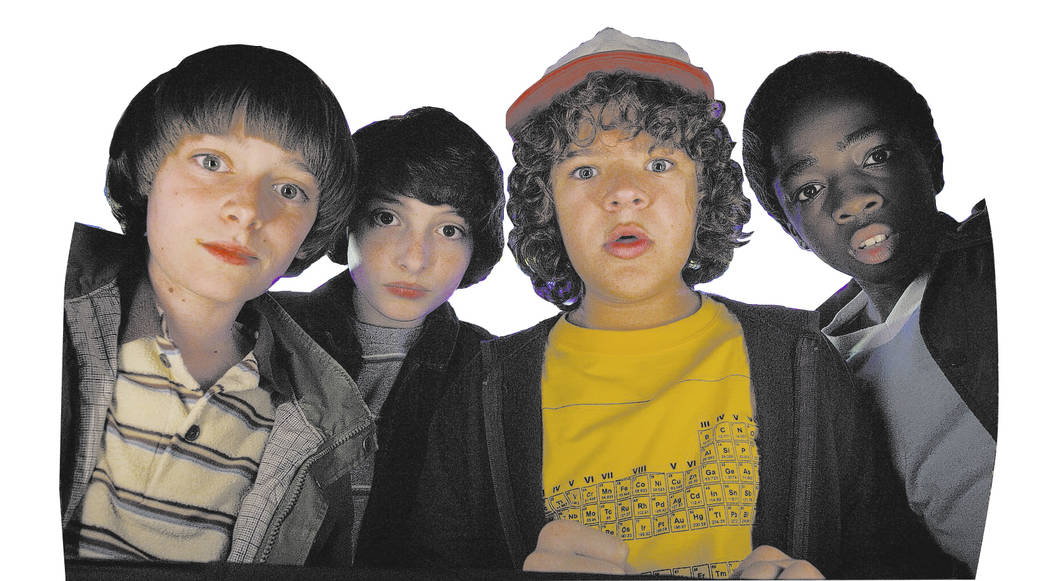 Light a candle for Barb. Break out the Eggos. Maybe even bake an Upside Down cake.
The boys, and Eleven, are back in the second season of "Stranger Things" (Friday, Netflix).
It's officially being referred to as "Stranger Things 2," because The Duffer Brothers, creators of the pop-culture phenom, envisioned the first season as a film.
"What would be the ultimate long movie?" they asked in July at Comic-Con by way of describing their approach to the series. "And it would be Spielberg directing a big, fat Stephen King book with John Carpenter music."
As "Stranger Things 2" opens, it's 1984, nearly a year since Will Byers (Noah Schnapp) was rescued from the Upside Down, and he's still having "episodes" where he can see into that alternate dimension.
Trucker-hatted Dustin (Gaten Matarazzo) and slingshot-toting Lucas (Caleb McLaughlin) are both infatuated with Max (Sadie Sink), the new girl in Hawkins, Indiana.
Will's overly protective mom, Joyce (Winona Ryder), is dating Bob (Sean Astin), a Kenny Rogers-loving Radio Shack employee, much to the chagrin of Will and his brother, Jonathan (Charlie Heaton), who's still nursing a crush on Nancy (Natalia Dyer).
Mike (Finn Wolfhard) has spent every day of the past year trying to contact Eleven (Emmy nominee Millie Bobby Brown), about whom I'm not legally allowed to write.
And Steve (Joe Keery) still has TV's most amazing hair this side of Connie Britton.
My greatest joy of the first season — aside from learning there's a person in this world named Finn Wolfhard, as well as saying "Finn Wolfhard" as often as possible — was the evolution of character actor extraordinaire David Harbour into a legitimate leading man with his portrayal of Hawkins Police Chief Jim Hopper. (He's already been cast as Hellboy in the upcoming big-screen remake.)
Not surprisingly, that was one of the actor's favorite elements as well.
"One of the great things about Season 1, at least for Chief Hopper, is that he does get to go on such a classic hero's journey," Harbour said at Comic-Con. "He starts out like such a jerk and such a loser and so horrible, and you hate him. … And then by around Episode 4, you're, like, 'This guy is super awesome, and if he dies, I'm suing Netflix.' "
In "Stranger Things 2," Will is being hauled back and forth to the mysterious Hawkins Lab for tests overseen by Dr. Owens (Paul Reiser), who insists Will's episodes are only a result of the impending anniversary of his abduction.
Not that Will ever could forget his disappearance, but his classmates aren't making it any easier. Taunts of "Zombie Boy" and "freak" rain down on Will daily. "Do you wanna be normal? Do you wanna be just like everyone else?" his brother asks. "Being a freak is the best."
The first two episodes are mostly dedicated to letting viewers soak up the ambiance of 1984. The boys play "Dragon's Lair" at the local arcade and marvel at how anyone could have beaten Dustin's high scores on "Centipede" and "Dig Dug." On Halloween, the four of them take so much pride in their Ghostbusters costumes, it's virtually impossible not to smile.
By the third episode, though, things indeed start becoming stranger, as something far greater and more sinister than the Demogorgon is coming for Will.
"Stranger Things" debuted in July 2016 to little fanfare, but the perfectly fonted series won't sneak up on anyone this year. As a sign of just how huge the drama has become, the cast was given one of the prime spots at Comic-Con: Saturday in the cavernous Hall H, alongside the Marvel and "Justice League" panels.
That doesn't mean there aren't plenty of surprises in store this season. They just take a back seat to the wonderful way the Emmy-winning series celebrates the strangeness in all of us.
Contact Christopher Lawrence at clawrence @reviewjournal.com or 702-380-4567. Follow @life_onthecouch on Twitter.