Suspense, and sharks, scarce in thriller '47 Meters Down'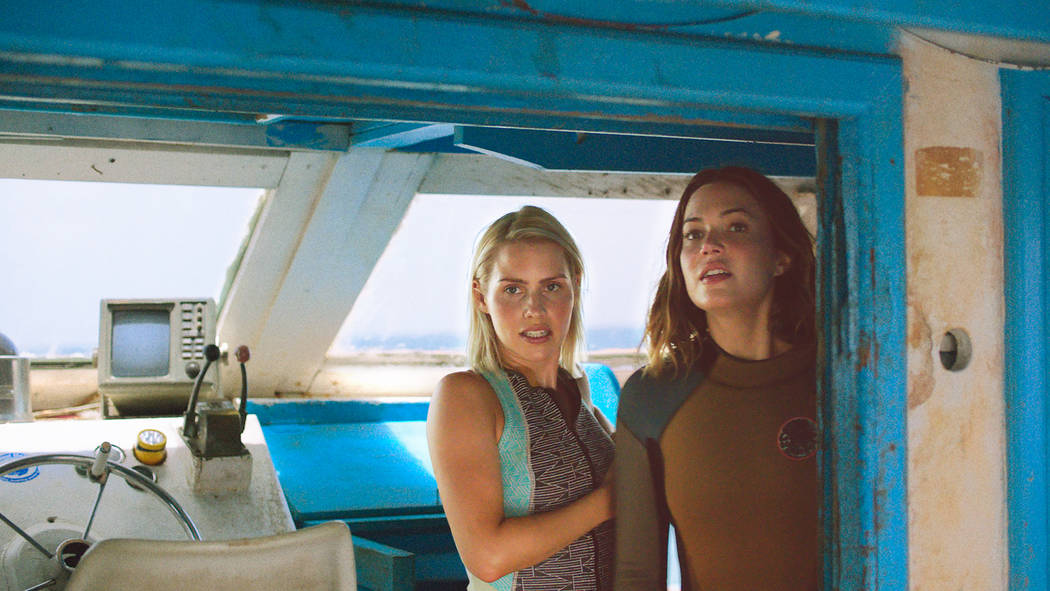 The moral so far this summer movie season? If you get dumped before an exotic vacation, stay home. Lose the deposit. Eat the whole cost if you must. Because, based on "Snatched" and now "47 Meters Down," if you bring a family member instead, you'll regret it for the rest of your life. Especially if you hook up with a hot local.
Fresh off a breakup, Lisa (Mandy Moore) takes her sister Kate (Claire Holt) on what was supposed to be a romantic Mexican retreat. Then they hook up with a couple of hot locals (Yani Gellman, Santiago Segura), and the next thing they know, the sisters are being lowered in a cage into freshly chummed waters to swim with sharks.
The cage is rusty, the chain is rusty, the crane is rusty. Even the boat is rusty. Instead of the cutesy Sea Esta, the craft should be named the SS Tetanus. So it's really no surprise when the cage breaks free, sending Lisa and Kate to the bottom of the sea, 47 meters below. (That's a little more than 154 feet for us 'mericans.)
The sisters have a limited supply of oxygen. They can't swim straight to the surface or they'll get decompression sickness, aka the bends, and die. And besides, there are sharks everywhere.
Supposedly.
For a shark movie, "47 Meters Down" contains maybe five minutes — 10 tops — of the predators.
Hidden behind the murky water, wet suits and face masks, and talking through communications units that make both of them sound like Darth Vader hyperventilating, it becomes increasingly difficult to tell the sisters apart. For a good 15 minutes, I completely mistook Jane's predicament for Kate's.
The script, by director Johannes Roberts and Ernest Riera, who teamed on last year's horror movie "The Other Side of the Door," is little more than a series of "I'm so scared" and "We're going to die down here." And when the movie's precious little action takes place — there might be 10 minutes of suspense in the whole thing — it's staged in such a way as to be nearly impossible to tell what's happening.
"47 Meters Down" may sound a lot like last summer's "The Shallows." But the difference between seeing a bikini-clad Blake Lively fight a shark and watching two sisters in wet suits and diving tanks cry about being menaced by sharks is, as the saying goes, the difference between lightning and a lightning bug.
Discovery's annual Shark Week starts July 23. But if you just can't wait to get your fix, you could settle for "47 Meters Down."
Just consider it shark weak.
Contact Christopher Lawrence at clawrence@reviewjournal.com or 702-380-4567. Follow @life_onthecouch on Twitter.
Review
Movie: "47 Meters Down"
Running time: 89 minutes
Rating: PG-13; sequences of intense peril, bloody images, and brief strong language
Grade: D+
Now playing: At multiple locations