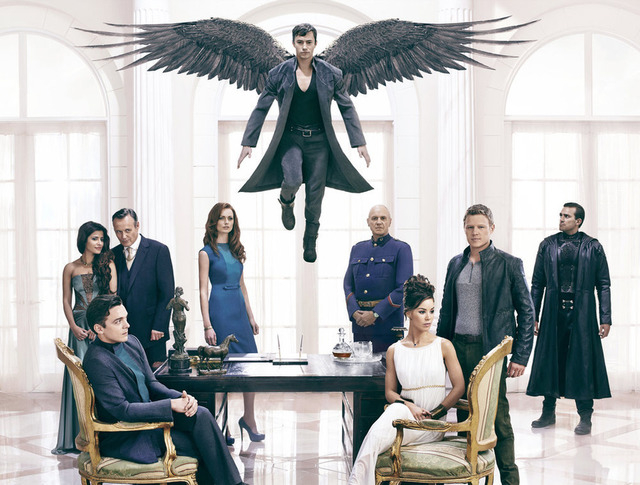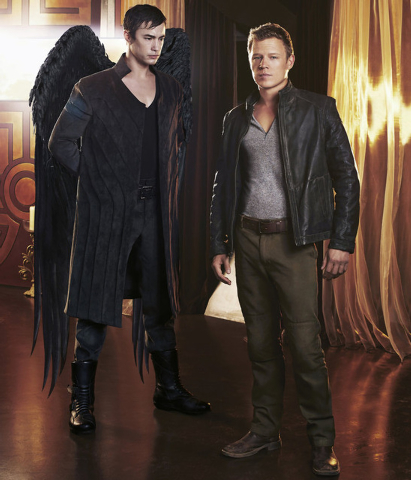 Sure, many of our homeowners are still underwater.
And much of Lake Mead's walls still aren't.
But there's at least one good reason to be excited about the future of Las Vegas: When the angels attack, either killing or possessing most of humanity, we'll be the greatest city left standing.
Take that, all you 'burghs and 'villes with your fancy professional sports franchises!
"Dominion" (9 p.m. Thursday, Syfy), an offshoot of the 2010 movie "Legion," takes place 25 years after the disappearance of God.
The archangel Gabriel (Carl Beukes) led an army of lower angels against the world. The archangel Michael (Tom Wisdom) sided with mankind. Survivors gathered in fortified cities, with the greatest being Las Vegas, which, for no apparent reason, has been rechristened Vega.
A protective gate seals off the resort corridor north of Luxor. Caesars Palace is home to the city's ruler, General Riesen (Alan Dale). His political rival, Secretary of Commerce David Whele (Anthony Head), seems to have taken over the MGM Grand.
A giant nuclear reactor sits on the North Strip. New York-New York has become a military barracks. And Michael is.up to some kind of kinky shenanigans in a retrofitted suite high atop the Stratosphere.
There's also a forbidden love between a soldier (Christopher Egan) and Riesen's daughter (Roxanne McKee), whom he's sworn to protect. A disenfranchising class system has taken root. And some political intrigue and treachery have been thrown in for good measure.
But, first and foremost, "Dominion" is about the battle between humans and angels, three of which are shown playing Texas hold 'em in the ruins of what appears to be the South Point.
"Dominion" doesn't appear to be the breakout, mainstream hit the channel's been seeking since "Battlestar Galactica." But it could have been.
The DVD sent to critics included a shot of the Paris Las Vegas marquee touting the upcoming Vega Jubilee — a far cry, it turns out, from Bally's "Jubilee!" — before flashing an ad for Donny and Marie with the caption, "Voted 'Best Performers' Las Vegas Review-Journal."
I adored the idea that, despite 25 years of angel attacks and the destruction of most of the world, somehow, some way, Donny and Marie were still plugging away on the Strip. And that the R-J might be, too.
Alas, that was temporary footage that's been removed from what you'll see.
I'll keep watching just to check out the future liberties "Dominion" takes with our fair city. But the version with Donny and Marie still singing and dancing a quarter century after the apocalypse? Hoo boy! That coulda been a classic.
See this CSI: Las Vegan Yolanda McClary, a former crime scene investigator, is back on the case in new episodes of "Cold Justice" (9 p.m. Friday, TNT).
Food fight: The Bistro in Boulder City and Elements Kitchen &Martini Bar square off in "Hungry Investors" (9 p.m. Sunday, Spike).
Special screening: An encore presentation of the Metropolitan Opera's "Rigoletto," set in 1960s Las Vegas, can be seen at 7 p.m. Wednesday at the Colonnade, Sam's Town, Santa Fe, South Point and Village Square.
Contact Christopher Lawrence at clawrence@reviewjournal.com or 702-380-4567.