'Terminator' series, 'One Tree Hill' share common threads
January 7, 2008 - 10:00 pm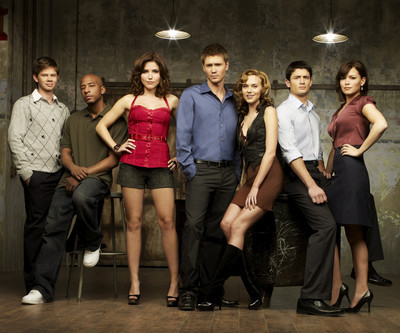 The future.
To some, it's a time when robots patrol a post-apocalyptic world, searching for any remaining humans to slaughter.
To others, it's a time when a 21-year-old girl from Tree Hill, N.C., can design her own multimillion-dollar clothing line, run her own magazine and grace the covers of others.
I'm not sure which vision is more frightening.
The sci-fi shoot-'em-up "Terminator: The Sarah Connor Chronicles" (8 p.m. Sunday and 9 p.m. Jan. 14, KVVU-TV, Channel 5) and the sappy teen soap "One Tree Hill" (8 p.m. Tuesday, KVCW-TV, Channel 33) have more in common than you'd think.
Voice-overs from their main characters that aren't as deep as they'd hoped. Casts with roughly the same number of facial expressions as the recently Botoxed. And mountains of teen angst.
Make that young adult angst. To avoid those messy college years, "One Tree Hill" sent its characters hurtling four years into the future.
With that, you can add time-trippiness to their similarities: In keeping with the timeline of the 1984 movie, "Terminator" opens on Aug. 24, 1999, so future resistance leader John Connor, played by Las Vegan Thomas Dekker, still can be a scrawny 15-year-old.
Thankfully, Sarah Connor ("300's" Lena Headey) is around to protect her all-important son from the roaming killer cyborgs. (The series pretends, much like everybody else, that "Terminator 3: Rise of the Machines" never happened.)
Headey's Sarah is softer than Linda Hamilton's take on the character — as are 90 percent of Ultimate Fighters — but she's no less obsessed with John's safety. On the strict-o-meter, she makes Joan Crawford look like Lynne Spears.
Outside of school hours, John is all but under house arrest. Keep your head down. Blend in. Don't go outside. Sarah's mantra: "No one is ever safe."
"I know the rules," John sighs when Sarah thinks he might have compromised his safety. "They're, like, written on the inside of my eyeballs."
Being hunted is clearly getting to him, as is the future's plan for him. Then there's puberty and the fact that the Terminator sent to protect him (Summer Glau, doing a variation on her dangerous-woman-of-few-words character from "Firefly") is a hot piece of alloy.
He may grow up to save the world, but right now he's so mopey that if you squeezed him really hard, a Dashboard Confessional album would pop out.
Maybe that's why "Terminator" is never as fun as it should be. Still, its flaws are fairly easy to forgive.
The adult John Connor sent an engineer back to 1963 to build some type of Terminator-killing isotope gun and scatter the pieces of it throughout the safe deposit boxes of an under-construction bank to avoid detection? Why not? It makes more sense than "One Tree Hill's" Lucas Scott (Chad Michael Murray), all of 22 years old, being both an important author and the new coach of the Tree Hill High basketball team. (I hear next season he'll also become a grizzled detective, an astronaut and Hillary's VP.)
Considering his writing samples featured on the show, in all their overwrought, 14-year-old-with-a-blog glory, no one's going to believe he's published a novel. I'm not so sure anyone's going to believe he's read a novel.
But his future is still more realistic than that of Brooke Davis (Sophia Bush). Four years out of high school, she'd be lucky to be an intern at a major New York fashion house. But the thought of her running her own, and becoming a media darling in the process, is ludicrous. Especially considering the name of the line: Clothes Over Bro's. (Helpful hint, Brooke: 's makes a word possessive, not plural.)
The rest of the "One Tree Hill" regulars have more reasonable lives. Peyton (Hilarie Burton) is an underling at an L.A. record label and is still all "blah, blah, music can save the world." Haley (Bethany Joy Galeotti) is a teacher, and her husband, Nathan (James Lafferty), is, well, The CW has asked me not to say what happened to Nathan. But don't take that to mean it's anything clever.
The only positive in this new season is that Moira Kelly and Barry Corbin, the series' only accomplished actors, seem to have been left behind during the leap through time and now can go on to better things.
But if you still think "One Tree Hill's" idea of the future doesn't sound all that bad, here are five words that should chill you to the bone: recurring guest star Kevin Federline.
The present has never felt so safe.
Getting real: Jo Frost gives local parents Brian and Teri Schumacher a wake-up call on "Supernanny" (9 p.m. Wednesday, KTNV-TV, Channel 13).
Christopher Lawrence's Life on the Couch column appears on Mondays. E-mail him at clawrence@reviewjournal.com.
CHRISTOPHER LAWRENCELIFE ON THE COUCH
REALITY CHECK
Former Playmate of the Year Tiffany Fallon was the first to be fired from NBC's "The Celebrity Apprentice."
Other reality show contestants getting the boot last week include
"Crowned": Jill and Nicole
"Project Runway": Elisa
— REVIEW-JOURNAL