'The Secret Life of Pets' unleashes clever comedy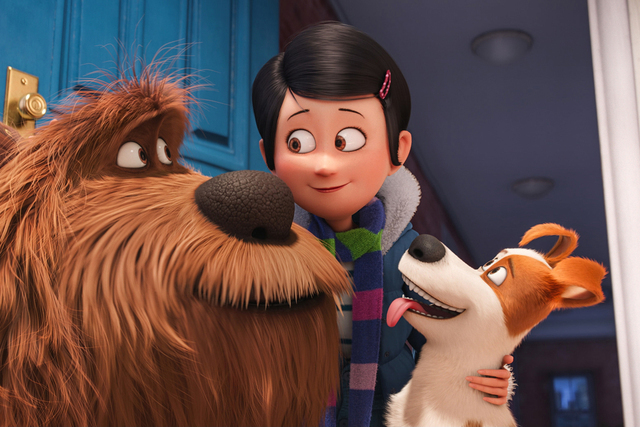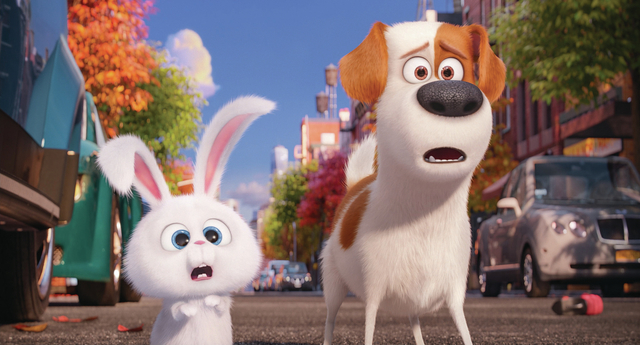 Ever wonder what your pets do while you're at work all day?
Me neither.
But that's the premise of the thoroughly entertaining "The Secret Life of Pets," which, unlike last weekend's gentle but dull "The BFG," offers nearly as much for grown-ups as it does kids.
For starters, that's the magnificent Louis C.K. as Max, a terrier who considers himself the luckiest dog in New York. He's so in love with his owner, Katie (Ellie Kemper, "Unbreakable Kimmy Schmidt"), his only problem is that she leaves, pretty much every day.
While the other animals in the building spend those days rummaging through refrigerators, watching telenovelas or getting a massage from an electric mixer, Max is content to stare at the front door for hours, eagerly awaiting Katie's return.
Then, one day, Katie brings home a massive mutt (Eric Stonestreet, "Modern Family") from the pound. His name's Duke, but to Max, he's "the death of all good things."
The ensuing turf war and battle of wills leads to both of them being captured by animal control, then broken out by Snowball (Kevin Hart), a militant bunny who's declared war on humans with the rallying cry "Liberated forever! Domesticated never!"
Lost and alone, Max and Duke follow Snowball into the sewers, where the rest of the city's unwanted pets have congregated. Meanwhile Gidget (Jenny Slate), a Pomeranian with a not-so-secret crush on Max, rallies Max's friends to find him and bring him home.
There's not much to the story by the "Despicable Me" team of Cinco Paul and Ken Daurio and "Minions" writer Brian Lynch. And it lacks the depth of Pixar movies. ("Finding Dory," it ain't.)
But "The Secret Life of Pets" is less manic and more relatable than director Chris Renaud's previous "Despicable Me" movies. Pretty much everyone has noticed the weird things pets do. Far fewer have spent a significant amount of time around a supervillain.
Take fat cat Chloe (Lake Bell) for example. "I'm your friend," she tells Max. "And as your friend, I've gotta be honest. I don't care about you or your problems." Such a cat thing to say.
There's some genuine cleverness in the script as well. In the sewers, we briefly meet some Sea Monkeys, who bemoan, "It's not our fault we don't look like the ads." Basset hound Pops (Dana Carvey) is so ancient, he declares, "For me, every breath is a cliffhanger."
"The Secret Life of Pets' " vocal talent is superb. Admittedly, Louis C.K. doesn't sound quite right during his scenes of jubilation. It's just not a series of noises we're accustomed to hearing from him. But he's terrific nonetheless. The manic Kevin Hart surpasses his work in last month's "Central Intelligence," which had been his most likable role to date. And the great Albert Brooks escapes from the "Finding Dory" recording booth long enough to voice Tiberius the hawk, who's white-knuckling — Do hawks have knuckles? — his way through not eating the rest of his companions.
(On a side note, Netflix just added the seven movies written and directed by Brooks: "Real Life, "Modern Romance," "Lost in America," "Defending Your Life," "Mother," "The Muse" and "Looking for Comedy in the Muslim World." Do yourself a favor and check them out after you put the kids to bed.)
"The Secret Life of Pets" is a slight, but consistently enjoyable diversion that's barely 90 minutes long, including the limp "Mower Minions" short that precedes it.
Illumination Entertainment, the company behind the Minions, certainly knows a cash cow when it sees it. But with the studio's promising musical "Sing" due out at Christmas combined with the strides it made in "The Secret Life of Pets," Illumination seems capable of bigger and better things than those little yellow mumblers. If only everyone involved would allow their full creativity to be unleashed.
Contact Christopher Lawrence at clawrence@reviewjournal.com. On Twitter: @life_onthecouch.
Review
Movie: "The Secret Life of Pets"
Running time: 91 minutes
Rating: PG; action and some rude humor
Grade: B
Now playing: At multiple locations