Vegas among brightest stars of TV universe
December 28, 2014 - 8:41 am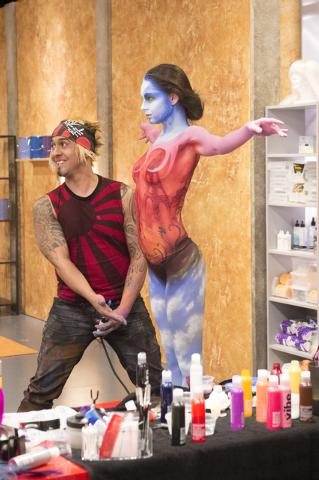 This year, viewers said goodbye to such television mainstays as "How I Met Your Mother," "Sons of Anarchy," "True Blood," "Boardwalk Empire," "Californication," "White Collar" and "Drop Dead Diva."
"The Killing" was canceled for seemingly the seventh or eighth time in its four-season run.
And we saw the last of "Here Comes Honey Boo Boo" once family matriarch Mama June started dating a sexual predator.
Since that's now sufficient grounds to cancel a reality show, I've dedicated all my free time since then to creating some romantic sparks between Kris Kardashian and Bill Cosby.
In other departures, two long-running local institutions came to an end when "America's Got Talent" and "So You Think You Can Dance?" discontinued their Las Vegas callback rounds.
Despite those setbacks, our fair city continued to increase the size of its reality-TV footprint.
Syfy's new magic competition "Wizard Wars" and GSN's new body-painting competition "Skin Wars" were teeming with local talent, both in front of the cameras and behind the scenes.
National audiences were introduced to Las Vegas-based bargain kings Jason T. Smith and Bryan Goodman on Spike TV's "Thrift Hunters," hotel savior Shane Green on Travel Channel's "Resort Rescue" and sports betting consultant Steve Stevens, aka Darin Notaro, on CNBC's "Money Talks."
Valley native Steve Darnell and his team at Welder Up turned old cars into "Mad Max"-meets-"Frankenstein" works of art on Discovery's "Vegas Rat Rods." After three years of improving other people's houses, HGTV's Property Brothers, Drew and Jonathan Scott, finally got to renovate their southwest valley home in "Property Brothers at Home."
The "Pawn Stars" brand expanded with the debut of History's locally produced game show, "Pawnography." Local culinary talent battled for supremacy inside food trucks in FYI's "Late Nite Chef Fight." And former light-middleweight boxing champ Fernando Vargas opened his valley home to cameras in mun2's "Welcome to Los Vargos."
On the scripted side, "Modern Family" checked into Mandalay Bay for one of its best episodes of the year. Lifetime turned the story of the polygamist leader arrested just north of the city limits into the lurid, stomach-churning creepfest "Outlaw Prophet: Warren Jeffs." Humans and angels waged war in a futuristic, fortified Las Vegas in the Syfy series "Dominion." And in Adult Swim's animated "Mike Tyson Mysteries," the ex-champ left his valley home each week to travel the country in a van dubbed the Mystery Mobile and assist strangers with the help of his homeschooled Korean daughter, the ghost of the Marquess of Queensberry and a foul-mouthed pigeon who used to be a man.
Elsewhere, late-night remained in flux as Jay Leno left "The Tonight Show" for real this time. (At least so far.) David Letterman announced his impending retirement, and Craig Ferguson stepped down. John Oliver departed "The Daily Show" for his own must-see media takedown on HBO. And Stephen Colbert bid farewell to "Stephen Colbert," his character from "The Colbert Report."
With its beer-can dolls and "time is a flat circle" musings, HBO's "True Detective" debuted in January and seemingly locked up the crown for 2014's best new series. Then FX's "Fargo" came along three months later, unleashed Billy Bob Thornton's Lorne Malvo like a malevolent force of nature and topped it.
The year's best new under-the-radar series included Netflix's surprising British crime import "Happy Valley," FX's raunchy relationship comedy "You're the Worst," IFC's ridiculous miniseries spoof "The Spoils of Babylon" and Comedy Central's touchingly insane "Review."
Showtime's "Homeland" became good again. Not Emmy-winning best-drama good, but at least nearly-as-bonkers-as-"24" good. And its sister series "The Affair" surpassed the pay channel's "Master of Sex" to become cable's intercourse-iest prestige drama.
AMC's "The Walking Dead" was again the biggest thing on TV. In head-to-head matchups this fall, it routinely outscored NBC's "Sunday Night Football."
The viral sensation "Too Many Cooks" proved some of the most creative television can be found at 4 a.m. on Adult Swim disguised as an infomercial.
Syfy's "Sharknado 2: The Second One," starring occasional Las Vegas Chippendale Ian Ziering, was much better in a bad way (or much worse in a good way, depending on your perspective) than its predecessor.
In a development that would have seemed more appropriate in 2009, CBS' "Big Brother" became the final network broadcast to convert to high-definition.
And the year's goofiest trend? Nakedness. After the success of Discovery's "Naked and Afraid," TLC turned "Buying Naked," its special about nudist real estate shenanigans, into a series. VH1 launched "Dating Naked." Fox ordered and then scrapped its own naked dating series.
And, looking ahead to 2015, WE tv has ordered a reality show called "Sex Box" in which couples — you guessed it — have sex in a box.
See you next year.
Contact Christopher Lawrence at clawrence@reviewjournal.com or 702-380-4567.
Entertainment
2014 shows less memorable for modest hits than epic fails
Premieres pace 2014 in the arts
Restaurant scene enjoys rebound in 2014
Mediocre year for movies yields few gems
Looking back on 2014 music moments
Norm Clarke: Celebrities shined, squabbled