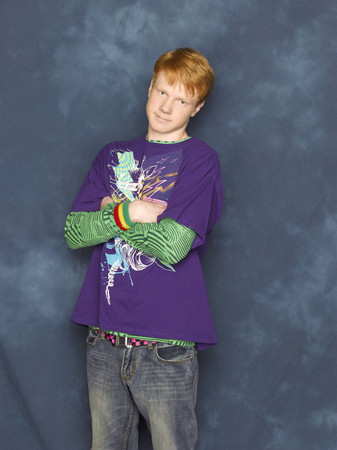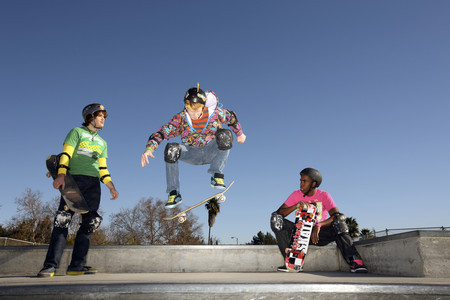 I always assumed Disney's young stars were grown in a lab.
You know, some sort of secret research facility deep in the bowels of Anaheim, beneath Cinderella Castle, just past Uncle Walt's frozen remains.
Because, really, the odds of random genes coming together in nature to create the likes of Vanessa Hudgens and Zac Efron, the Brangelina of the Clearasil set? That's a longer shot than Heidi and Spencer from "The Hills" ever becoming useful members of society.
The monkey wrench in that scenario, though, is Adam Hicks, the Las Vegas native who stars in the new teen sitcom "Zeke and Luther" (8:30 p.m. Monday, Disney XD).
The 16-year-old, whose credits include the movies "How to Eat Fried Worms" and "The Shaggy Dog," has been working fairly steadily since 2000, when he landed a recurring role on Fox's dark comedy "Titus." But he'd always done so while living in the valley. "Then any little thing," Hicks says, "I'd run out to California."
But after being hired as one of the leads in "Zeke and Luther" — he plays Luther — the Hicks family relocated to a Redondo Beach, Calif., apartment next to the show's production office and a short walk to the beach.
"We're always on location, so we're shooting on the pier, next to the beach," the former Trinity High student says. "And living in Las Vegas, you know, I never really got to see the beach. So it's a big change. It's fun."
The new series focuses on best friends who spend their days skateboarding and, more often than not, getting into some sort of quickly resolved trouble: Zeke and Luther accidentally destroy a neighbor's flower bed; Luther lies and tells his grandmother that he's in a successful band.
It's the first comedy and only the second original series for Disney XD, the cable channel that launched in February as an alternative for 6- to 14-year-old boys who may have felt alienated by the Disney Channel's comedies starring — Ick! — girls.
As a result, "Zeke and Luther" is full of all sorts of boy-centric fun: pigging out on room-service food and trashing a hotel room, digging through the neighbors' garbage and fighting with a raccoon for the good stuff, and Luther's delight in a bowl of peanut butter cabbage soup.
The series is from Matt Dearborn, the creator of Disney's "Even Stevens," which made a star out of a young Shia LaBeouf. So if Hicks plays his cards right, in seven or eight years he, too, could be stealing the spotlight from Indiana Jones, flipping his truck and nearly losing his pinkie, and making out with Megan Fox.
If action stardom doesn't beckon, Hicks always can fall back on music. Disney has a way of turning its TV stars into pop stars, regardless of their talent. Exhibit A: Miley Cyrus, whose success remains a sore spot for any music lover old enough to vote for something more meaningful than the Kids' Choice Awards.
So before Disney's music division grabs hold of Hicks and rushes out, say, "Zeke and Luther Come Alive!" or "Zeke and Luther: Live at Budokan," you should know he has been making music in his spare time since he was young. Well, young-er.
"I've been into music for years now," he says. "Ever since fifth grade."
For now, though, Hicks is thrilled to be combining two more of his early loves: acting and skateboarding.
"I went through a time where I wanted to become a professional skateboarder," he says. "So for it to transition into this whole show … it was like a dream, really."
Producers generally let him perform all the ground tricks, but he says the pros tend to take over for the aerials. "We each have a professional skate double for us who makes us look tremificent." (That's Hicks' word, a combination of "tremendous" and "magnificent.")
He's staying humble, both about the skills he brought to "Zeke and Luther" — "I still have a skate double," he says, "so I wasn't that good" — and the future the show could offer him.
And it's a good thing, because his friends aren't at all impressed by his proximity to the likes of Cyrus, the Jonas Brothers, Selena Gomez and Demi Lovato, all of whom Disney has turned into household names — at least in households with excitable tween girls. But that's mostly because his friends have no idea.
"To tell you the truth, not a lot of my friends actually know what I'm doing," Hicks says. "I like to sort of keep it, like, on hush mode I guess. I don't really like to tell a lot of them, just so when I do go back to Vegas, I can just chill."
It's a little late for that now.
Christopher Lawrence's Life on the Couch column appears on Sundays. E-mail him at clawrence@reviewjournal.com.
ELSEWHERE
"Dateline NBC" goes undercover to catch Las Vegas auto thieves, pimps and counterfeiters at 10 p.m. Monday on KVBC-TV, Channel 3.