'Viva Laughlin' lacks ambition of 'Cop Rock' — no really
October 15, 2007 - 9:00 pm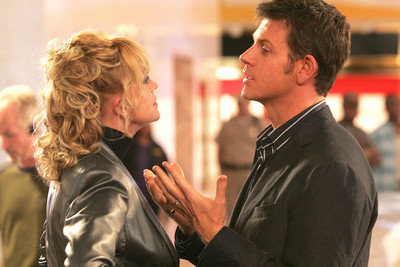 At least there aren't any jazz hands.
After mulling it over for the better part of four months, that's the one good thing I can say about "Viva Laughlin" (10 p.m. Thursday and 8 p.m. Sunday, KLAS-TV, Channel 8).
The series follows Ripley Holden (Lloyd Owen), a would-be Laughlin casino owner caught up in a murder investigation, who from time to time halfheartedly sings along to snippets of pop songs while shimmying about like your drunken uncle on New Year's Eve.
It's the most frustratingly wrongheaded series I've seen this year, and I sat through four minutes of "Cavemen."
It didn't have to be like this.
"Laughlin" is based on "Blackpool," the BBC's Golden Globe-nominated musical miniseries that's cultivated a worldwide following. Adding to its credibility, the drama is executive produced by Tony winner and occasional guest star Hugh Jackman. And the timing for a musical series couldn't be better.
"American Idol" and "Dancing with the Stars" are certified ratings juggernauts. Disney's "High School Musical 2" recently became the most-watched cable telecast of all time. "Hannah Montana," another Disney Channel smash, has sold millions of copies of its soundtracks and turned its young star into the year's hottest concert ticket. And most guys — OK, at least a few guys — have even stopped hating song-and-dance man Justin Timberlake.
Things might have worked out if "Laughlin's" writers had paid more attention to "Blackpool." Those actors weren't terribly musical, but they committed to their dance numbers and made them seem perfectly logical, integral even, through sheer force of will.
"Laughlin" even could have been entertaining had the writers borrowed some of "Cop Rock's" originality, ambition, and — and I'm only guessing here — pretty powerful hallucinogens and penned their own songs. Laugh all you want, but you truly haven't lived until you've seen a watch commander address his officers with a soul shout — "Homicide, arson, robbery, rape/Everybody gets their share/Crime never sleeps, so stay awake/And let's be careful out there" — before rocking out on an organ concealed inside his podium.
To get an idea of what "Laughlin" could have been, check out Jackman's entrance as Nicky Fontana, the shady owner of a rival casino. All shiny suits and swagger, Fontana leads viewers on a tour of his resort while belting out the Stones' "Sympathy for the Devil." Flashbulbs pop, women swoon, and in less than two minutes, you know everything you need to know about him.
If Jackman were the star, "Laughlin" would have given ABC's "Pushing Daisies" a run for its delightfully quirky money. Instead, Owen's Ripley sleepwalks through a minute or so of "Viva Las Vegas," a couple of verses of Bachman-Turner Overdrive's "Let It Ride" and, along with Melanie Griffith, a few bars of Blondie's "One Way or Another." And if the images of Griffith singing and dancing haven't already been outlawed by the Geneva Conventions, I'm sure it's only a matter of time.
But that's just the tip of the tin-eared iceberg. "Laughlin" makes so little sense, you'd swear the Pentagon was running it.
For starters, the characters sing along to the original recordings as though somebody's clock radio just went off. It would have been so much better — not to mention cheaper — to drop Mick Jagger's vocals out of "Sympathy" and just let Jackman do his thing. (Yes, "Blackpool" followed the same approach. But if "because they did it in England" were a legitimate excuse, we'd all be caring about soccer and the Spice Girls reunion.)
"Laughlin" certainly won't make sense to Southern Nevadans. The characters all live in McMansions on lush, rolling estates. Ripley's teenage daughter is dating a professor at "the college." And Ripley's nemesis is a homicide detective from something called "Laughlin PD" — even though the logo on a police car reads "Clark County Police," which is still wrong, but a whole lot closer.
Even the premise lacks common sense. If I'm following the convoluted plot right, the charismatically challenged Ripley is on the verge of bankruptcy because he can't find anyone who'll buy a 25 percent stake in his hotel — a five-star resort with seven restaurants, five pools and 1,300 rooms — for $800,000. Laughlin real estate doesn't fetch Strip-level prices, but they don't just give it away.
Then there's the dialogue. Early on, Ripley wishes the detective (Eric Winter) good luck in solving the murder. "We won't need any luck," he responds. "This is the part where facts and forensics usually fall together like raindrops from the sky."
"That makes no sense," a puzzled Ripley says.
Welcome to "Laughlin."
Christopher Lawrence's Life on the Couch column appears on Mondays. E-mail him at clawrence@reviewjournal.com.
CHRISTOPHER LAWRENCELIFE ON THE COUCH
REALITY CHECK
The ponytail and cheesy moustache weren't enough. A judges' score of 18 out of 30 meant it was Wayne Newton's last tango on "Dancing with the Stars."
Other reality show contestants getting the boot last week include:
"Survivor: China": Dave
"America's Next Top Model": Victoria
"The Bachelor": Lindsey, Sarah and Solisa
"Beauty and the Geek": Rebecca and Will
"The Biggest Loser": Jim
"I Love New York 2": Doc, Sweetie Pie, Champion, Millione and Ears
— REVIEW-JOURNAL