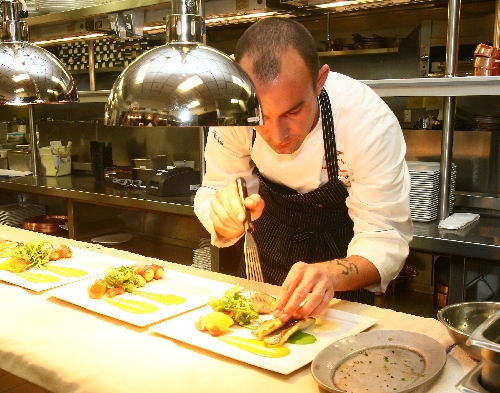 OK, I'll be honest. I was really, really curious about what fish poached in ocean water would taste like.
Because, you know, there's ocean water and there's ocean water. Out at sea, there's that whole bracing thing going on with the wind and the spray, and the water smells pretty good. Closer to shore, not so much. And let's not even talk about the mud flats.
After eating dayboat halibut ($43) in ocean water at Michael Mina's American Fish, I'm still not really sure what it tastes like, because Mina serves it in a sake broth. Still, that broth was really, really delicate, with very subtle flavors. The halibut — the dish completed with soba, bok choy and mushrooms — was characteristically firm and mild, its own subtlety just slightly enhanced by its tame companions. So while I didn't actually get a hint of that ocean water, I'd have to say it served the halibut pretty well.
Which seems to be the whole idea at American Fish. The fish themselves are prepared using three methods, with the best one matched to each fish. So, for example, you won't find them poaching Idaho trout.
You will find them griddling it on cast-iron ($31), though, and rolling it in cornmeal beforehand. The crust was substantial enough to seal in the moisture while the fish was cooked, giving it a nice flakiness. It was accompanied by small and artfully cut pieces of eggplant and squash, with a small pile of couscous, in a little puddle of a thick lemon-caper sauce.
We also had fish baked in sea salt — the Coho salmon ($44) — which, as I expected, bore no trace of the salt except the moisture, again, provided by the fish being sealed while it was cooking. It was done to a perfect medium and accompanied by bacon-wrapped potatoes and arugula for a new-fangled spin on a BLT.
And we had a couple of side dishes. I've always been impressed with Mina's skill with french fries (which I don't really understand, but whatever), and these ($8) were perfect with a plucky tartar sauce, and served in abundance. But they were trounced by a truffled macaroni and cheese ($12) that really carried the flavor of the black truffles, with appropriately firm elbow macaroni and delicate, creamy cheese cloaking it all.
We'd started with oysters ($22), a half-dozen of the little things, three served bloody mary-style, which tasted just as described, three with an extremely mild champagne-vinegar Mignonette that was maybe a bit light for these particular oysters.
Bread — very moist corn muffins and wood-grilled ciabatta, both prime examples of simple goodness — with salted butter and olive oil rounded things out.
The decor was sleek, sophisticated and soothing, as we would expect, with cross-cut wood printed on glass panels on one wall, faux trees behind the bar, punched-metal pillars and a blue-lighted raised ceiling from which something sort of abstract — birds? leaves? — was suspended.
But there was one problem. While our server was personable and reasonably efficient, she put on the full-court press to upsell us during the ordering process, telling us the appetizers were sized for one, as were the side dishes, and that the entrees would come with "garnishes," which turned out to be much more substantial than that.
Well, you know what? I'd hate to see the person who could polish off that whole serving of fries, unless that was all they were eating. The three of us split one appetizer and two sides because we had planned to have dessert, and as it turned out, we skipped it, because we were, as a Texas-born friend of mine likes to say, "Stuffed. Stuffed like a tick."
And happily so, I might add.
Las Vegas Review-Journal restaurant reviews are done anonymously at Review-Journal expense. Contact Heidi Knapp Rinella at 383-0474 or email her at hrinella@ reviewjournal.com.
Review
American Fish, Aria, CityCenter, 3730 Las Vegas Blvd. South; 590-8610
Overall A-
Food A-
Atmosphere A
Service A-
Pluses: Good, fresh fish, creatively prepared.
Minuses: Upselling on the part of our server.