Angry Butcher Steakhouse returns respect to steak au poivre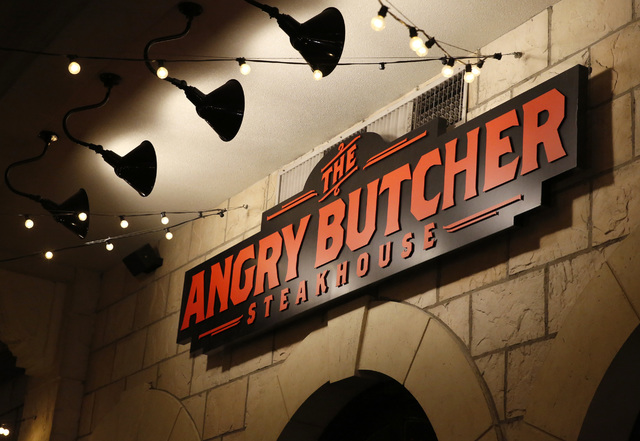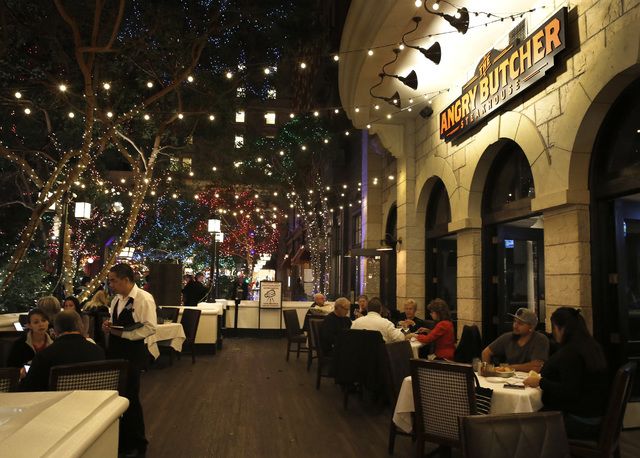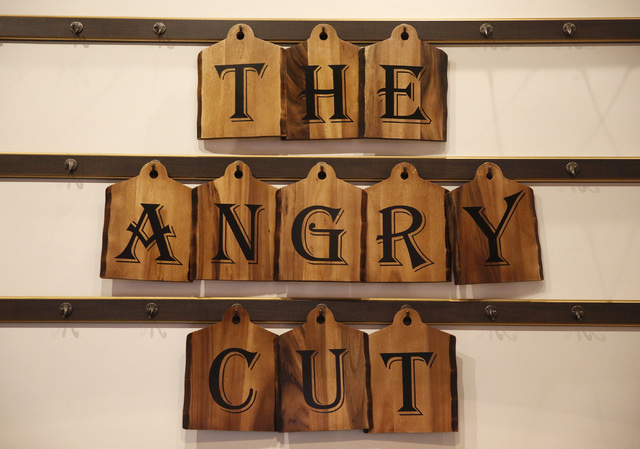 Steak au poivre is a classic dish often neglected, but has been given fresh life through flawless execution at the new Angry Butcher Steakhouse at Sam's Town.
Our order of steak au poivre ($26) was an exceptionally tender flat iron steak that had been pan-roasted to medium rare as ordered, its crust a blend of green and black peppercorns for just the right amount of kick. Sliced thinly across the grain to ensure tenderness, it was served with a sauce creamy enough to balance the pepper and with the added spark of cognac. The house-made chips on the side seemed incongruous with a classic dish that borders on the formal, but they worked, a bit of crispness that softened in the sauce.
A 22-ounce bone-in rib-eye ($38) also was perfectly medium rare, nicely seared in the restaurant's 1,200-degree broiler to emphasize the rich beefy flavor a well-marbled rib-eye can deliver.
Fat Oysters ($12) were described on the menu as "oyster fry flour, vinegar slaw, tartar sauce," and the server mentioned fried oysters, but it turned out to be five oysters on the half shell, a surprise but not a negative. The slaw, which was nicely vinegared, had been piled atop each for great contrasts between chewy oyster and crunchy slaw, subtle sea flavor and vinegar tang. But the "oyster fry flour" was executed as thickish pucklike discs plopped atop each oyster. It fell apart and the discs were bland on their own, even with the tartar sauce, which was subtle in the extreme. Oysters fried in a thinner coating with vinegar slaw on the side would be preferable.
The Angry Butcher Steakhouse has a slightly elegant atmosphere with classical touches left over from when it was a Fellini's, lots of light neutrals and crisp white linens. But all of that left the trendy dish-towel napkins out there all by their rustic selves.
Service was efficient, punctual and pleasant, but a little silly, flinging the "pardners" and other things that seemed like leftovers from the resort's shuttered Billy Boy's Steakhouse.
But on that point, we tried to count our blessings. At least they weren't angry.
Las Vegas Review-Journal restaurant reviews are done anonymously at Review-Journal expense. E-mail Heidi Knapp Rinella at Hrinella@reviewjournal.com. Find more of her stories at www.reviewjournal.com, and follow @HKRinella on Twitter.
Angry Butcher, Sam's Town, 5111 Boulder Highway; 702-456-7777
The essence: A mix of hits and misses but there's plenty of potential there.