Better make room for breakfast at Squeeze In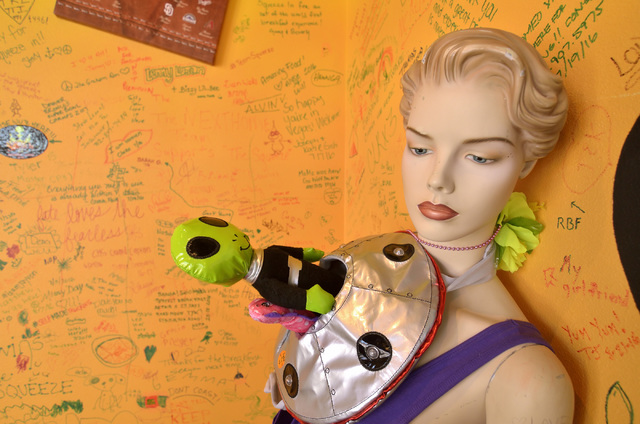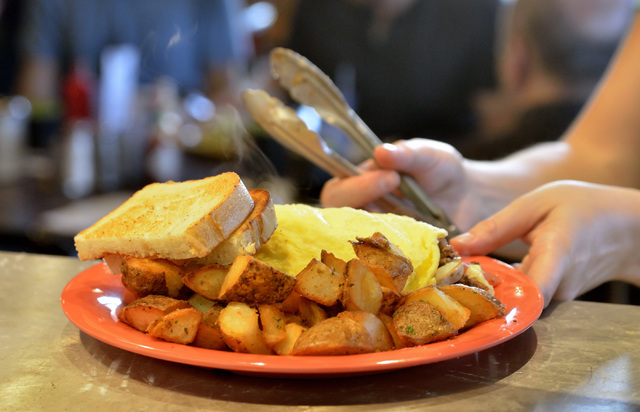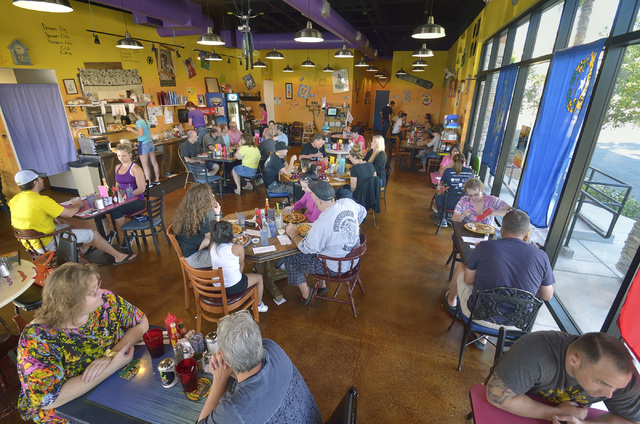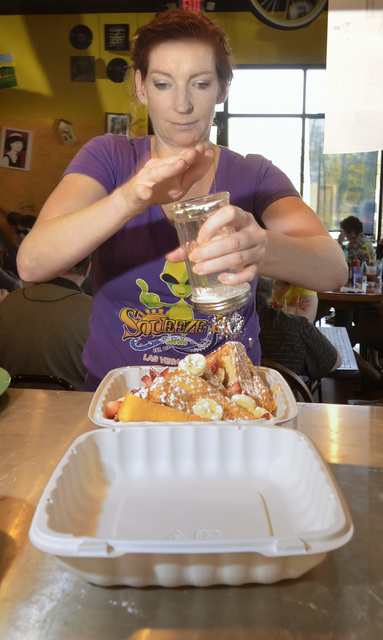 It's not necessary to squeeze in to the Las Vegas location of Squeeze In, but the freewheeling ethos of the original that opened in Truckee, California, in 1974 is very much in evidence here.
As has been the case with a long line of hippies including Jerry Rubin and the more recently deceased Tom Hayden, Squeeze In has gone mainstream. Its sale in 2003 was followed by three locations in the Reno area, one in Redwood City, California, and the one on Fort Apache Road, which will be joined next month by a second at 8876 S. Eastern Ave.
I haven't been to Squeeze In ground zero — not least because it's only 10 feet, 3 inches wide and squeezes in 46 people — but its hippie atmosphere is legendary around Lake Tahoe. In the Las Vegas location it shows up in mismatched window curtains, tables and chairs; purple ductwork and bright-yellow walls that are gradually being covered with graffiti (if you forget to bring your own marker, they have them); and decorative accents that include a bicycle suspended from the ceiling and a collection of record albums thumbtacked to a wall. There's also the green alien mascot (can another spot in Rachel be far away?), which sprung from the restaurants' claim to the "best omelettes on the planet."
And while the boring breakfast stuff is there for the unimaginative, the majority of the menu is as free-spirited as the decor. For instance, the Zweifel somehow combines an omelet with peanut butter, bananas, apples, butter and honey. For us, though, it would be the tamer The Sarge ($13.79). This was a big boy, four eggs whipped into a fluffy envelope around thin strips of tender pastrami, sour cream, salsa and sliced avocado for an appealing bunch of textures.
But Squeeze In isn't all about omelets, as the Bombshelter Bacon Benny ($13.29) showed. There's no clue to the origin of the name, but it would indeed be big enough to feed the inhabitants of a bomb shelter (which would apply to the omelets as well), with three poached eggs atop English muffin halves napped with a very respectable hollandaise. Bacon strips provided a smoky, crispy change from the usual Canadian bacon, with wine-poached mushrooms and sliced avocado for sultry textural contrasts.
Service throughout was fine, the servers frequently refilling coffee and water, though not iced tea.
There's also a menu of bloody marys, mimosas and the like, though not for us because we had work to do and promises to keep.
I'm still intrigued by the Zweifel, though, and that's a promise — to myself — I won't overlook.
Las Vegas Review-Journal restaurant reviews are done anonymously at Review-Journal expense. Email Heidi Knapp Rinella at hrinella@reviewjournal.com. Find more of her stories at www.reviewjournal.com and follow @HKRinella on Twitter.
Review
Squeeze In, 5165 S. Fort Apache Road (near the Tropicana Avenue interchange of the 215 Beltway); 702-485-3971.
The essence: Well-prepared food from an imaginative menu in a fun, throwback-to-the-hippie-era atmosphere