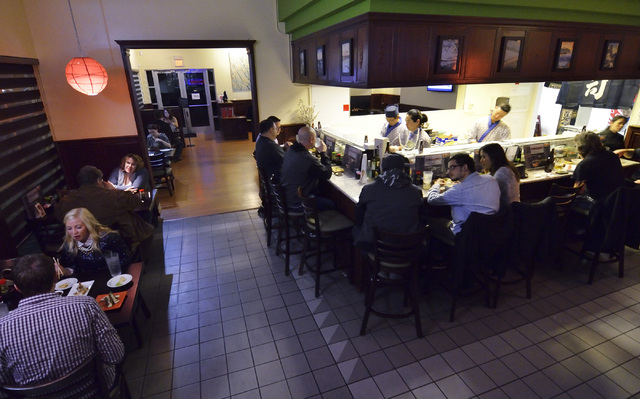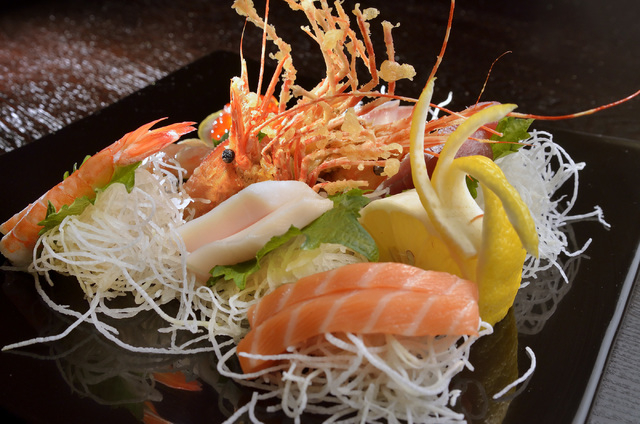 Probably the first thing I noticed while cruising past Blue Fin during the past few years is that the restaurant's subtext is "sushi and roll"; few places make the distinction, and you have to love that attention to detail.
The next thing I noticed was that it has been in business for a while in what can be a problematic location — heavy on strip centers, light on residential, and in a building that has seen a fair amount of quick turnover — and so apparently are doing something right.
And then I went in for dinner, and discovered Blue Fin is doing a lot right.
First of all there's the personable staff. From the guy with managerial gravitas to every server and runner, they made us feel welcomed and comfortable.
Then there's the place itself; not too small or too big (although, as a loud guy at a nearby table told us and the rest of the restaurant, recently enlarged), it's streamlined without being cold, cozy without being kitschy. There's a cool megaposter of a snowy scene in the front window, subdued Japanese art panels on the walls, dark wood louvers in the windows and a soothing neutral color scheme.
And, of course, the food, which is varied, good quality, a good value and just fab.
Blue Fin's menu is all over the sushi (and roll) map, and so, therefore, were we. Most of the listed appetizers were actually kind of unexciting, so we ended up with the Screaming Orgasm ($9.95), to see how it compared with the O's at other local sushi spots. It turned out to be classic, and oh, so good — a big nest of shredded daikon and carrot with radish sprouts, tuna and of course the special sauce, for a study in contrasts of flavors and textures.
From the regular sushi and sashimi menu we tried two pieces of Cajun tuna ($4.25). Classic nigiri sushi, it had, as we would expect, the classic clean, almost sweet flavor of raw tuna, sparked just enough by a bit of Cajun seasoning, resting on perfectly textured sushi rice.
Blue Fin has about a half-dozen shrimp-tempura rolls, a profusion that's somewhat unusual and therefore apparently a specialty. And so we opted for the Marisa Special ($12), in which the crisply fried and lightly battered shrimp is joined within the rice with cucumber for even more crunch and avocado for a buttery contrast, on the outside by fresh tuna and garlic chips for just the right zing.
And the Golden Tiger ($11),with spicy tuna, crab and shrimp, but the best part was the sauce, a blend of spicy mayo and eel sauce that had us wishing it wouldn't be so unseemly to lick the plate.
And some strawberry mochi ($1.50) which were strawberry mochi, but fresh and fruity and just right after all that fish.
When we were seated we were asked if we wanted all-you-can-eat sushi ($25.99 at dinner, $21.99 at lunch), and demurred, because at a lot of sushi restaurants, the AYCE doesn't include the whole menu and we wanted to order at will. We needn't have worried (and maybe could've saved the R-J a couple of bucks) because everything we ordered was on the AYCE menu as well, and we didn't see any silly rules and restrictions regarding it ("You must eat all the rice!") I understood, then, why it was such a popular option with those around us.
As was Blue Fin Sushi &Roll, as it turned out. Problematic location? Apparently not — not with a winning combination like this.
Las Vegas Review-Journal restaurant reviews are done anonymously at Review-Journal expense. Email Heidi Knapp Rinella at Hrinella@reviewjournal.com, or call 702-383-0474. Follow @HKRinella on Twitter.
Review
Blue Fin Sushi & Roll, 3980 E. Sunset Road; 702-898-0037
Overall A
Food A
Atmosphere A
Services A
Pluses: Good sushi, great, personable service.
Minuses: That we didn't have bigger appetites.