October 26, 2007 - 9:00 pm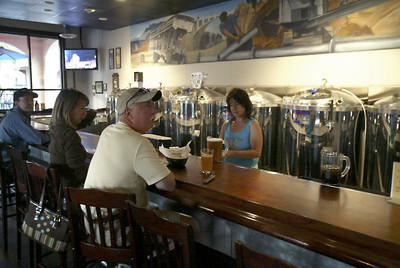 The only real beer garden in Southern Nevada is right in the middle of Boulder City. Who knew?
What defines a real beer garden? Outdoor seating, for one, although in this case the shade is provided by horizontally suspended sails instead of the plane trees more common to the beer gardens of Europe, which don't do so well in our climate.
And beer, of course. It should come as no surprise, thanks to the name, that Boulder Dam Brewing Co. is a brew pub.
So of course that brings us to the beer. How is it? I'll leave that up to the valley's beer nuts, but I sure liked my Black Canyon Stout, which was served nice and cold.
How's the atmosphere? Quaint, at least indoors, where the main room is slightly below street level, the bar extends almost the entire length of the room and the brewing apparatus is visible. I think there's some truth to the rumor that there's an ordinance in Boulder City that requires all businesses and most homes to have a quaint factor.
How's the service? Great. While it wasn't terribly busy on the evening of our visit, we were impressed with how efficiently our waiter was serving both the main room and the beer garden. And he exhibited a dose of common sense as well; when our entrees arrived just a few minutes too soon, he expressed dismay and offered to take them away — a much better reaction than we'd experienced in a trendier high-end spot recently.
How's the food? See paragraph 3 above. Boulder Dam Brewing Co. is indeed a brew pub, which is a half sister to a bar, and so it should come as no surprise that the food is basically bar food.
Which is not to say it isn't well prepared. A Brewer's Bratwurst ($8.95), cooked in some of the brew pub's ale, was plump, juicy and flavorful, and accompanied by a nicely pungent sauerkraut and some basic chips.
Spinach and artichoke dip ($8.95) is a bar food standard but this one was much better than most because it was predominantly spinach and artichokes — as opposed to predominantly random creamy stuff — and so it had more flavor and texture. The tri-colored chips on the side were crisp and sufficiently neutral to show the dip to advantage.
The cheese on the Ploughman's ($8.95) also was quite neutral in both flavor and texture, but that was a bad thing in this case. I've always been keen on this combination — which usually is called Ploughman's Lunch — and its success demands, as much or more so than in most other dishes, on the quality of its components. The fruit was perfect — lots of chilled, plump grapes, crisp apple wedges, juicy orange wedges — but the three big chunks of cheese were lacking in texture and flavor (well, except for the pepper-jack, which had at least the chili flavor going for it), as was the roll in the center of it all, which looked like ciabatta but turned out to be a soft disappointment.
The Bavarian Beer Pretzel ($8.95) was somewhat disappointing as well. It had a decent start but had been charred for some reason, and the charring wasn't a positive. Mustard and a sort of middlin' cheese dip were served on the side, and we ended up using the latter for some of our leftover tortilla chips.
To which I say, dam. There; I lasted nearly the entire review before resorting to a dam pun, another thing that appears to be a requirement of life in Boulder City and becomes rather contagious for those who visit. At the brew pub, the usage is "it's a bolder damn beer."
And a Boulder Dam Brewing Co., which is worth a visit, if just for a beer in the garden.
Las Vegas Review-Journal reviews are done anonymously at Review-Journal expense. Contact Heidi Knapp Rinella at 383-0474 or e-mail her at hrinella@ reviewjournal.com.
HEIDI KNAPP RINELLAMORE COLUMNS
what: Boulder Dam Brewing Co.
where: 453 Nevada Way, Boulder City
phone: 243-2739
overall: B
food: B-
atmosphere: B+
service: A
pluses: Pleasant atmosphere, good service.
minuses: Food a little mixed.