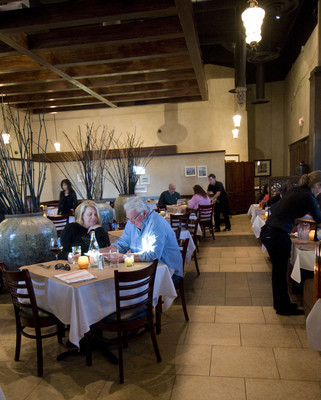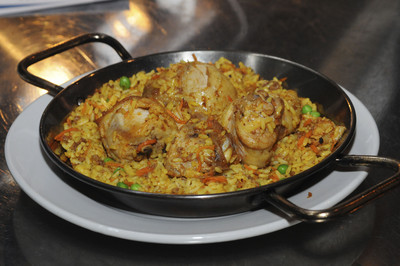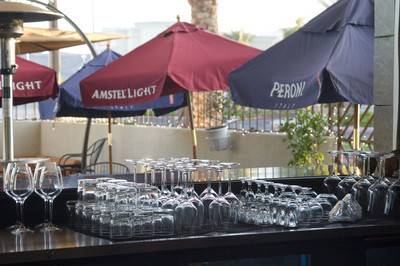 So there I was at Cafe Deia, reeling off the list of tapas we were ordering, and after each of the first three, our waiter nodded and said, "Good choice; good one."
And if you're like me, you don't even hear the words anymore. It's like the retail saleswoman who, as she stares at your 10 pounds stuffed into a 5-pound bathing suit, gushes, without missing a beat of her gum chewing, "Ohhh. Stunning."
Yeah. But when we got to the Tortilla Española, he grimaced and said, "Not one of my favorites." I just smiled and continued with the fifth choice, because I'm quite familiar with Tortilla Española — a thick omeletlike dish of fried sliced potatoes, eggs and sometimes onion — and I knew what I was getting.
So after I finished, he stepped back a little and said, "Now, about the Tortilla Española …"
"I like that," I said.
"Have you had ours?" he asked.
"Isn't it the classic?" I asked, beginning to waver just a bit.
No, he said, it was a Cuban version with mashed potatoes and squash.
"Ew," I said.
"Yeah."
And that was when it became clear that this was a very good waiter.
It's true that I might have liked Cafe Deia's take on Tortilla Española, but it's kind of doubtful, going by the description. (And judging from the waiter's warning, this might be a frequent response from customers.) But here was a server who was willing to risk the wrath of the chef and probably even the owner to tell the customer that no, this is something you're not likely to like. And that's just good customer service.
As it turned out, we liked everything that we did have at Cafe Deia, so maybe his "good choice; good one" was more than just gratuitous. On the cold side, the baba ghanoush ($4) was creamy and nicely balanced, the eggplant and olive oil and tahini and lemon, and delicious, scooped up with warm triangles of puffy pita.
And the Serrano and Manchego ($9) was a classic preparation of a traditional tapas, both thinly sliced and served unadorned with a baguette so we could fully appreciate the deep, earthy flavor of the ham and the nutty sweetness of the cheese.
On the hot side, the bacon-wrapped figs ($7) were a nice change from the more common bacon-wrapped dates, both less sweet and a little crunchy thanks to those tiny seeds. And our most-helpful waiter warned us to wait a few minutes before biting into these, which we did and found still quite hot.
Spinach-stuffed mushrooms ($4) were both skillfully executed and gave us the illusion that we were eating healthfully — the spinach and all that — as long as we ignored the creaminess of the bechamel sauce binding it and the slight bite of the Swiss cheese on top.
Beef kabobs ($8) were our substitute choice and a pretty good one, the marinated, ultra-tender beef cubes nicely accented by the paprika-infused (and quite kicky) sauce on the side.
A pitcher of red sangria ($20) was smooth and just sweet enough, and not so strong that we couldn't drink it.
Cafe Deia has a bit of a conceit, a backstory that involves the owners' 25-year love affair with the village of Deia on Mallorca. The restaurant does evoke that sunny island with stuccoed walls and high ceilings and wooden accents and muted village prints that conjure up a very charming atmosphere.
But that charm was just amplified when we were handed our dessert menus, which took the form of letter paper folded inside envelopes stamped and postmarked Mallorca, with the restaurant's name in calligraphy for the address. An original idea, it carried out the travelogue-y feel of the place.
Which wouldn't have improved the flavor of the orange-infused Crema Catalana ($7), or Spanish-style creme brulee, but that was OK, because it didn't have to; this delicate custard-based dish with its rooftop of caramelized sugar acquitted itself quite nicely.
As, of course, did our waiter, despite the fact that he got quite busy as the evening wore on.
I'd make the comment that he is good enough to be working at a Strip palace of haute cuisine, but why should he? Cafe Deia's customers deserve top-drawer, and that's what they're getting.
Las Vegas Review-Journal reviews are done anonymously at Review-Journal expense. Contact reporter Heidi Knapp Rinella at 383-0474 or e-mail her at hrinella@ reviewjournal.com.
Review
Cafe Deia, 4165 Grand Canyon Drive; 222-3342
Overall — A
Food — A
Atmosphere — A
Service — A
Pluses: Great tapas — and they have paella, pizzas, burgers and salads as well.
Minuses: That we overlooked the outdoor patio.