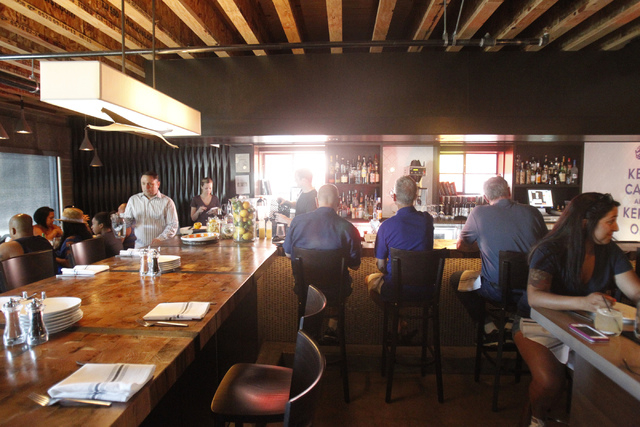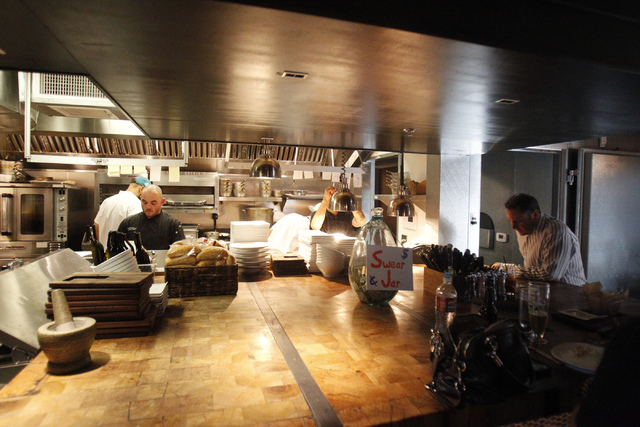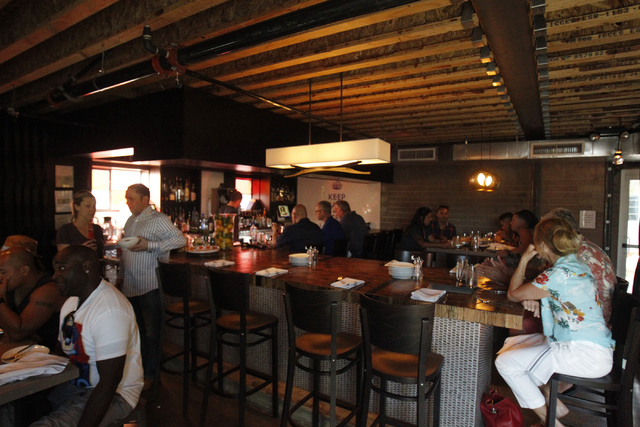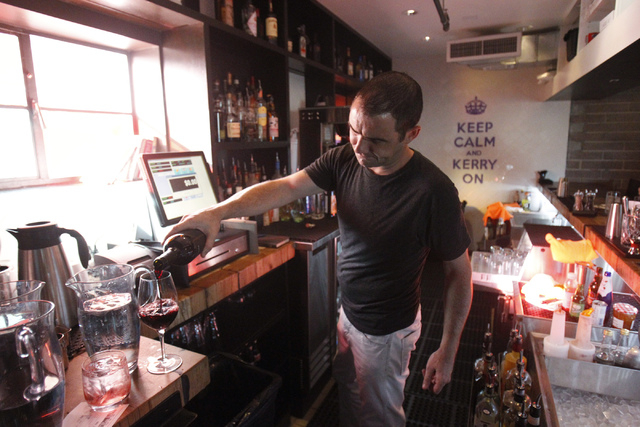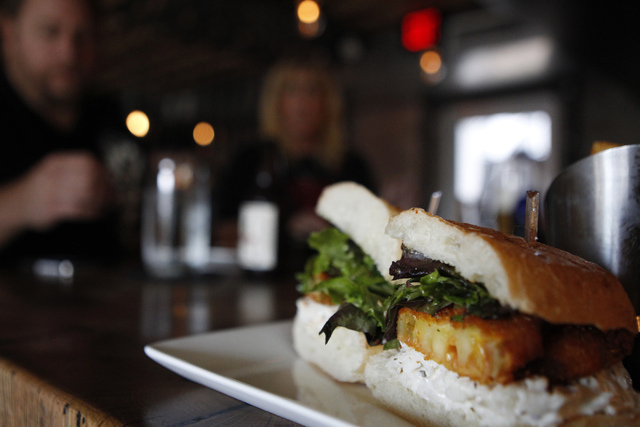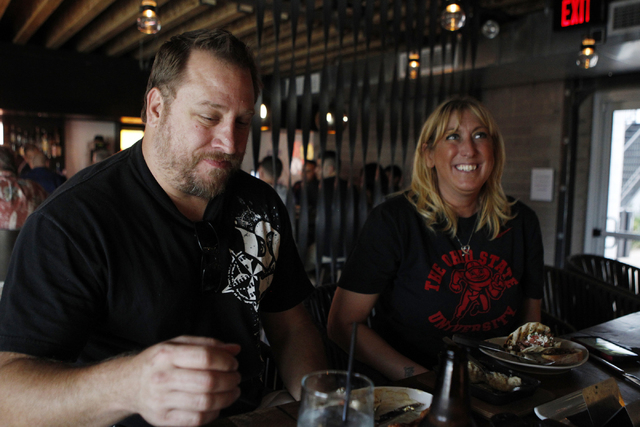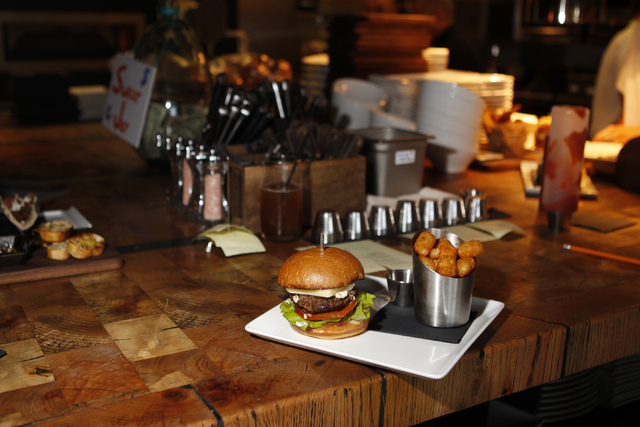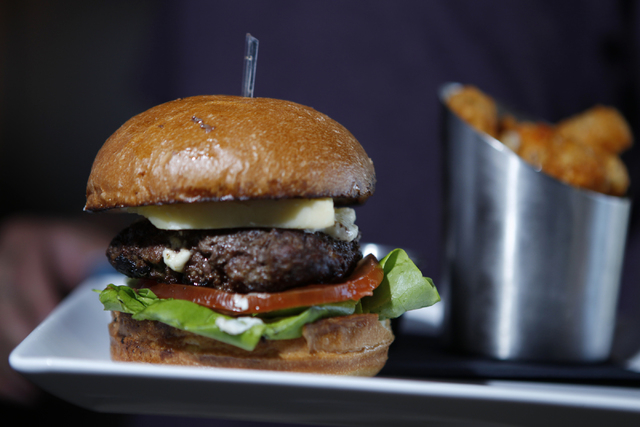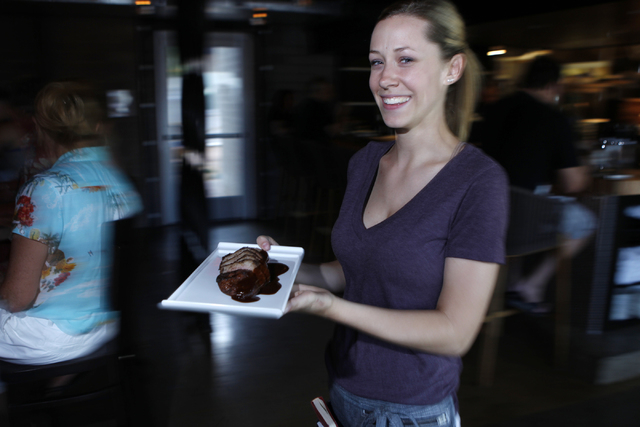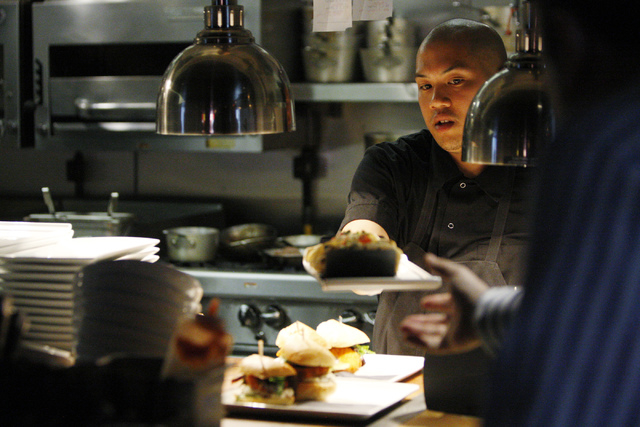 Once again, Kerry Simon has proved that he's adept at reading the zeitgeist.
Over a decade ago, Simon brought Las Vegas fun food for adults — including the sweet treats of childhood — at his (now former) Simon Kitchen at the Hard Rock Hotel, and then a few years later at Simon Restaurant &Lounge at the Palms. There was cotton candy and Rice Krispie bars and other guilty pleasures, made with better ingredients and methods to match the spirit of the times. And that same spirit has been captured at Simon's Carson Kitchen, which opened this summer.
The signs? First, Carson Kitchen is downtown, which is the place to be these days; that it's a block off East Fremont at Sixth and Carson streets is even more in tune with the trend. Then there's the fact that the restaurant is in the John E. Carson Building, a gutted-and-renovated midcentury-modern hotel that's been repurposed as a sort of communal home for a number of businesses. And Carson Kitchen is quite small, which also is in keeping with the Fremont East District, and sort of retro-industrial; ditto.
And the menu is classic Simon, which is to say full of surprises with back stories that strike a chord. Such as chicken skins; who hasn't had a couple of family members who fought over the crispy skins every time there was a big family dinner?
I wasn't one of the fighters, though, so we passed that over for Devil's Eggs ($8) and Bacon Jam ($12) as starters.
I can hear "bacon jam?" resonating through readerdom, so I'll address that first. Yes, bacon, the good, thick stuff coarsely chopped and dressed and glitzed with scattered chunks of brie, served with toasted slices of baguette. It was indulgent but not overly so, and just fab, and we found ourselves scraping out what was left once the toast was gone.
The Devil's Eggs were more familiar but no less successful, starting with basic deviled eggs that would make any Midwestern housewife proud but then topped with caviar and bits of crispy pancetta.
Fried Green Tomato ($12) was a sandwich on a bun, the thick slab of breaded and fried tomato (which, in this case, would do a Southern housewife proud) topped with lots of lump crabmeat and sauce ravigote, an herby concoction that helped restrain the crabmeat just a bit and kept it from trampling all over the tomato.
The Cocoa-Espresso New York Strip ($18) was a somewhat novel preparation — at least in Las Vegas — and I didn't fail to notice that it bucked the trend of mortgage-payment steaks. And yes, it was just as good as or better than many of its gold-digger sisters, the chocolate and coffee tones subtle and complementary to the beef.
And a flatbread ($10), the one with wild mushrooms, blue cheese and caramelized onions, lovely in its simplicity.
But. Here was the thing: Nothing was quite hot enough. We were seated near the open kitchen and I noticed over the course of our dinner that dishes delivered to the adjacent counter generally sat there for a few minutes. I also noticed that there was a powerful fan or exhaust system of some type ventilating the area, which no doubt is all that keeps the kitchen staff from melting. I also noticed that a management type who was standing at the counter, going over some paperwork, basically ignored the food instead of expediting. And so it was a losing combination.
We liked Carson Kitchen enough to stay for dessert, though, despite a rather long initial wait that had sent us decamping to the courtyard (which is what happens when one is an anonymous critic; I wait, just like you) and a hostess who seemed surprised when we said we would stay but then sort of adopted us, checking on us now and then. And so, the Glazed Donut Bread Pudding ($8), which was saved from guilty-pleasure status by the three-rum caramel and creme Anglaise that sauced it. And we were glad we did, but not just because it was richly indulgent.
It was also hot.
Las Vegas Review-Journal restaurant reviews are done anonymously at Review-Journal expense. Email Heidi Knapp Rinella at Hrinella@reviewjournal.com, or call 702-383-0474. Follow @HKRinella on Twitter.
Review
Carson Kitchen, 124 S. Sixth St.; 702-473-9523
Overall B
Food B
Atmosphere A
Service A-
Pluses: Great, creative food from veteran chef Kerry Simon.
Minuses: Most of it wasn't hot enough.
See our Restaurant Inspection Guide, compiled from the Clark County Health District's inspections.