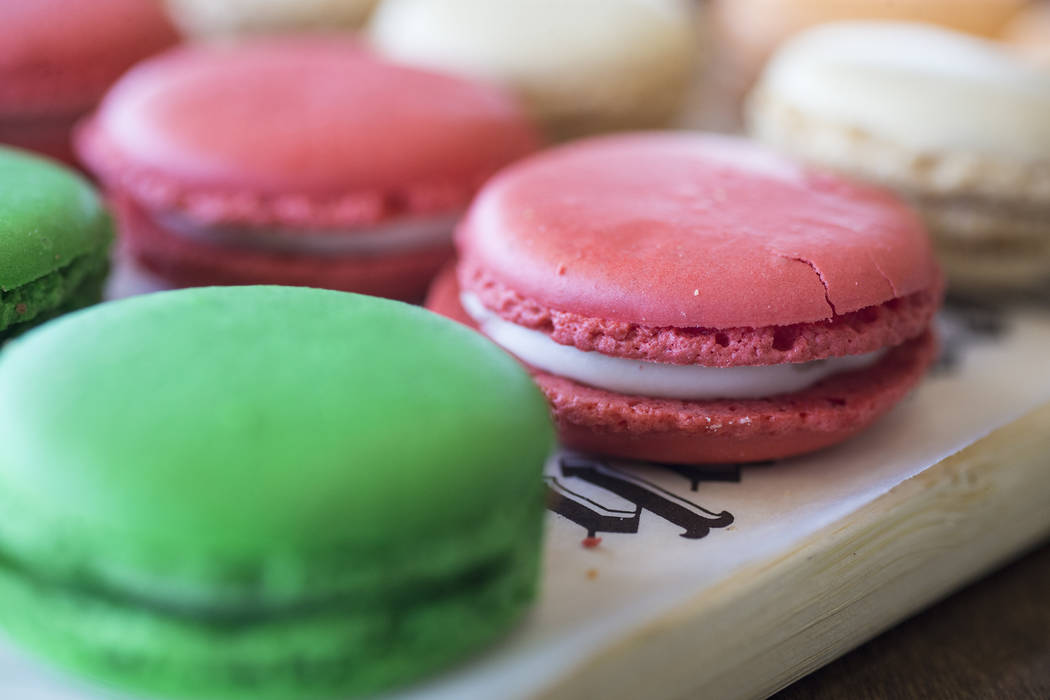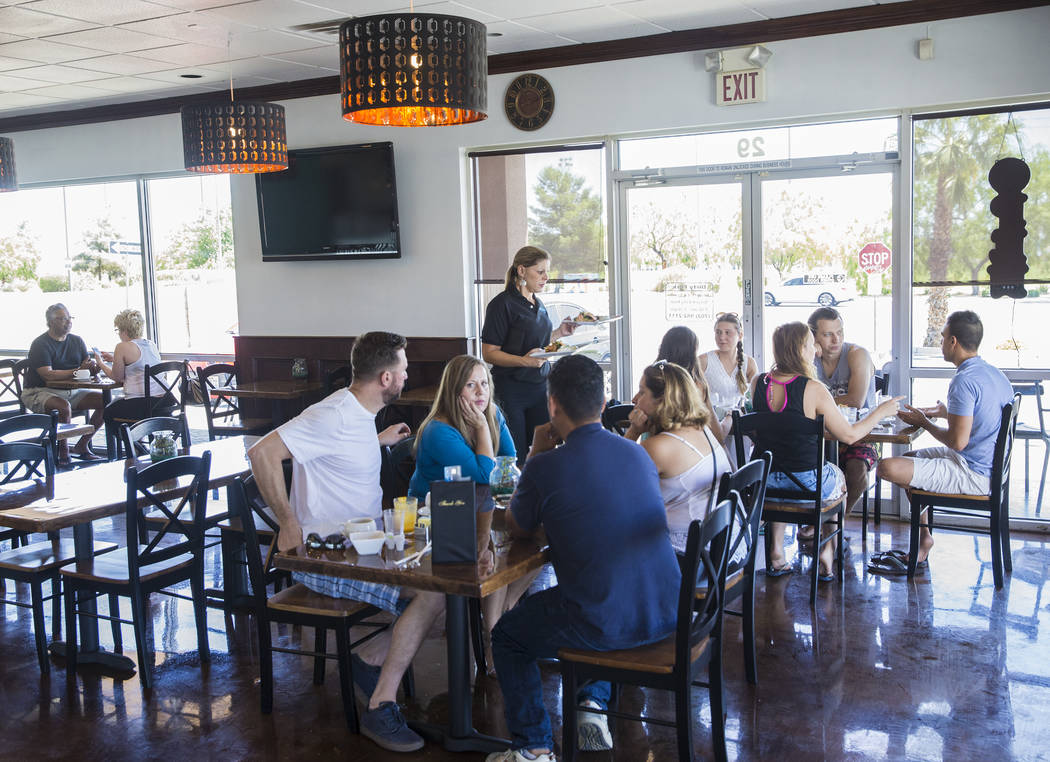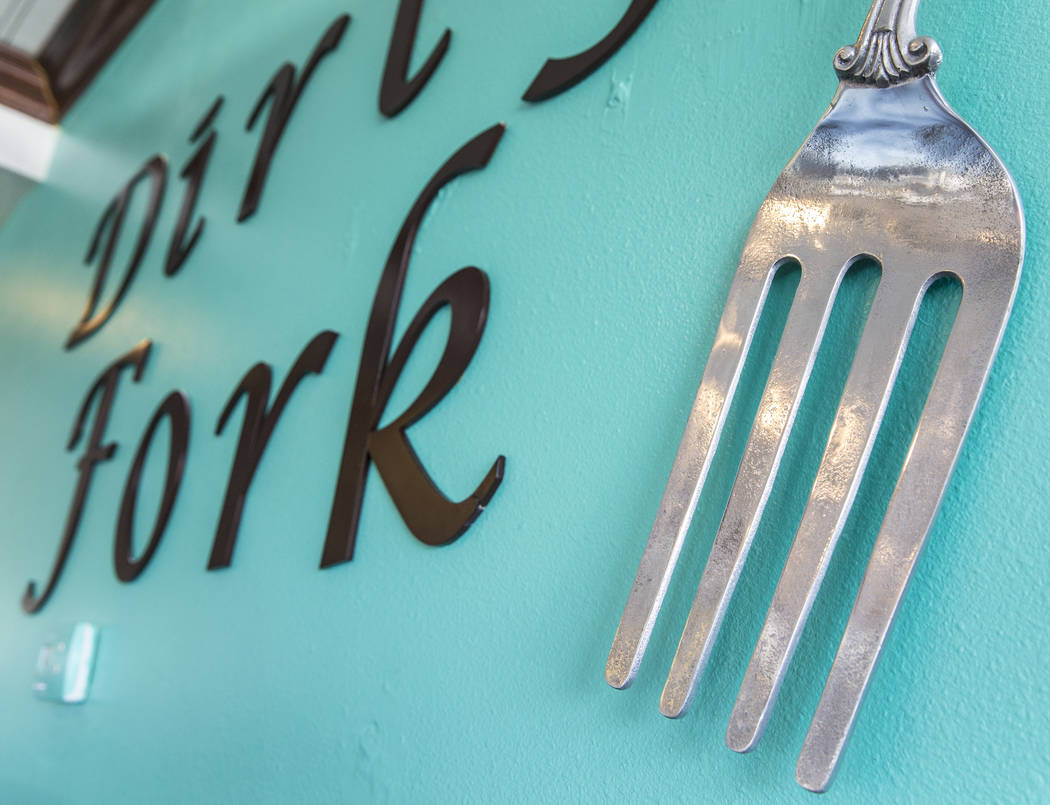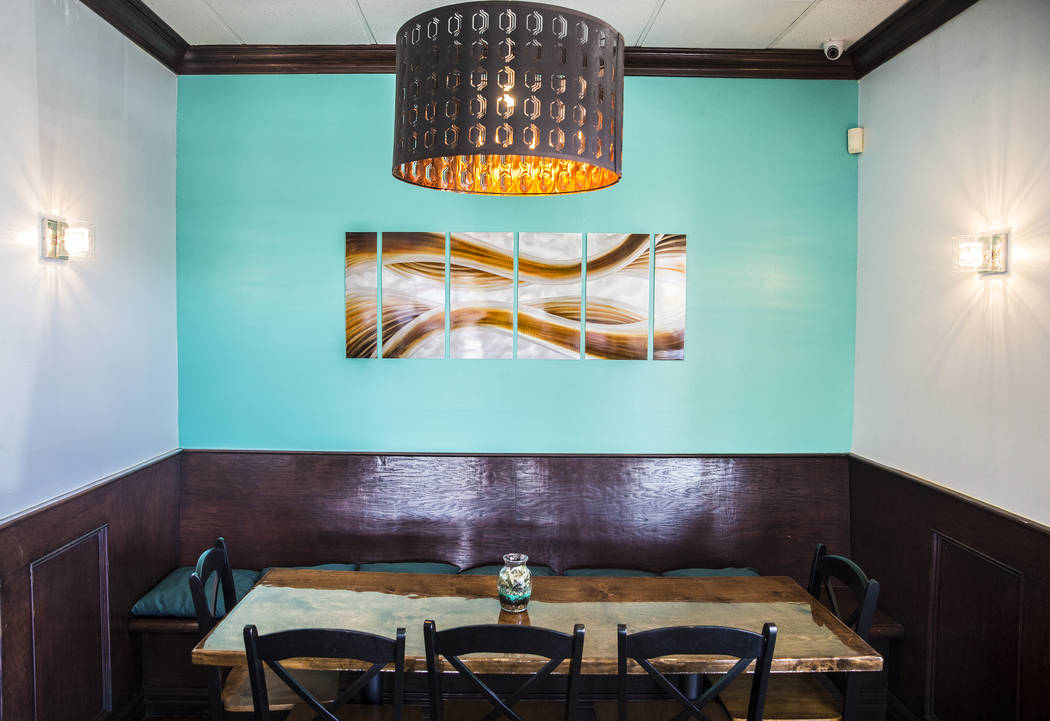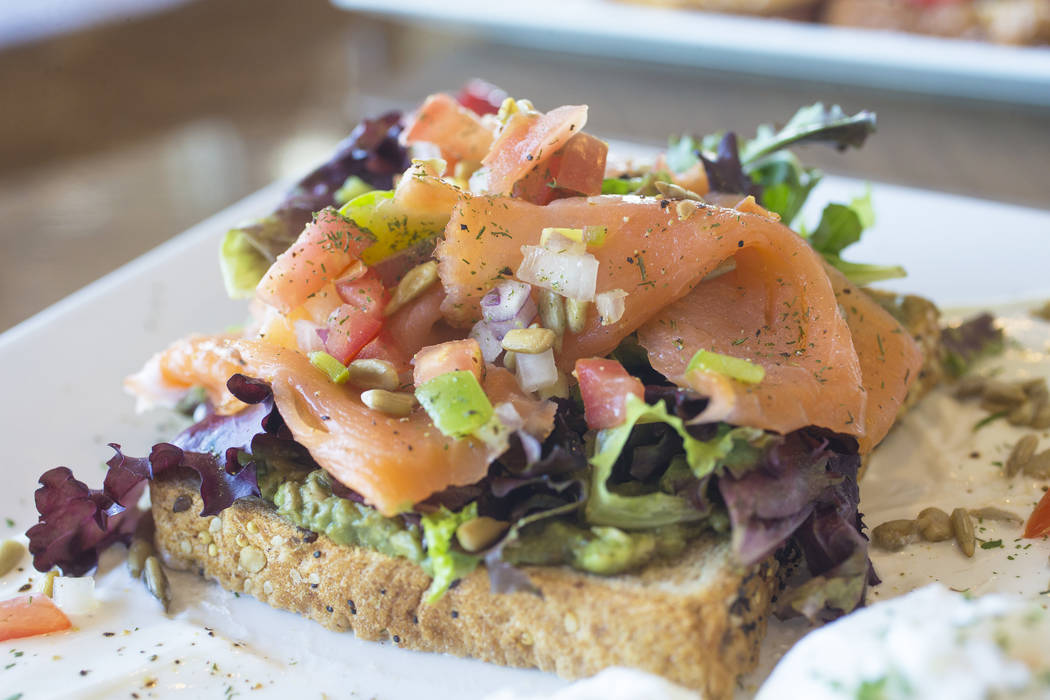 At many of the breakfast-and-lunch spots that have cropped up in Southern Nevada the past few years, Hawaiian flavors are included on the menus. Dirty Fork is no exception, and this spot does it a far more interesting manner than, say, a Kalua pork omelet, and by incorporating lots of fresh fruits and vegetables.
An example is the 9th Island French Toast ($11.50). It's made with Hawaiian sweet bread along the lines of King's Hawaiian, which is rich, eggy and slightly sweet. That was a good start, but what the menu didn't mention was that it was topped with fresh fruit — strawberries, blueberries, blackberries and chunks of pineapple. With a thick squiggle of a not-too-sweet guava cream cheese and a little coconut syrup smeared on the plate, it was just indulgent enough, the fruit providing refreshing, summery notes.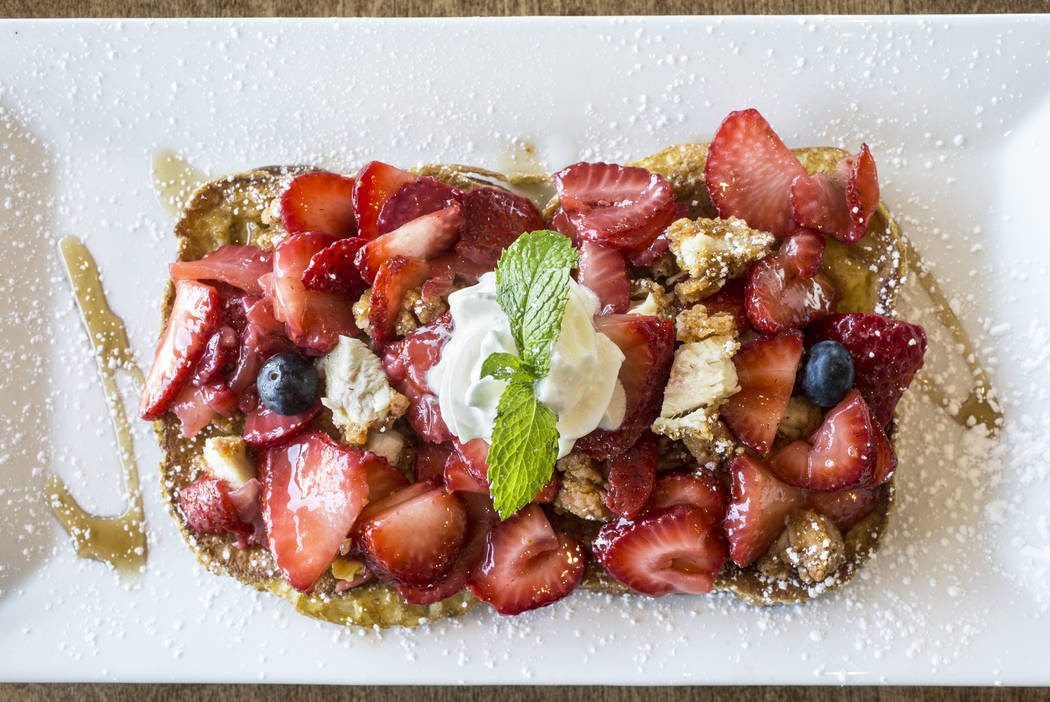 The "Dirty Fork Breakfast Special" has french toast, scrambled egg, chicken and strawberries at Dirty Fork on Tuesday, May 23, 2017, in Las Vegas. Benjamin Hager Las Vegas Review-Journal
Vegas-Style Avocado Toast ($11.50) was another dish that felt light and rich at the same time. Its base of multigrain toast was thickly spread with mashed avocado and topped with a mound of field greens. Pile on the poached eggs and pepitas served on the side, break the yolks so they add a bit of luxurious richness to the salmon, greens and toast, and the result is a feast for the eye and the palate, with abundant flavor and textural contrasts.
A little on the tamer side was the Paris Panini ($11), basically a bacon, cheese and egg breakfast sandwich, but artfully toasted in a panini press to achieve an attractive cross-hatch design. The fresh-produce theme continues with a big pile of field greens and a cup of vinaigrette.
All of the above are from Dirty Fork's breakfast menu but there's a lunch menu, too, and customers can feel free to order from both. The Dirty Fork Burger ($11.50) is available with tossed greens or fries, which turned out to be strangely addictive, cooked in a twice-fried style. The burger itself had plenty of big, beefy flavor augmented by bacon, and this time the fresh-produce mission was fulfilled by avocado, lettuce, onion and tomato.
The dirty fork burger, with angus beef patty, avocado, bacon, tomato, sweet onion, lettuce, special sauce and fries at Dirty Fork on Tuesday, May 23, 2017, in Las Vegas. Benjamin Hager Las Vegas Review-Journal
One quibble: The avocado toast and french fries both had been sprinkled with dried dill weed, which added a nice bit of color. But considering how much the kitchen at Dirty Fork clearly values fresh fruits and vegetables, and considering the distinctive, unmistakable flavor of fresh dill, it's a curious choice.
The Dirty Fork decor shows evidence of great attention to detail. Filtered water is served from porcelain-capped bottles, succulents decorate the wood-and-resin tables, the walls have dark wood wainscoting, there are corrugated-wood accents and Edison bulbs hang over the counters.
Lunch service at Dirty Fork on Tuesday, May 23, 2017, in Las Vegas. Benjamin Hager Las Vegas Review-Journal
It's a comfortable spot, and a good place to get some of your nine-a-day.
If you go
■ Dirty Fork, 3655 S. Durango Drive; 702-982-2111
■ The essence: Island-infused breakfast and lunch spot with an emphasis on fresh fruits and vegetables.
Las Vegas Review-Journal restaurant reviews are done anonymously at Review-Journal expense. Contact Heidi Knapp Rinella at Hrinella@reviewjournal.com or 702-383-0474. Follow @HKRinella on Twitter.