Gaetano's offers ritz of the Strip, coziness of a mom-and-pop shop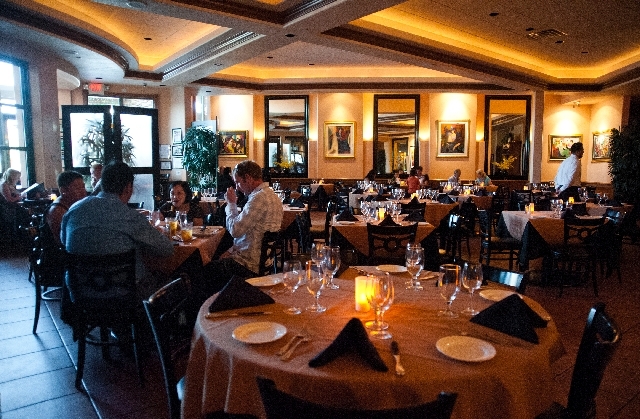 My first impression of Gaetano's Ristorante after having not been in for several years? That it smelled like a Strip resort.
Not that there's anything wrong with that.
And no, there is nothing wrong with that. I'm not talking stale cigarette smoke and pool chlorine. But you know how the newer resorts have that fresh scent that connotes a state of cleanliness and newness? Yeah, that.
And as I looked around the room, Gaetano's reminded me in other ways of a Strip-resort restaurant, without the Strip prices and Strip traffic. Mom-and-pop spots can often look sort of shopworn; I think that, just as a lot of people don't notice things fading in their homes, some owners don't notice them in their restaurants. That's not the case at Gaetano's, though, where, despite the fact that the restaurant has been in the same location in a Henderson strip center for 11 years, everything looks fresh and new. Glassware sparkles, tables are draped in brown and black linens and in addition to the more noticeable decorative touches (like large-scale artwork and mirrors, appropriate for the size of the room) there are subtle ones, such as the shutters that separate the bar area from the dining room.
But try as they might, resort restaurants generally lack the sense of the personal, the familiar, that a mom-and-pop tends to have. At Gaetano's that proud proprietary touch was provided by Gaetano Palmeri himself, who greeted customers and walked around the dining room to ensure that nothing was amiss. And, as it often follows, very nearly nothing was.
A starter of Carciofi Fritti ($9.95), or baby artichokes, was pure perfection. There were a lot of ways this dish could have gone wrong, none in which it did. The six baby artichokes were perfectly tender, their coating perfectly crisp and with no taint of grease, the pesto aioli served on the side perfectly balanced so that neither pesto nor garlic overwhelmed.
The same was the case with the Ossobucco alla Milanese ($38.95). When I reviewed this some years ago my friend and I both thought the accompanying saffron risotto was so salty as to spoil the dish, but that was not the case this time. The risotto was — here's that word again — perfection, the veal shank as well, unfailingly tender and very flavorful.
Heck, we even liked the bread selection. Our basket contained a lavoshlike crackery sesame flatbread, a country-style Italian and a tomato-topped focaccia, served with a cup of balsamic vinegar and extra-virgin olive oil, the balance tilted toward the vinegar (that's a good thing).
Service was very good, our waiter possessed of that rare condition of both a sense of humor and a sense of timing. He was informative (and really impressive as he reeled off a long list of specials from memory) and always in attendance, returning frequently to refill our wine glasses and coffee.
We had one quibble — and note the use of the word "quibble," because this really was a minor point: The gnocchi was soggy. We chose the Gnocchi con Gorgonzola ($18.95; the other option is fresh tomato-basil) and the velvety sauce that cloaked the little potato dumplings was … well … perfect, the Gorgonzola flavor prominent but tempered by cream and what tasted like a jot of nutmeg.
The gnocchi themselves, though, not so much. The potential was there — we could easily see that — but they were soggy in the center, as though they should have been cooked just a bit longer, or the dough was just a little moist. But considering the quality of the sauce, it was easy to forgive.
Contact reporter Heidi Knapp Rinella at hrinella@
reviewjournal.com or 702-383-0474.
Review
Gaetano's Ristorante, 10271 S. Eastern Ave., Henderson; 361-1661
Overall A-
Food A-
Atmosphere A
Service A
Pluses: Most aspects near perfection.
Minuses: Slightly — slightly — soggy gnocchi.