Gina's Bistro knows a thing or two about how to treat customers
September 26, 2013 - 9:34 pm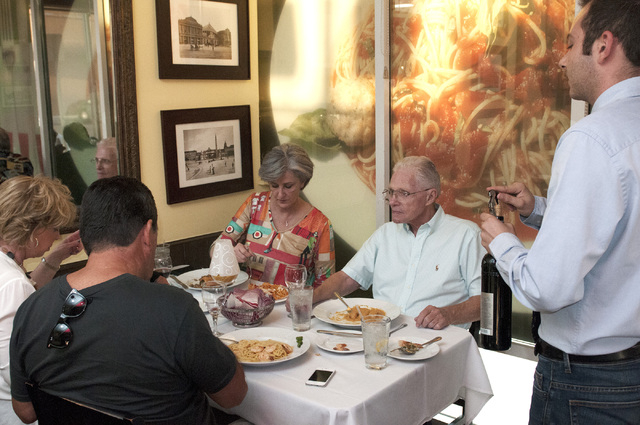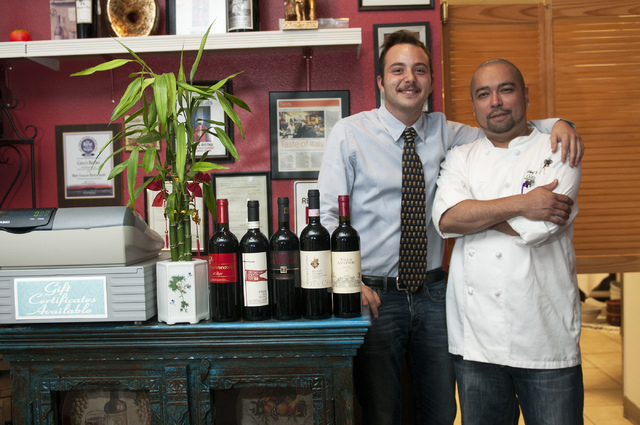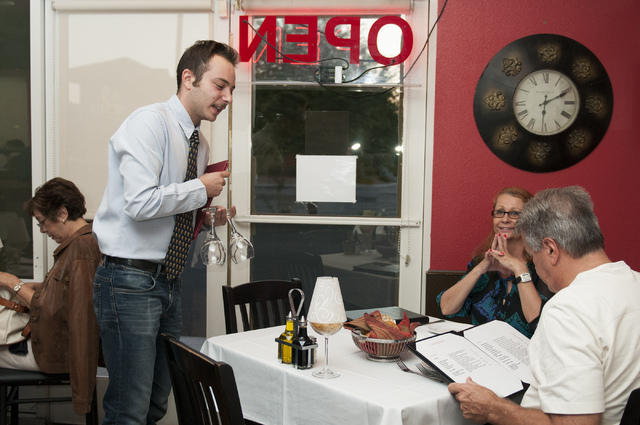 At a fairly expensive (although not high-end) Strip restaurant I reviewed recently, my knife and fork were cleared away with my appetizer plate, and nobody thought to bring me a new set until I asked.
At Gina's Bistro, a mom-and-pop (or pop-and-nephew) Italian restaurant that's not on the Strip but in a strip center on Durango Drive, my salad fork and knife were cleared away with my appetizer plate. Without a word on either side, a server — and not the one who had cleared the dishes — promptly brought a knife, transported on a plate, and silently set it before me.
People complain to me all the time about how bad restaurant service can be in Las Vegas. Those people haven't been to Gina's Bistro.
Gina's has been around for a few years, but the current owners, natives of Genoa, Italy, took over last year. They've kept much of the charm I remembered from the original owners, and maybe bumped it up a couple of notches. There are thick linens and soft candlelight on the tables, framed art and a mix of neutral and rich colors on the walls and soft music and garlic in the air.
Ah, yes, garlic, the soul of an Italian restaurant. We really could smell it, quite clearly, wafting in from the kitchen in the little place as our entrees were prepared, and it just sharpened a sense of anticipation that was only partially caused by hunger.
We'd started off on a good note with crusty bread served with little butter florets, with cruets of olive oil and balsamic vinegar on the table.
That had continued with our appetizer of Asparago in Cravatta ($7.95), which was billed as grilled asparagus topped with mozzarella, but frankly didn't sound like all that much. But oh, it was, the fairly thick asparagus cooked to a perfect delicate tenderness and conveying a maximum amount of flavor. The melted cheese that topped it was just a bonus — a gilding of the lily, you might say — as were the little pile of wild greens and the liberal (but not too liberal) streaks of balsamic reduction that were spread around the plate.
Things continued in this vein with our entrees. A special that evening, risotto with Gorzongola cream and shrimp ($24.95) was lovely, the rice possessed of that texture that sort of bridges the creamy-chewy differential. The shrimp were equally lovely (although tails-on, which in a dish like this can make tail removal a messy proposition) and the Gorgonzola sufficiently mellowed by the sauce to turn it into whispery background music for the headlining shrimp.
Veal Piemontese ($22.95; available with chicken for $17.95) also was flavored with Gorgonzola, again mellowed so that it played nicely with the earthy echo of truffle oil and a spirited brandy-wine sauce. On the side: pasta (penne, in our case) with a deeply flavored marinara.
It wasn't until dessert that we came to our first quibbles. A cup of coffee was hot and presented with a flourish that belied its burned flavor. And a cannoli ($5.95), although blessed with a silken filling and a wonderfully crunchy shell (sogginess being a too-common pitfall of cannoli), had an undertone that was both sweet and citrusy and overall sort of odd.
Prices of the specials aren't stated when they're announced, and a good rule of thumb is that's not necessary if they're in keeping with those on the regular menu. Sure enough, a seafood version as listed was $24.95.
Which can seem like a small thing until you encounter a case of sticker shock. I consider it a big thing, and one that really didn't surprise me, because little strip-center Gina's Bistro has service that's as good as its food.
And could teach a few things to the big boys on the Strip.
Las Vegas Review-Journal restaurant reviews are done anonymously at Review-Journal expense. E-mail Heidi Knapp Rinella at Hrinella@reviewjournal.com, or call 702-450-6946. Follow @HKRinella on Twitter.
Review
Gina's Bistro, 4226 S. Durango Drive; 702-341-1800
Overall A-
Food A-
Atmosphere A
Service A
Pluses: Service we'd expect from a high-end place.
Minuses: Coffee that tasted burned.