February 12, 2010 - 10:00 pm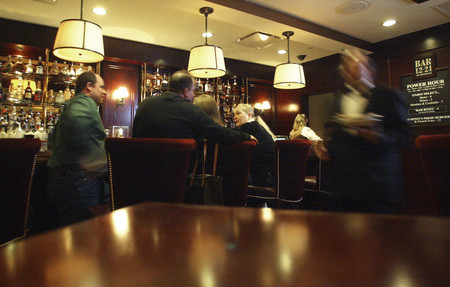 Bar 12-21, the lounge at Morton's the Steakhouse, was quiet early on a recent evening. As 5 p.m. turned to 6, customers started drifting in, first to the bar, then to the dining room. Few of them were taking part in Morton's Power Hours, and all I can say is, it was their loss.
Morton's Power Hours are basically happy hour a la Morton's. As you may have noticed, there's been an explosion of happy hours in Las Vegas recently as restaurants hard-hit by the depressing recession try to find new and better ways to lure customers. For customers, such offers can represent a pretty good deal.
Happy hours usually are early in the evening — when most restaurants are slow under any circumstances — which eliminates most people who work regular hours. Morton's Power Hours run not only from 5 to 6:30 p.m. daily but also from 9 to 11 p.m., which means you can take advantage of them before or after a movie or show or whatever.
The main theme of Power Hours is that Bar Bites and cocktails are $6 each. There's no drink minimum, so unless you have a really big appetite, you can get away with dinner for $12 or so. Morton's has earned its upscale reputation, with food and service that are consistently solid, so Power Hours are quite an attractive proposition.
Bar 12-21 is a traditional dark-wood space, nicely appointed, with seats at the bar, at high-top tables or at a counter that faces the restaurant. Almost immediately, the very pleasant female bartender came by to deliver glasses of water.
In ordering we had two easy choices — the petite filet mignon sandwiches and the blue-cheese french fries, because Morton's is a steakhouse and because, well, who wouldn't want to try blue-cheese fries? And because of the urging coming from across the table we'd also have the iceberg wedge bites, which I resisted because I really, truly do not like iceberg lettuce, which many people adore because it has the half-life of the stuff they wanted to put in Yucca Mountain, but it also has about as much flavor. And a mojito and a gin martini (the only kind, if you ask me), with blue-cheese-stuffed olives (ditto). And, OK, they call the martini a Mortoni, which definitely edges on the precious.
The mojito was more minty than most (that's a good thing), its rum base admirably smooth, and the martini/Mortoni suitably dry, almost astringent. So that was a good start, but one you could forgo if you wished (remember, no drink minimum).
Our waitress brought us the salad bites first — said she figured she'd start with those, which told us she had figured out that we were doing a small-plates/tapas-style dinner — and I cringed as they arrived. Oh, they were attractive enough, four nest-shaped mounds topped with a creamy dressing and bacon, blue cheese and hard-cooked egg, but still, iceberg? And you probably saw this coming, but I have to admit they were really good. The lettuce was cold and crisp, although it didn't have much in the way of flavor, which I guess is a genetic impossibility for iceberg. But the other flavors were so lively that the party was a success.
Continuing the dinner theme, the other two Bar Bites were brought together. The potatoes were pure indulgence, crisp-fried and topped with plenty of blue cheese, some of it melted, some not. And the sandwiches were wonderful, the meat on the rare side and butter-tender, as we'd expect filet mignon to be, the buns with just a bit of crispness for some happy contrast.
I was set, but again the nagging from across the table, this time for Morton's Hot Chocolate Cake, which is not on the Bar Bites menu and is $13.50 — kind of ironic, considering the dishes we'd just had for $6 each. I caved, insisting I would eat not a bite, but as you can imagine that didn't last long, as the cake with the molten center and the scoop of rich vanilla ice cream kept calling me oh, so clearly. It was, of course, perfection on a plate.
And definitely helped to illustrate, quite clearly, the philosophy behind the restaurant happy hour.
Las Vegas Review-Journal reviews are done anonymously at Review-Journal expense. Contact Heidi Knapp Rinella at 383-0474 or e-mail her at hrinella@ reviewjournal.com.
Review
Morton's the Steakhouse, 400 E. Flamingo Road; 893-0703
Overall A
Food A
Atmosphere A
Service A
Pluses: Great on all counts, and a bargain during Power Hours.
Minuses: Getting in and out is a little challenging.