Pasta Shop Ristorante & Art Gallery offers feast for the senses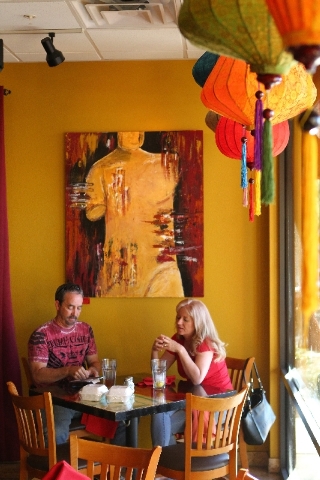 When a restaurant has been in business in Las Vegas for 20 years, you might get the idea that they're doing something right, and in the case of The Pasta Shop Ristorante & Art Gallery, you'd be correct.
The Pasta Shop moved to Henderson a few years ago from a longtime location on East Tropicana Avenue. Over the years, the owners, brothers David and Glen Alenick, have built their reputation on fresh pasta, which they sell to a number of Strip resorts in addition to serving in the restaurant.
But here's the thing: Yes, truly good pasta is an art, but it's not enough to support a whole restaurant in a very competitive business environment. What the Alenicks do well in addition to making pasta is offer a menu that's small enough to both reflect their mission and not get unwieldy, feature a good selection of nightly specials to take advantage of what's fresh in the market each day, provide personal touches in both the kitchen (David) and the dining room (Glen) and do it all in an environment made more interesting through the display of tons of colorful art, at least some of it created, if memory serves, by the wife of one of them.
While I've talked to the brothers on the phone over the years we've never met in person, so it was from an anonymous perspective that I observed Glen making his way from table to table, greeting regulars and welcoming newcomers, building the relationships that are crucial to a local restaurant. But all of the warmth in the world can't salvage things if the food doesn't measure up, and there David does his part.
Many of the dishes are the classics you'd expect in an Italian restaurant, but there's also a lot of innovation there, and even the classics get plenty of tweaks. So it was that the golden tomato-basil polenta ($7.95) was topped not only with tomato sauce but also with cashews (the menu says "roasted nuts," so that may not always be the case), which were an offbeat touch but a wise one in that the flavors were unexpectedly very compatible.
Dinners also include a Caesar salad, which was crisp, cold romaine in a creamy dressing, and a nice basket of ciabatta with garlic and cheese.
Linguine with sausage (also available with meatballs, $14.95) was very traditional but elevated to the exceptional because of the quality of the components. The housemade linguine is at the same time softer and "toothier" than the dried variety, and the sausage was sweet, reasonably lean and spiked with fennel seed. The crowning touch, though, was the marinara sauce, which had the long-steeped, deep, multilayered flavor that always seems to provide balm to the soul.
Chicken Davida ($18.95) – which sounds suspiciously like it may be a chef favorite — was far more interesting than it sounded on the menu, a stacked configuration that involved a sauteed chicken breast, sauteed eggplant, sun-dried tomatoes and melted mozzarella, for a riot of colors and flavors and textures that were as interesting as the art on the walls.
Which is very interesting, and which provides a soothing atmosphere abetted by the soft Motown soundtrack that allows plenty of opportunity for dinner conversation.
Service, from Glen and a female server, was exceptional, with her returning frequently to refill glasses and clear dishes.
As we ate, the conversation from a nearby table drifted over, the members of the party recounting dishes they'd enjoyed over the years, at the former and current locations. A couple of decades does, after all, allow for a lot of memories.
Las Vegas Review-Journal restaurant reviews are done anonymously at Review-Journal expense. Contact Heidi Knapp Rinella at Hrinella@reviewjournal.com or 383-0474.
Review
The Pasta Shop Ristorante & Art Gallery, 2525 W. Horizon Ridge Parkway, Henderson; 702-451-1893
Overall A
Foot A
Atmosphere A
Service A
Pluses: Great food in a soothing environment.
Minuses: I can't think of a thing.