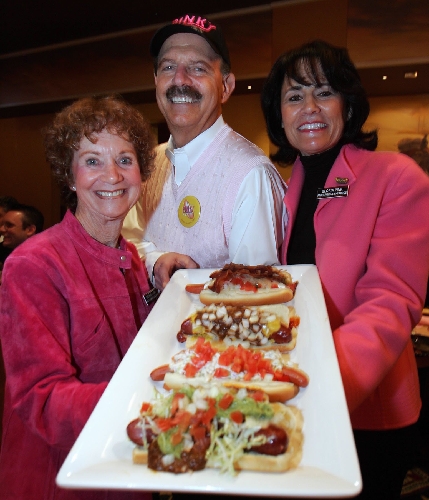 I never have been to the original Pink's Hot Dogs in Los Angeles.
And I make absolutely no apologies for that. The only way I'd stand in line for an hour and a half for a hot dog — any hot dog, any time, any place, and yes, I know it's been "a Hollywood legend since 1939" — is if it was an assignment, and fortunately I'm free to take a pass on Los Angeles restaurants.
But I will admit I've been curious. After all, there are people who will stand in line for an hour and a half for a hot dog, and that says something, even if it's social commentary on crowd mentality.
Fortunately for purposes of my curiosity, we've had a Pink's in Las Vegas for a few years now, first as a subsection of another restaurant at Planet Hollywood and, more recently, in a dedicated space of its own, even if, in finest hot-dog-stand tradition, that space is a kind of cramped walkup counter with outdoor seating.
So what's the big hubbub about? I admit that I get what people like about Pink's. First, there are the local-specialty dogs, which are fun in a we're-all-insiders kind of way. But as much as I Iike Holly Madison, her signature dog (naked, which makes sense, with lots of ketchup, which may or may not), didn't hold much appeal, and neither did the one named for Kim Kardashian, which instead of a $2 million diamond comes topped with bacon and guacamole — and I stopped reading after that.
More tempting: the Planet Hollywood Dog ($8.95) and a classic from the L.A. original, the Pastrami Reuben Dog ($7.75).
First, the latter. People have groused that it's messy, and yes, a hot dog topped with pastrami, mustard, Swiss cheese and sauerkraut has a right to be messy; the trick is to eat it before the sauerkraut soaks into the bun. The dog itself was good quality, lightly snappy and with tied ends, longer than the bun and with plenty of flavor, which meant it wasn't overwhelmed by the toppings. The pastrami was in much more generous supply than I'd expected, and it all worked well together. My only quibble: that the mustard was squirted on top of it all, and since this is a challenge to eat, by the time you've dispatched the pastrami, there's no mustard on your sauerkraut and dog.
The Planet Hollywood Dog was even better, a veritable explosion of flavors that just got better with every bite. The big, thick Polish sausage (and no, that's not a double entendre) was juicy and full of great garlicky flavor that was only accented by the grilled onions and mushrooms. There was a surprising amount of bacon on this one — thick-cut and meaty — and the cheese stood out better than did the cheese on the pastrami dog.
We had a couple of sides, too: the onion rings ($4.75), a big pile of thick-cut fair-style, and the chili-cheese fries ($5.50), which had a lot of chili (a meaty and reasonably zippy chili) under the blanket of yellow cheese.
It was hot-dog-stand food — really good hot-dog-stand food, with the added plus (the pigeons notwithstanding) that we ate it al fresco on a lovely evening while watching the action on the justifiably world-famous Las Vegas Strip. And sometimes, hot-dog-stand tradition resonates with even the most dedicated foodie.
But I still wouldn't stand in line for an hour and a half.
Las Vegas Review-Journal restaurant reviews are done anonymously at Review-Journal expense. Contact Heidi Knapp Rinella at 383-0474 or email her at hrinella@ reviewjournal.com.
Review
Pink's Las Vegas, Planet Hollywood Resort, 3667 Las Vegas Blvd. South; 405-4711
Overall — B
Food — B+
Atmosphere — B-
Service — B
Pluses: Great hot dogs.
Minuses: It's a hot-dog stand.