Pizzeria Monzu in Las Vegas excellent on all counts
Updated July 7, 2018 - 9:05 pm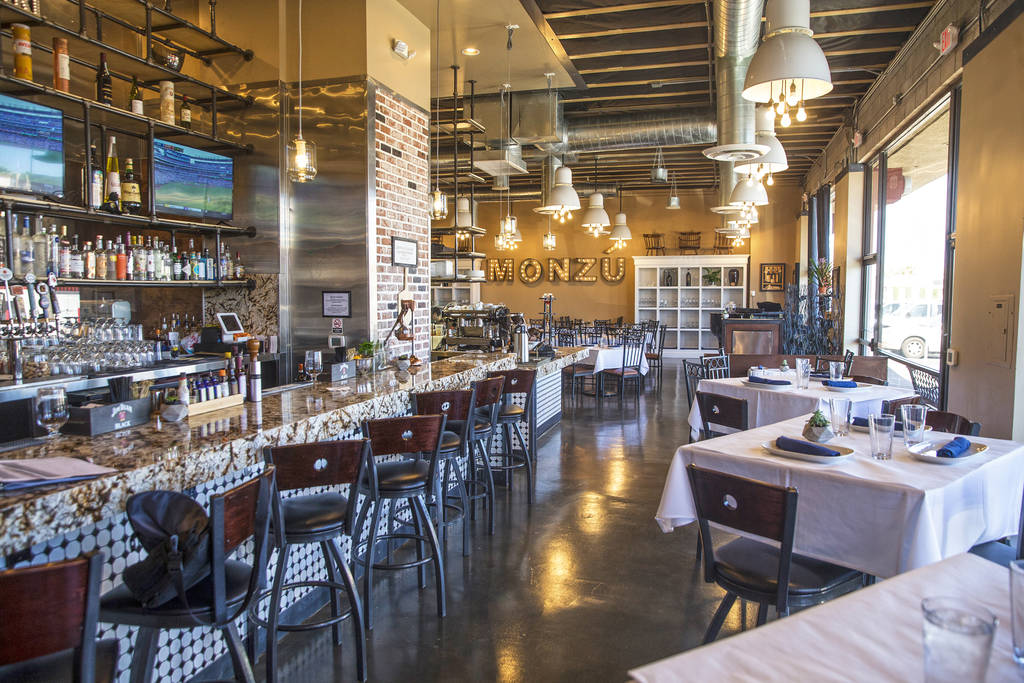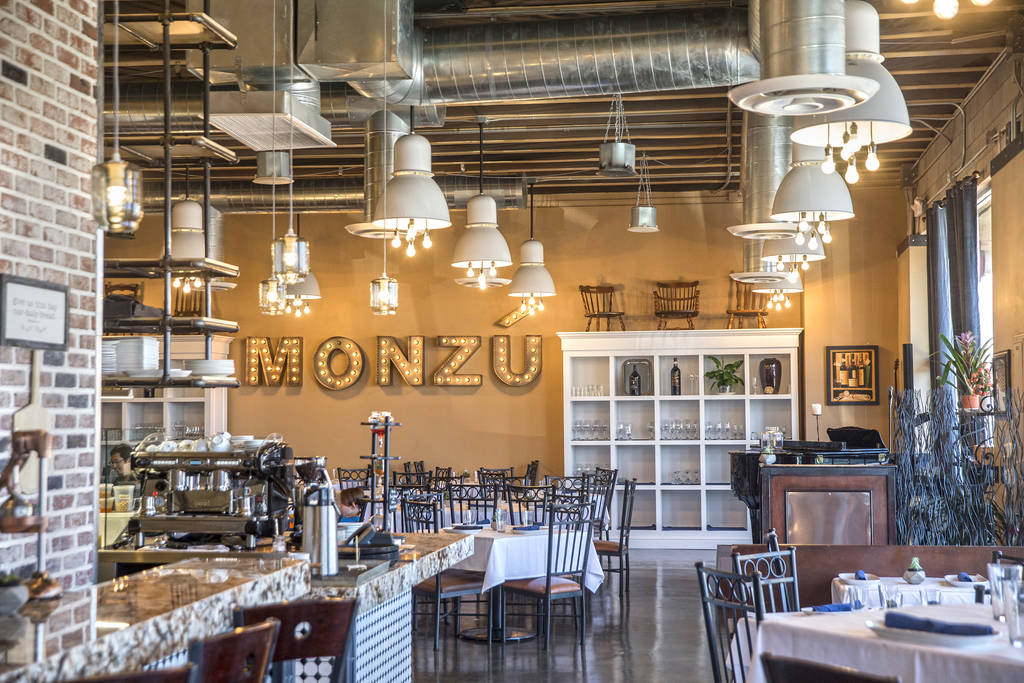 If it's true God is in the details, Giovanni Mauro must walk among the angels. And Las Vegas is reaping the blessings at his new Pizzeria Monzu.
Consider Mauro's pizza — "pizze" in the plural, as it is on the menu — which is in the "alla palla" style, a venerable Roman street food. Eschewing commercial yeast, Mauro developed his own dough starter from local apricots, later joining it with a strain from the island of Ischia that's said to be 300 years old. All that nurturing is worth it; this high-hydration dough (so delicate it can't be tossed, but is baked in rectangular pans) yields a bubbly, lacy crust with an addictive crispness around the air pockets.
Among the 11 varieties is Vegas Meets Italy ($21 for small/$38 for large), which Mauro introduced at his Old School Pizzeria in North Las Vegas. The crust is topped with seldom-seen scamorza cheese, similar in texture to the mozzarella that's also on the pie (along with ricotta), though with a stronger flavor. The regional references are in pistachios, dates and a profusion of arugula, and it's completed with prosciutto, red and yellow cherry tomatoes and a drizzle of date cream, with flavor contrasts ranging from sweet to agreeably bitter, textures from creamy to crispy.
The large was a huge footprint, 12 by 27 inches (small is 10 by 18), so since splitting is offered, the other half was the simpler 'nduja ($21/$38). That one had knobs of the hard-to-pronounce spreadable pork sausage with nuggets of Gorgonzola, walnuts and an ultralight drizzle of honey. Again great balance, though this crust would show anything to advantage.
Despite its name, Pizzeria Monzu (the name refers to an old Sicilian term of respect) isn't confined to pie. Inventive antipasti included olive ascolane ($8), green olives stuffed with sausage, breaded and fried. Stuffed squash blossoms ($12) are sometimes found in local restaurants but not as good as these, the creamy filling of ricotta, Parmesan and a hint of mint in a light, crunchy cloak. Stuffed lemon leaves ($10) are not found in local restaurants and raised the question: Can you eat those? No, as it turns out: the leaves encase ground beef and pork with garlic and pecorino, keeping the filling moist in much the same way that banana leaves are used in other cuisines.
Even the daily bread ($3) was exceptional, the crust sturdier than the pizza but with that intricate lacework, with olive oil for dipping and butter for spreading.
There are a few entree-style dishes as well. Crepe lasagna ($18) glorified the delicacy of the multilayered tissue-paper crespelle, interlaced with meat sauce, peas, Bechamel and fresh basil, thoroughly shaming the standard.
Desserts are few, but the Sfingi di San Guiseppe ($10) were a fitting end, the light, Sicilian-style doughnuts filled with a sweetened ricotta.
Mauro, a scion of the family that has operated the iconic Nora's Italian Cuisine in Las Vegas since 1991, has mostly done things his own way. His Nora's Wine Bar and Osteria that operated from 2005-11 was a local pioneer in the small-plates movement and the first valley spot to introduce an Enomatic wine-dispensing system. When that went bust in the Great Recession, he opened Old School and now Pizzeria Monzu, which opened in March. It's in the renovated and redesigned former location of Nora's, which moved to a nearby new, purpose-built location in 2016.
"I feel like I've inherited my parents' old home," Mauro said last spring. But make no mistake; Pizzeria Monzu is nobody's father's — or mother's — Italian restaurant.
Las Vegas Review-Journal restaurant reviews are done anonymously at Review-Journal expense. Contact Heidi Knapp Rinella at hrinella@reviewjournal.com or 702-383-0474. Follow @HKRinella on Twitter.
Pizzeria Monzu
6025 W. Flamingo Road; 702-749-5959 or monzulv.com
The essence: Excellent on all counts — but not your average red-sauce place.