Plenty of flavor – and spice – to be found at Thai Thai Restaurant
February 1, 2013 - 2:09 am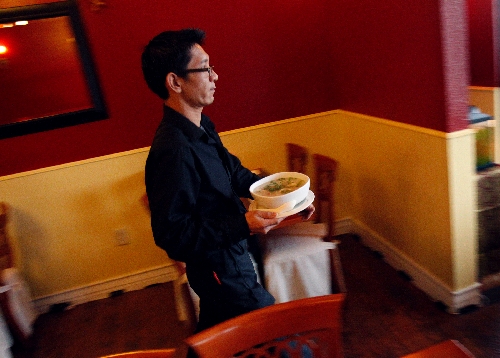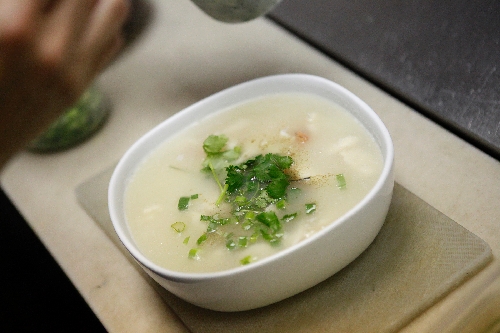 This is, without a doubt, the very best part of my job: telling you about a jewel box of a restaurant that you probably haven't heard about. And let me start by saying I'd return to Thai Thai Restaurant for the fresh rolls alone, because they were simply amazing.
If you've eaten in local Thai or Vietnamese restaurants, you've probably had some semblance of these rolls ($7.95), which are made with delicate rice paper wrapped around a whole bunch of stuff. That was the case here, too, but the rolls were taken to new heights. Three were served, the rice paper on each wrapped around the base of a large leaf of romaine, ruffled edges extending attractively. Each also was wrapped around a stick of fried tofu, some glass noodles, vegetables for crunch and herbs including cilantro and mint for flavor sparks. By themselves they were great, with the housemade peanut sauce they were even better.
But I'm happy to say the good news doesn't end there; there was the Tom Kha Gai ($6.95/$11.95), for example. We ordered this classic Thai soup on the mild side and that's just how it was served, but there was plenty of flavor even without the fire of chilies. Most of it was as we expected – the mingled flavors of coconut milk and galanga and lemongrass and Thai basil – but one thing that stood out was that the chicken had been cooked in the broth rather than separately, as it is in many Thai restaurants, which infused it with flavor and made the whole dish that much more successful. We ordered the smaller version and it was plenty for two to share.
Shrimp and scallop basil ($14.95) arrived sizzling on a hot plate, which may be the reason the shrimp were slightly overcooked. That didn't really take away from the whole, though, with a surfeit of tender scallops and plenty of baby corn, bell pepper and other vegetables and lots of Thai basil for a slightly sweet accent.
The simply named Pumpkin Curry ($12.95) sounded interesting because it was to include chunks of Kabocha pumpkin, but the reality was even more so, a whimsical presentation with the curry served in the little pumpkin. And it was fantastic, the pumpkin chunks just soft enough, the red curry deeply flavored, the bell pepper and basil leaves adding contrasts in color, texture and flavor. It was also a very spicy curry; I'd asked for it to have kind of middling heat, so be forewarned.
To be honest, I looked at dessert as a way to put out the fire, and figured some sweet sticky rice with coconut ice cream ($6.95) ought to do the job, which it did. The ice cream didn't have the huge chunks of coconut we've encountered in some local Thai restaurants but was very good nonetheless. When it arrived it had a few peanuts sprinkled over the top, which looked sort of gratuitous until I tasted them and realized they'd been honeyed and paired beautifully with the ice cream and rice.
We ate in a pleasant atmosphere with brightly painted walls, straight chairs draped with filmy skirts and soft jazz/New Age music. Service from a woman with a proprietary air was smooth and pleasant. Thai Thai uses a heat scale of 1 to 5 and next time I'd probably stick to the lowest registers, but that's about the only quibble I have.
The restaurant was nearly empty on the evening of our visit, although they seem to do some takeout business. That's a shame, because it really deserves a broader audience, and I hope it finds one.
And that they save some fresh rolls for me.
Las Vegas Review-Journal restaurant reviews are done anonymously at Review-Journal expense. Contact Heidi Knapp Rinella at Hrinella@reviewjournal.com or 383-0474.
Review
Thai Thai Restaurant, 10890 S. Eastern Ave. (in the Sunridge Plaza); 837-6575
Overall A
Food A-
Atmosphere A
Service A
Pluses: Very good food with excellent attention to detail.
Minuses: The spicy scale may be a little high.