Service snags detract from dining experience at Firerock
November 17, 2015 - 4:00 pm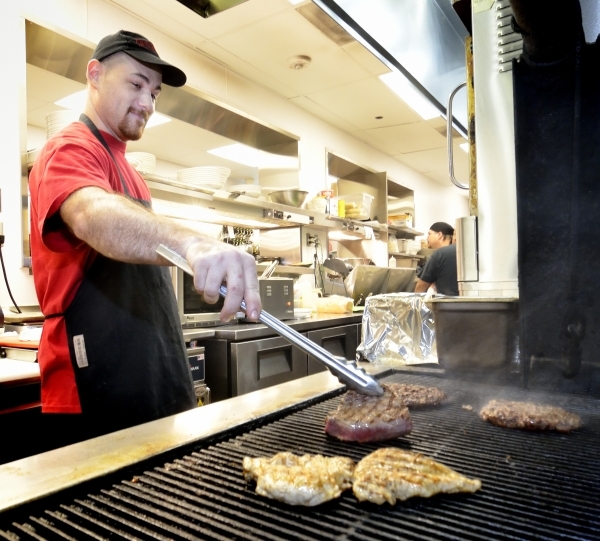 The question I've been asked most frequently about Firerock Steakhouse is if they serve dishes cooked on rocks, and the answer is no. I actually don't know if it's Firerock or FireRock, because the restaurant seems to use it both ways. And just to add to the confusion, Firerock Steakhouse isn't really a steakhouse; there are more than 100 dishes on the menu, as the chef told me a few weeks ago, and a quick scan reveals many that I'd characterize as classic casual American.
So where did the name come from? I'm guessing "Firerock" was either a reference to a geographical point in Casper, Wyo., where the restaurant was founded, or one of those group-decision things, since the company's website refers to the founders as a group of "good old Casper boys." As for the "steakhouse" part, there's a decided dedication to Certified Angus Beef, as you might expect from a bunch of Wyoming boys, and this definitely is a good place to get a steak.
So we bypassed the casual-American stuff for an 8-ounce bacon-wrapped filet, priced at $26.45, a steal compared with steakhouse prices these days, on and off the Strip (even more so since it comes with soup or salad and a side). Filet mignon is such a lean cut it doesn't have much flavor on its own, so a band of crisp bacon usually is a good complement, as it was in this case. The steak came with one side. We chose creamed spinach, which was clearly fresh spinach in a fairly light cream sauce, but with so much sauce the spinach seemed to be swimming in it.
We'd started with Firecracker Shrimp ($10.95), which tasted very much like that served at a national chain. That's not a negative, though, as the shrimp were plump, lightly coated and fried until crisp, then napped in a creamy sauce with just enough kick to balance the flavors. A nice touch was serving it on fried rice sticks, which served both to keep things from getting soggy and to add some crunch of their own.
Maple-pecan-crusted pork medallions ($16.95) were tender slices that had been lightly pan-seared before the maple and pecan treatment. They were also excellent; Firerock clearly has a way with meat. On the side was a huge baked sweet potato with a cinnamon-brown-sugar butter that made us dream of Thanksgiving.
We also had the evening's soup, chicken-tortilla, which was very nice and quite spirited, and a Caesar salad, which was pretty good except that the romaine seemed to have been frozen, rendering it a bit limp.
But limp romaine wasn't the only problem here; the service needs some attention from management. Our server was pleasant and seemed to be on the ball, but there were a few snags. While the menu promised bread, we had to ask for it — and were glad we did, because it was yeasty, pillowy and lightly herbed. We also had to ask for water, as we were drinking wine. And there was confusion with one of our side dishes. The menu said the pork dish included a side, and the dish description mentioned the accompanying sweet potato, so we ordered accordingly. When the dish arrived without the sweet potato, we asked our waiter, who said the side on that dish was either/or. We said fine and let it go, only for him to arrive a few minutes later, sweet potato in hand. Which was nice, but somebody needs to get these things figured out. And courses took too long to come out, leading to a few lags.
Firerock (or FireRock) is a pleasant place, the design sort of classic steakhouse but updated for the times. The noise level is a bit high, mainly from conversation and the clatter of service; while there seems to be enough sound-absorbing material to alleviate the problem, it doesn't seem to be working.
On the whole we liked Firerock, enough to recommend it. But service standards have, overall, improved in Las Vegas in recent years, and in that regard the restaurant's management needs to be more fire than rock.
— Las Vegas Review-Journal restaurant reviews are done anonymously at Review-Journal expense. Email Heidi Knapp Rinella at Hrinella@reviewjournal.com. Find more of her stories at www.reviewjournal.com and follow @HKRinella on Twitter.