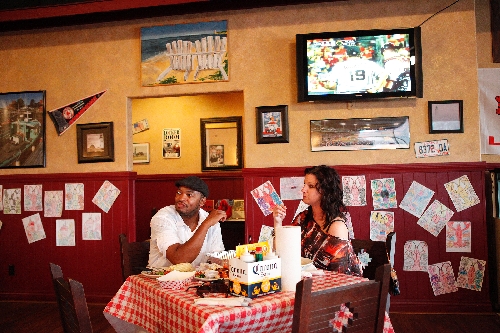 Here's a tip if you decide to dine at Monstah Lobstah: Have a beer, or a glass of wine, or a cocktail — anything but a soft drink.
It's not that you'll need to be a little buzzed to deal with the food, or the atmosphere or the service. It's just that, while the glass of wine we had was indeed delivered in a glass — from the Doc Holliday's in which Monstah Lobstah resides — the soft drink we ordered came in a plastic-foam cup. There were a lot of plastic-foam cups being used at Monstah Lobstah that evening. And there's really not much worse than a plastic-foam cup when you're drinking just about anything.
I wondered if our food would arrive on plastic foam, too, but no, there were real dishes and real flatware. So it's a mystery to me, I'm just sayin'. And it was a weird little lapse in attention to detail that didn't seem characteristic of Monstah Lobstah.
We had planned to start with a plate of whole-bellied clams ($13.99 small, $17.99 large), but they were out of both those and the steamers. Bummer. When we asked our waitress if the fried scallops ($7.99) or fried shrimp ($7.99) were better, she said she liked both but raved about the scallops, which she said were hand-breaded. And indeed, wow. They were sweet and delicate, as any self-respecting scallop should be, and the coating had a light crunch with just a wisp of grease. A fine but unnecessary cocktail sauce was served on the side, and the plate was further jazzed up with some lettuce and a cherry tomato and lemon slice. These were awfully good scallops for the price.
The lobster-salad roll ($7.99) also was awfully good for the price. There were a couple of trade-offs on this one, but they were acceptable: The lobster salad was a little heavy on celery seed, but then it was extremely light on mayo, so the prevailing flavor was lobster with celery seed. And while the roll it was served in wasn't the split-top kind you'd get with any lobster roll north of Yonkers, the kitchen had taken the time to lightly toast the sides. It was served with a mountain of perfectly crisp fries. And further attention to detail: The kitchen had constructed a little foil boat around the lobster roll, with the knowledge that the cold roll and the hot fries wouldn't play nicely together. Well done.
A lobster dinner? Well, of course. The lobster tacos and salad and pasta and mac and cheese all were tempting (and there are a bunch of other seafood dishes as well, plus steak), but we'd have to go with a lobster dinner, or, in the Bahston parlance Monstah Lobstah's name celebrates, the Lobstah Dinnah ($21.99), which got us a 1¼-pound lobster and two sides. The hush puppies were well-flavored and moist, the coleslaw creamy, but of course the star was the lobster in all of its crimson glory. As we'd expect from a place with New England memorabilia all over the place, the lobster was cooked just until it was succulent, and with the drawn butter on the side, we had ourselves quite a feast. Next time, maybe we'll go for one of the bigger, market-priced lobsters.
Service throughout was fine — a little rough around the edges, so maybe we're talking South Boston. The furnishings were equally workmanlike but got the job done, and all in all it was a pleasant experience.
As Monstah Lobstah's name implies, the crimson crustacean is the star here, and it shines brilliantly.
Las Vegas Review-Journal restaurant reviews are done anonymously at Review-Journal expense. Contact Heidi Knapp Rinella at 383-0474 or email her at hrinella@ reviewjournal.com.
Review
Monstah Lobstah, Inside Doc Holliday's, 9310 S. Eastern Ave., 399-1200
Overall — B+
Food — A-
Atmosphere — B
Service — B
Pluses: Great fresh seafood
Minuses: Well, there was that plastic-foam cup.