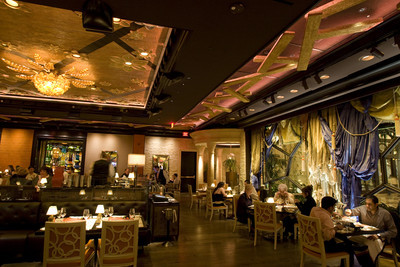 Switch, in a word: Wow.
I'm not kidding. All aspects of this truly refreshing spot at Encore were absolutely stellar.
First, the decor, since it's unique even in this city of visual spectaculars and spectacular visuals. The restaurant's conceit is that the walls and ceiling change every now and then, shifting into one of three versions. (They switch, get it?) On the outer walls, solid-looking stucco balustrades fronting slightly opened French doors give way to leaded-glass windows with soft draperies and then to nothing at all, while on the ceiling, chandeliers change shape to accommodate panels that fold and unfold and on the inner walls, paintings give way to woven wood. It may sound a little hard to follow, but it's announced with a little fanfare and is fascinating to watch.
Then there's the food. The man in charge is Marc Poidevin, late of private dining at Encore sister Wynn Las Vegas, late of Le Cirque at Bellagio, late of Tavern on the Green in New York. Such a track record might create a sense of a foregone conclusion when it comes to the food, but if you believe that, you've never endured mediocrity or worse from some culinary lion who'd become too comfortable or not comfortable enough or fallen into any number of life's potholes.
No worries in the case of Poidevin, and Switch. The color of the Pinot Noir reduction with seared Arctic char ($38) nearly matched the delicate pink of the fish's interior, but deep contrast lay in the flavors, the reduction carrying a startlingly clear taste, a sweetness that challenged the fish's austerity. A pile of sauteed spinach provided an earthy note that completed the chorus.
Organic free-range chicken ($40) was a reminder of when chicken used to taste like chicken, instead of like nothing at all. The preparation was simple, the poultry roasted, showered with shavings of black truffle and served with a perky garlic confit for punch and an artichoke for comfort.
Oysters on the half-shell ($18) once were a standard of Las Vegas menus but less so lately, so we were pleased to see them here. We were even more pleased that the half-dozen portion was divided into three East Coast dwellers, three from the West, simplifying the urge to make a side-by-side comparison. They were crunchy, firm capsules of ocean flavor, the Easterners even more than the West. Cocktail sauce was served on the side, but I completely ignored it in favor of the far lighter mignonette, a vinegar-and-shallot construct with just the right accent.
A creamy-dreamy starter of risotto with champagne and Parmesan ($24) could have been autumnal in nature, but a great predominance of the spring standard asparagus took care of that.
We also ordered a couple of side dishes, a creamy gratin Dauphinois ($10) of potatoes with a skim of cheese, and a steakhouse-standard creamed spinach ($12) whose focus was the flavor of the vegetable, not the roux. Which is a good thing.
And for dessert, a crunch bar ($12), the crunch from hazelnuts, the mmmm from chocolate.
Service throughout couldn't have been better, our waiter informed and helpful and at just the right point on the chatty/formal continuum. When we ordered the creamed spinach, for example, he reminded us that the char also came with spinach, in case we'd like to try something else. The sommelier was quite knowledgeable about a fairly obscure cocktail, and — this is a big one — when one of us finished before the other, the staff did not rush to clear the dishes so that the other would feel awkward. Hooray. If you're served together, why not be cleared together?
This is the second week in a row that I've reviewed a restaurant where the service was exemplary. Could it be a sign that things in that arena are looking up? We can only hope.
Las Vegas Review-Journal reviews are done anonymously at Review-Journal expense. Contact Heidi Knapp Rinella at 383-0474 or e-mail her at hrinella @reviewjournal.com.
Review
Switch
Encore, 3131 Las Vegas Blvd. South; 248-3463
Overall A
Food A
Atmosphere A
Service A
Pluses: It's entertainment, to boot.
Minuses: It's not exactly easy on the budget.