The Commissary brings Latin-influenced menu to downtown's dynamic scene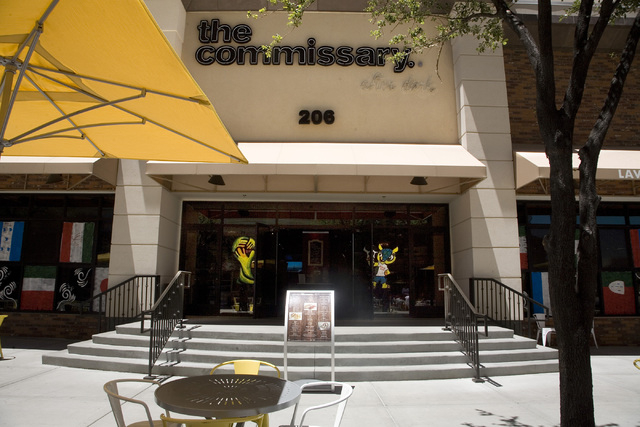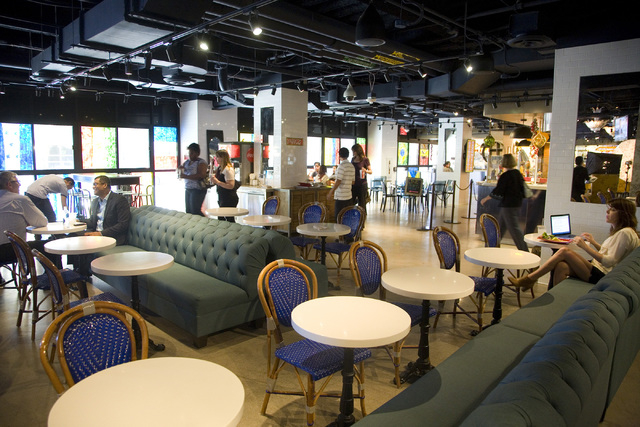 Clearly, Fremont East isn't having all the fun in downtown Las Vegas.
The transformation of the Lady Luck into the Downtown Grand and other redevelopment in that immediate area has brought some cool elements to Downtown3rd, including Pizza Rock and the reborn Mob Bar, now appropriately right across the street from the Mob Museum.
Another cool element is The Commissary, which is the best use of a space we've seen in a while, at least since the opening of the Downtown Container Park. It's an expansive space, up a half-flight from street level and decorated with glossy white subway tile and lots of mirrors to bounce the light around. One end is anchored by a coffee cafe, the other by a counter-service restaurant, with a bar in the middle. Positioned throughout is a variety of seating — living room-style upholstered furniture for a perfect perch with a cup of coffee, bistro tables and chairs for dining, other tables with chairs and banquettes or bar-height stools, and more stools at the bar. So, if you wanted to get a meal and a latte or a beer, or both, you could make your purchases and sit wherever you felt comfortable.
As for us, we were in at lunchtime, so we skipped both the coffee and the booze and headed right for The Commissary's restaurant. It's from Richard Sandoval, who headed the late Isla at Treasure Island and who has a whole string of restaurants in multiple states. What they have in common is a Latin inflection, which appears to be more pronounced at some than at others.
The Commissary's menu is pretty much at the midpoint of that continuum. There are design-your-own tacos, bowls and burritos (with protein choices that include Latin-smoked brisket) and tortas. And there also are a number of hot dogs, burgers and salads, including what the menu calls the Craft Burger of the Day, while a signboard near the entrance called it the Craft Burger of the Week.
Whichever it was, the Island Burger ($9) was indeed deserving of special status, the thickish, still juicy patty topped with a slice of grilled pineapple, "chef's secret sauce" and the requisite lettuce, onion and pickles. The sweet pineapple, sauce and crunchy pickles, which we suspected were produced in-house, provided assertive sweet-sour notes that shone a spotlight on the beefy flavor.
A Baja Fish Torta ($11) also had the potential for a nice mix of flavor and textures, with shredded cabbage, the same pickles and a slightly kicky chili-poblano tartar sauce playing off the cod, which normally is on the mild side but in this case was strong in spots and threw things off a little.
We also had tortilla chips with guacamole and salsa ($4), which involved fairly conventional chips with sides that were definitely a mixed bag. The guacamole was excellent, chunky and full of jolts of flavor, but the salsa, though it had the subtle smoky undercurrent of chipotle, tasted predominantly of tomatoes. Not objectionable on its face, but lacking the complex, layered flavors that we expect from salsa.
Service was fine. This is, as I said, a counter-service spot, but when she saw me struggling to balance multiple plates, the woman behind the counter asked a co-worker to lend a hand. And as we ate, a management type wandered by to ask if we needed anything, so the employees definitely venture out from behind the counter.
As I said, I didn't stop by the coffee cafe or the bar, and the restaurant part of The Commissary could use some tweaking here and there. But there's great potential there, and great promise for a rapidly changing downtown.
Contact reporter Heidi Knapp Rinella at hrinella@reviewjournal.com or 702-383-0474.
Review
The Commissary, 206 N. Third St.; 702-719-5311
Overall B+
Food B+
Atmosphere B+
Service B+
Pluses: A fun, urban environment with creative offerings.
Minuses: Fish that was kinda fishy in spots.
See our Restaurant Inspection Guide, compiled from the Clark County Health District's inspections.