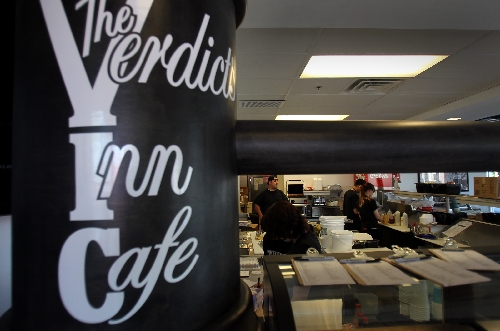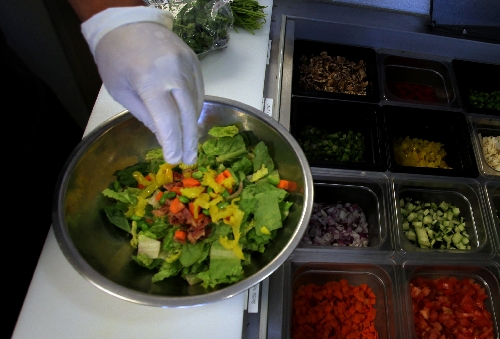 "So," I said to my friend, sitting across the table and munching away on her sandwich at The Verdict's Inn. "How is it?"
"Mmmm," she said between bites. "Best I've had in a while. I needed lots of napkins."
And that, my friends, is indeed one measure of a good sandwich.
We don't, of course, want a sandwich to be too gloppy; that running-down-the-arm thing gets a little messy and we're guessing would be even more of a problem for the law community the restaurant targets, with their starched shirts and all that.
Most sandwiches, though, have the opposite problem, in that there's not enough there there, and they end up dry and/or skimpy and just plain short of flavor and/or texture. And so we appreciated the balance of this one.
Actually, I didn't have to take my friend's word for it; I had a few bites of the pastrami on her Nolo Contendere Pastrami ($8.95) and found it cut more thickly than usual but tender nonetheless. The sandwich started out with thickish slices of marble rye, heaped with Swiss, Thousand Island dressing, coleslaw and Dijon mustard, and while the mustard asserted itself rather firmly, the combination was a very appealing riff on a classic Reuben.
I didn't taste more of her sandwich in part because I was too busy sorting through my salad. I thought The Verdict's Inn's option of do-it-yourself chopped salads crafted from a selection of more than 30 items was a smashing idea, but the Downtown Cobb ($9.50) offered all of the variety I could have wanted.
The big bowl of romaine was piled high with a whole sliced egg and generous amounts of salami, ham, turkey, chicken, shredded cheddar and blue-cheese crumbles. But here was the best part: Sprinkled in among all of that was just enough cilantro for an herby touch without overwhelming, and sliced scallions and red onion to keep all of the protein in balance.
We also had some coleslaw on the side (75 cents) – because it was difficult to really taste the slaw that was on the sandwich – and thought it had a nice creamy touch, the mayonnaise-based dressing cut somewhat by what tasted like sour cream. Actually, I wish they had used the same touch with the ranch dressing served with the salad because the mayonnaise tang of that was a bit on the heavy side.
Service throughout was fine; we ordered at the counter, and they called the name we gave them, whereupon we picked up our baskets, and somebody came by later and asked how we liked everything.
Flatware is plastic and dishware is foam, but it's a good quality, and even our salad bowl handled its duties quite nicely.
We also liked the atmosphere, which is counter-service spare but dressed up with legal-industry decorative touches, like an oversized gavel near the entrance, law-themed murder mysteries near the counter seating and paneled walls and sconces for a kind of a clubby touch.
And there's the menu, of course, which includes such choices as The Gavel and The Associate as well as those named for the nearby Gold & Silver Pawn Shop, notably The Pawn Dawg and The Gold & Silver.
And we're guessing the Cell Block Chili is a bone for all of the bail bonds shops in the area.
Actually, it's safe to say that the topic of sandwich shops in Las Vegas' legal corridor has been a little turbulent of late.
But we believe we're on solid ground when we say The Verdict's Inn is setting a good precedent.
Las Vegas Review-Journal reviews are done anonymously at Review-Journal expense. Contact Heidi Knapp Rinella at 383-0474 or email her at hrinella@ reviewjournal.com.
Review
The Verdict's Inn, 801 Las Vegas Blvd. South; VERDICT (837-3428).
Overall B+
Food B+
Atmosphere B+
Service A-
Pluses: Good salads and sandwiches.
Minuses: Menu selections not as creative as they could be.