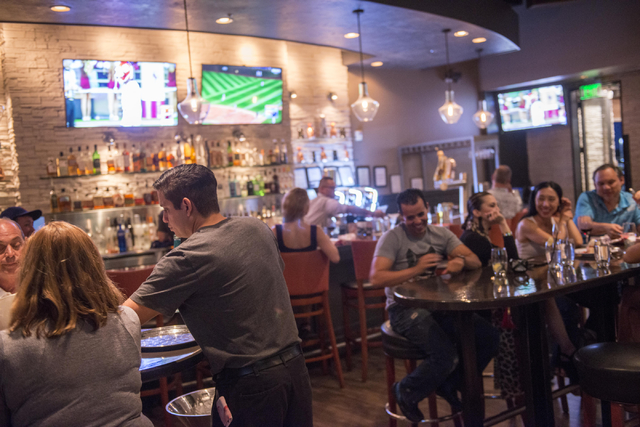 When I heard respected chef Bryan Ogden had left The Mixx Grill & Lounge in Boca Park, I wondered what effect that would have on the food. I didn't realize service would be a bigger problem.
It was one of the first of the sort of magical evenings that come with Southern Nevada autumn so, like everyone else, we dined outdoors. It was fairly early on a weeknight and the patio was busy, so when the server didn't get to us right away, we understood. Eventually she stopped by to ask if we'd like some water, but it was a good 10 minutes later when a runner appeared with our glasses.
After another interval that was longer than it should have been, our server brought us a tablet with the cocktail menu and wine list. More delays as we ordered, and waited for too long for our wine. We weren't terribly alarmed, figuring the bar was just busy in the wake of happy hour. And then she brought our wine and took our menus — without taking our orders. We assume it was our quizzical looks that prompted the on-the-ball hostess to bring us another set.
Our server was unfailingly pleasant, and apologized after every long interval. But, even when things slowed down and the patio was only half full, the bar basically empty, there still were long lapses. Another glass of wine? Sure, if we could have caught her eye. Didn't happen. And when a couple near us complained about a tippy table, they had to ask a second time for help before a runner appeared — with a folded cloth napkin. Surely there was a better alternative.
As for the food? Good, for the most part. We started with the roasted tomato bruschetta ($8.77) to see what they'd do with a dish that's become almost a cliche. It was an admirable interpretation, the stout crostini smeared lightly with pesto and topped with roasted cherry tomatoes, arugula and Parmesan, for layers of textural and flavor contrasts.
And then it was time for the main event. The Mixx is a sort of upscale take on the Mongolian barbecue concept. You can ask for it to be prepared and brought to you, but you also have the option of going inside to the restaurant's Fresh Market, which our server recommended for a first visit. There we found bowls in three sizes, which made it easier to envision the size of the servings; we ended up with one small ($12.77) and one medium ($17.77; large is $24.77). We also found a selection of meats and seafood, starches, vegetables, sauces and on and on.
We then proceeded down the line. Fettuccine as the basis for one, with filet mignon, multicolored cauliflower and cremini mushrooms. You choose the sauces, too, and the bearnaise and peppercorn seemed a good pairing for the beef.
For the lamb, we started with basmati rice and added portabella mushrooms, broccoli, corn, fresh spinach and tomatoes, plus steak sauce, balsamic vinaigrette and pesto. Then it was time to move to the 6-foot flat-top grill that centers the room.
Because you choose what goes into your bowl — and therefore ends up on the grill and your plate — you have a lot of control over how the final dish will turn out. The tender beef was quite nice, although the cook had a heavy hand with the oil and a layer of it covered the plate when we were finished. Somewhat less oil was used with the lamb, but in both cases the meats were about one level more cooked than we had requested.
In the final analysis, the evening was gorgeous, despite the fact that we were dining on a patio bordering a parking lot. It was very pleasant, made more so by the talented vocalist in the style of Norah Jones and Anita Baker. The food, for the most part, was quite good, and the value definitely was there.
But on the part of customers, patience, it seems, is an essential part of The Mixx.
Las Vegas Review-Journal restaurant reviews are done anonymously at Review-Journal expense. Email Heidi Knapp Rinella at hrinella@reviewjournal.com. Find more of her stories at www.reviewjournal.com and follow @HKRinella on Twitter.
Review
The Mixx Grill & Lounge, 750 S. Rampart Blvd. (in Boca Park); 702-550-6070
The essence: You mostly control the food, but the service is another matter.