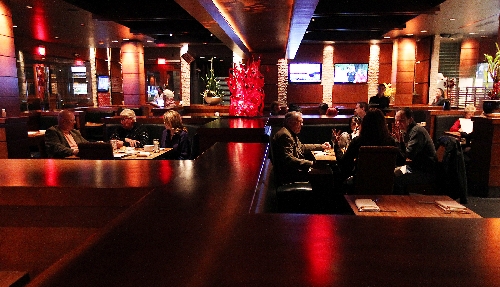 I'm not even going to begin to comment on the pros or cons of the prospects of a New World Order, but I know one thing: I'm all for a New World Cuisine.
That's how, these days, I think of places whose menus I once might have considered fusion. As American society has become increasingly diversified and even homogenized, we're all learning more about what people of other cultures eat, and in many cases we like what we see. Why not, then, take the best of this and that and put them together to create one big, delicious stew?
These thoughts crossed my mind as we discussed the menu at Urban Grill. We would, it appeared, end up with a dinner that included Korean short ribs and Hawaiian kalua pork and Italian risotto and an Indonesian sambal and an all-American beef and bean soup. Twenty years ago, I would've considered that confusion. Now I just see it as inspired, as long as it's done as well as Urban Grill does it. The various components may stem from disparate cuisines, but as long as the flavors and textures are complementary, what's not to like?
So I'll start with the crispy asparagus rolls ($9), about which I was so mystified I almost asked our server for a more detailed description but ended up just taking a flier instead. Kalua pork and cream cheese, the menu promised. And then what?
The then what was that tender shreds of pork and just enough cream cheese were enclosed, via a bit of crispness that evoked a wonton wrapper, in a package that encircled crisp-tender spears of asparagus. On the side was the sambal, with a dash of kaffir lime for a bit of acidity to cut through the fire.
Soup or salad are available with dinner for an additional $4, and one of the former on the evening of our visit was beef and bean, which sounded straightforward enough but, instead of the standard preparation involving whole beans and cubes of beef, it had been pureed to a creamy consistency and flavored with a good dose of thyme, lending an herby, earthy note.
The ribs ($18) were as expected, on jasmine rice. They were meatier than most spareribs, marinated and roasted for optimum flavor. On the side was a cup of kimchi, which we basically skipped, as we tend to do with kimchi, our Korean friends' horror notwithstanding.
And Pacific salmon ($22) was a thickish slab, pan-roasted maybe a scotch more than we would've preferred, which is to say it wasn't pink inside. The risotto on the side was the perfect companion, its cheese and mushrooms adding enough character to make it a worthy partner for the assertive fish.
Service throughout was fine, our server pleasant and bright, although our glasses of wine and entrees were just a little long in arriving.
As we ate, we noticed that largish parties around us were clearly lingering, enjoying conversation and companionship, and the atmosphere in Urban Grill seemed to foster that friendly conviviality.
Or maybe that's a factor of the New World Cuisine.
Las Vegas Review-Journal restaurant reviews are done anonymously at Review-Journal expense. Contact Heidi Knapp Rinella at 383-0474 or email her at hrinella@ reviewjournal.com.
Review
Urban Grill
9510 S. Eastern Ave.; 432-3200
Overall A-
Food A-
Atmosphere A
Service B+
Pluses: Creative menu without borders.
Minuses: Timing of courses.