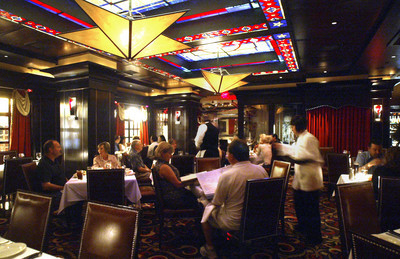 The menu for Vic & Anthony's Steakhouse notes that before opening the restaurant's original — and, so far, only other — location, Landry's Restaurants honcho Tilman Fertitta and his dad, Vic, traveled to some of the country's top steakhouses with the intention of incorporating the best of each into their restaurants, first in Houston and now at the Golden Nugget (owned by Landry's). A laudable quest, and no doubt a fun one. So how'd they do?
Pretty well, as far as atmosphere goes. Those who remember this space in the Nugget as the site of a California Pizza Kitchen (and then another restaurant, which had a rather short life) will be impressed by the transformation. Take a person who's at all familiar with a traditional American steakhouse, lead him blindly into this space and he'll immediately be able to identify the business at hand. There's the requisite dark wood and soft lighting, a lot of interesting little art niches and some really cool stained-glass lighting fixtures. I just wish they'd found someone who knew how to make potatoes Lyonnaise.
The classic preparation — and I'm quoting "Larousse Gastronomique" here — of anything Lyonnaise would be "sauteed, characterized by the use of chopped onions, which are glazed in butter until golden." Hence our surprise when the potatoes Lyonnaise at Vic & Anthony's ($6.95) involved quite a large proportion of sauteed red and green bell pepper.
Not that I'm against red or green bell pepper, and not that I'm against innovation, but we're reaching a point when the simple purity of some of the traditional dishes that have earned their posterity because of their simple purity (and which are, after all, the very stock and trade of an upper-tier steakhouse) are being cast aside in favor of someone thinking he or she is being creative. Sheesh. If you're serving Lyonnaise potatoes, serve Lyonnaise potatoes. If you're serving sauteed potatoes with a profusion of bell pepper, call them something else so that your poor customers have some idea of what they're ordering.
But I digress (not to mention obsess). Otherwise? Well, the same fusion/confusion extended to a couple of other dishes, such as the shrimp scampi ($24.95), although in that case, at least the menu description provided some information. Shrimp scampi (which is in itself redundant, but that's for another day) is in almost all cases shrimp sauteed with (and generally swimming in) a garlic-butter-and-sometimes-white-wine sauce, usually served with pasta. At Vic & Anthony's? The shrimp were served around a pile of angel hair with marinara sauce. The shrimp themselves were just fine — fresh and firm, and sauteed no longer than necessary — but they needed a lot more garlic than this to make their relationship with that marinara work.
And the steak? Good, really. The 16-ounce Prime rib-eye ($38.95) reflected the general and very widespread escalation in Las Vegas steak prices, but as I said, it's very widespread. And this steak had the marbling that earns the Prime grade (and the flavor that goes with both) and was nice and tender, and medium-rare as ordered.
And I liked the lobster bisque ($9.95). No big chunks of lobster, but innovation was a plus here. The bisque was a traditional brown style, but its flavor had been kicked up quite a few notches with a good dose of seasoning. It was far more zingy than the more pale sherry-laced bisques, and a nice departure.
We also liked the creamed spinach ($8.50) with some crunch, which was nice. And the starter of mozzarella and tomatoes ($9.95), a dish so simple that it soars or sinks on the quality of its principal ingredients, which were excellent in this case (and accompanied by a nice balsamic reduction). And for dessert, the pecan ball ($9.95), which was a good grade of caramel (we could've chosen vanilla) ice cream coated with chopped nuts and just excellent.
Service throughout was pretty solid, and as you probably figured from the description above, we found the atmosphere comfortable (dignified but not stuffy), the decor attractive.
But they should leave the potatoes Lyonnaise alone.
Las Vegas Review-Journal reviews are done anonymously at Review-Journal expense. Contact Heidi Knapp Rinella at 383-0474 or e-mail her at hrinella@ reviewjournal.com.
REVIEW what: Vic & Anthony's Steakhouse where: Golden Nugget, 129 Fremont St. phone: 385-7111 overall: A- food: B+ atmosphere: A service: B+ pluses: Great atmosphere. minuses: A little fusion confusion.