Cher wades into pool of superstars at Bellagio fountains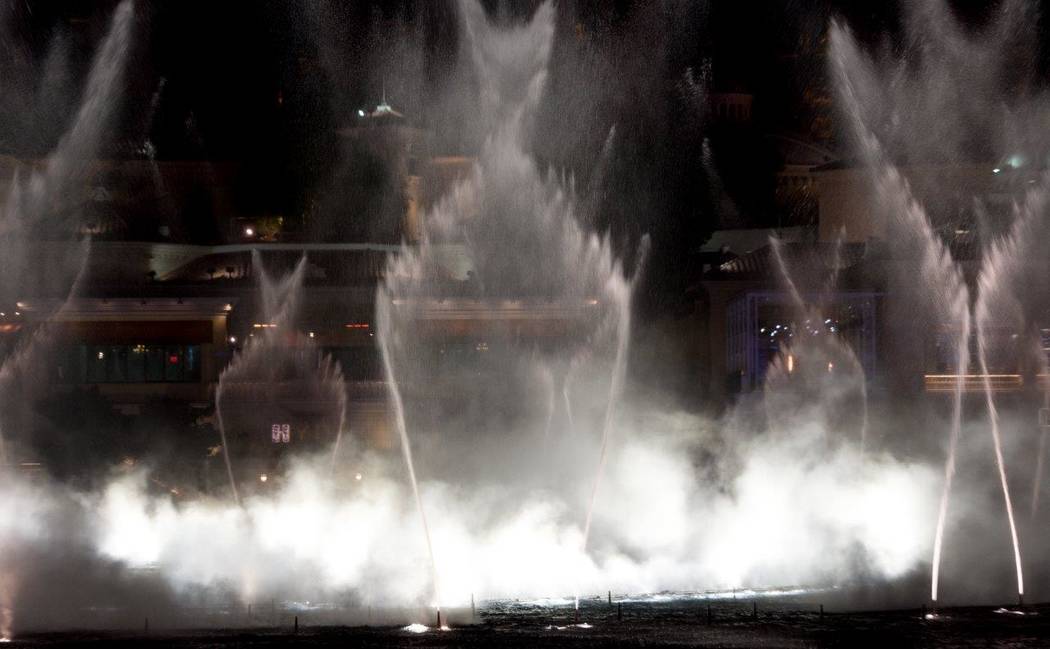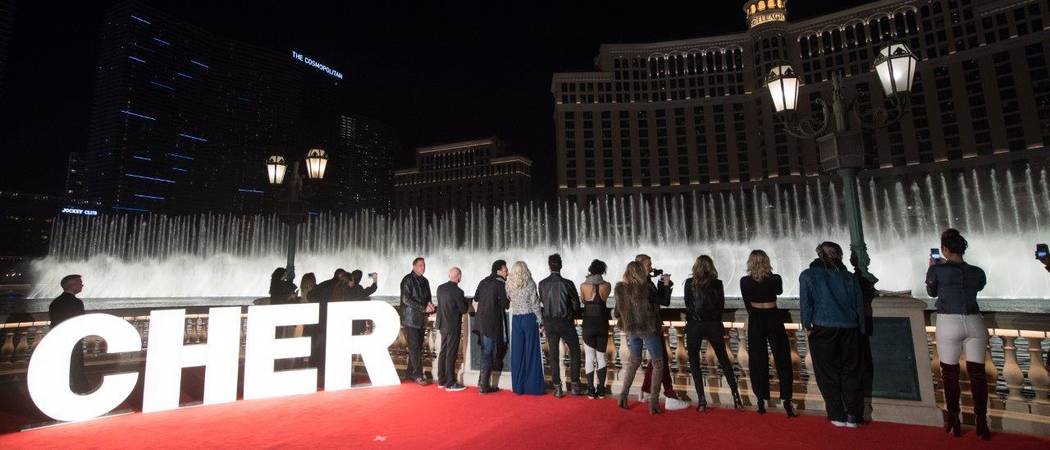 Cher now shares a stage — an aquatic stage — with Elvis, Gene Kelly and Henry Mancini.
The contemporary music icon and master of reinvention has been added to the soundtrack at the Fountains of Bellagio. "Believe," her 1998 hit, was unveiled late Wednesday night before an adoring throng of fans milling about the Strip.
Cher, who earlier in the evening resumed her headlining run at The Park Theater, created a stir when she turned up for the event just before 11 p.m. Her number was preceded by the medley from Tiësto's "A Town Called Paradise" and joins such famed numbers as "Viva Las Vegas" as sung by Elvis, "Singing In the Rain," from Kelly and Mancini's "Pink Panther Theme."
"Believe" joins a lineup of 25 songs played at the fountains. No numbers have been removed.
"It's an honor to be part of the MGM Resorts entertainment family and to be included in such a spectacular landmark on the Las Vegas Strip," Cher said in a statement after the presentation, which she viewed along with execs from MGM Resorts International and AEG Live, co-producers of her Park Theater show.
Cher's show opened in February 2017, and its current run continues until Feb. 3. She returns again May 2-19.
This really is us
The cast of the NBC series "This Is Us" shot for a second consecutive day at the Hard Rock Hotel. The crew took over the Magic Mike Live Theater to continue work on a yet-to-be-announced episode. Series co-stars Milo Ventimiglia, Mandy Moore and Sterling K. Brown reportedly were at the Hard Rock for tapings Wednesday and Thursday.
XS, indeed
At Wynn Las Vegas, "The Hail Mary" is not a 61-yard TD heave from Vikings quarterback Case Keenum to wideout Stefon Diggs to beat the New Orleans Saints. No, it's a VIP package at XS Nightclub to watch "The Big Game" on Feb. 4.
For $25,000, or the price of a pre-owned Ford Fusion, 20 guests can enjoy a bottle of Dom Perignon Luminous, six bottles of Grey Goose with cocktail mixers, one case of Bud Light, a dozen bottles of Fiji water and another dozen cans of Red Bull.
The club also offers less extravagant packages, named "The Touchdown," "Field Goal," "Extra Point," and "Safety," for parties of two to eight. Individual wristbands are also for sale. And it would be good to note that "The Big Game" itself will be shown on the club's video system.
Quick blast from Paris
I took in a sneak peek at "Inferno," the new Paris Theater stage show, Thursday afternoon. A snap observation: Remember the volcano at The Mirage? This show feels a lot like that volcano, but indoors.
"Inferno" opens at 9:30 p.m. Wednesday. It is to be joined in that theater by a musical centered on a blonde icon. We'll spark up coverage of that show later.
That Feb. 17 date
Clint Holmes' co-headlining run "Soundtrack" at the Westgate Las Vegas International Theater begins Feb. 14, and runs Thursdays through Sundays. The show will be dark Feb. 17, but fans hoping to see Holmes in action can head to the M Resort, where he'll be headlining that evening.
Cool hang alert
The Still at The Mirage is a fun spot to catch Vegas Golden Knights games. Fans wearing team gear get a free draft beer. All fans wearing the Vegas team's colors are offered a comped shot for every Golden Knights goal scored. The club poured no shots on Tuesday, the night the promotion was launched, as the Golden Knights were shut out by the Nashville Predators.
Notoriety tuning up
VegasVille scenesters should keep this under-development club on their radar: Notoriety, which is taking over the space formerly occupied by Krave Massive at Neonopolis. The Best Agency Chief Executive Officer Ken Henderson signed the lease this week to move forward on the live music complex (which is a side project and not connected to The Best Agency operation), and construction is just underway.
Henderson says he is hoping to be open by the end of May, or June at the latest. Notoriety is a multivenue fortress that will serve emerging and established performers.
"This is going to be awesome," says Henderson, who is nobly making a move for something to hit the mark in that Krave Massive space. It's been about 57,000 square feet of unused potential since Krave was shut down by state officials in 2013 for permit violations. Before that, the space was the site of Galaxy 11 movie theaters.
John Katsilometes' column runs daily in the A section. Contact him at jkatsilometes@reviewjournal.com. Follow @johnnykats on Twitter, @JohnnyKats1 on Instagram.