Cook E. Jarr in line for a star? It might happen
August 31, 2016 - 9:30 pm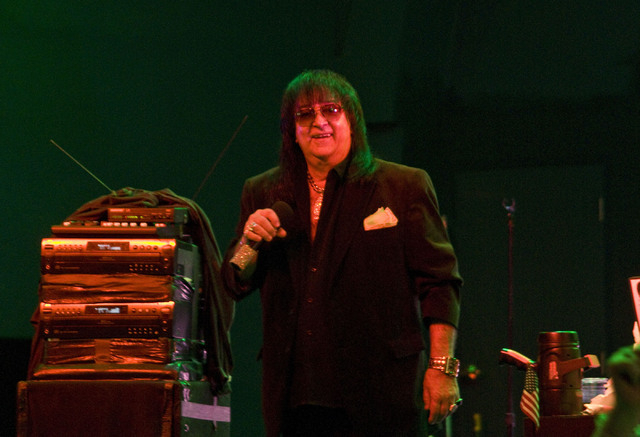 A star for the Jarr. This is the charge.
An effort is underway to raise $20,000 to fund a star on the Las Vegas Walk of Stars for lounge legend Cook E. Jarr.
The fan who launched the site in June, Mark Block, says there is no deadline for the money to be raised. At this writing, the total is about $5,600 has been pledged. If the campaign succeeds, Jarr would join such luminaries as Elvis Presley, Frank Sinatra, Dean Martin, Sammy Davis Jr., Siegfried & Roy, Liberace, Wayne Newton, Bobby DarinandFrank Marino (who has been twice honored).
In 2009, Vegas native Jimmy Kimmel briefly resurrected Jarr's career by airing a live segment of the lounge ace singing Nelly's "Hot in Here" at Harrah's. Kimmel's intro: "If you've never seen my next guest in Vegas, you've never been to Vegas, my friends."
The Jarr, whose real name is Anthony Pettine, is nothing less than a Vegas institution. After an appearance at Nero's Nook at Caesars in 1969, he hit the town for good in June 1982 with a residency at the Sands. He has since performed at assorted Las Vegas lounges, first with his backing band The Krums. He headlined at such famed Vegas hotels as the El Rancho (after it was rebranded from the Thunderbird), Dunes, Tropicana, Continental and Caesars Palace.
More recently, the Jarr played the Piano Bar at Harrah's before moving to his most recent gig at Napoleon's at Paris Las Vegas, where he plays Mondays from 6 -8 p.m. If you want to experience a true Vegas lounge icon, hit that scene. There is no cover charge, but there is a tip (wait for it) Jarr (boom!).
ROOM FOR VIPER?
The Viper Room brand has expanded to include a line of apparel under the stewardship of Roxie Amoroso, who operates Exile Boutique and Cowtown Guitars with her guitarist-husband Jesse Amorosoon Main Street in the Arts District (you might recognize Jesse as the longtime guitar expert on "Pawn Stars").
In July, Roxie was enlisted by Darin Feinstein of Red Mercury Entertainment of Las Vegas, who owns the original Viper Room in Los Angeles, to design a new line of branded clothing.
The inventory, which has been moving quite swiftly since its launch a month ago is mostly distressed T-shirts, jackets hats and the like. All of these items carry a version of the Viper Room logo (you can find the merchandise online at www.shopviperroom.com, and also at Cowtown Guitars).
This new venture raises a pertinent question: Why would a club based on the Sunset Strip in L.A. be using Las Vegas as a springboard for a new fashion line? Because it wants to tie the apparel to a new club in Vegas, is my educated guess, and set up a merchandise counter at that new location. Look for the Viper Room to expand to another Strip — ours — by the end of the year.
CAMEO … WITH FROSTING
More from the Red Mercury front: One of the company's acts at Westgate Cabaret, the famed funk band Cameo, is celebrating the 30th anniversary of its monster hit "Word Up." The band opened March 2, and hey, they enjoy steady support at the Cabaret.
The anniversary boogiefest commences at 7 p.m. Saturday, and such contemporary music stars as Craig Robinson (of "The Office," a huge Cameo fan) CeeLo Green, Cyndi Lauper and the band Korn(which has covered "Word Up") have recorded videos commemorating the anniversary. We are told there shall be cake, too, and if you're wondering if Cameo front man Larry Blackmon is still wearing the iconic red codpiece made famous in the "Word Up" video: Yes, and proudly.
LIPSHTICK HIATUS ACTION
The schedule of shows at Palazzo Theater is absent one title: "Lipshtick," the lineup of female comics that had played Sands Showroom before moving to the theater this spring. The most recent performance was from Lisa Lampanelli in July, and nothing further is scheduled for the series, anywhere. Others who have headlined include Whitney Cummings, Loni LoveandWendy Williams.
As a spokesman explained: "We have always booked 'Lipshtick' by season as it has never been an ongoing show, per se." The theater is going with the two-team toggle of "Baz – Star Crossed Love" and Clint Holmes' "Between the Lines."
John Katsilometes' column runs Saturday, Sunday, Tuesday and Thursday in the A section, and Fridays in Neon. He also hosts "Kats! On The Radio" Wednesdays at 8 p.m. on KUNV 91.5-FM and appears Wednesdays at 11 a.m. with Dayna Roselli on KTNV Channel 13. Contact him at jkatsilometes@reviewjournal.com. Follow @johnnykats on Twitter and @JohnnyKats1 on Instagram.