Dane Cook accepted friendship — but not every phone call — from Jerry Lewis
Updated June 1, 2018 - 12:21 am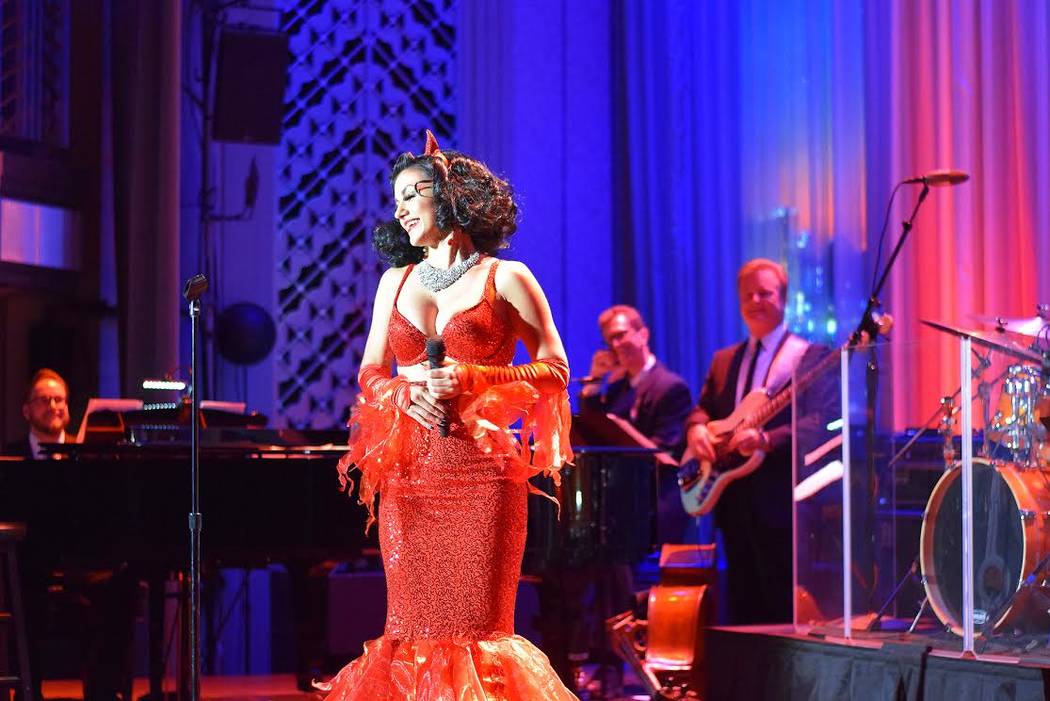 Whenever Dane Cook's phone flashes with an "Out Of Area" caller ID message, he feels a little pain in his heart.
"Very few people out of my area had my cell number, so when I saw that 'Out Of Area' message, I knew it was Jerry Lewis calling," says Cook, headlining the Chelsea at The Cosmopolitan of Las Vegas on Saturday night. "I still remember him, and I get a little emotional whenever I see that message."
When Lewis called, Cook rarely picked up, with Lewis being sent to voice mail. Cook now has a collection of classic voice mails from Lewis, who died Aug. 20 at age 91.
"Many of them start off, 'Hello, my boy! It's the Jew in the desert!' " Cook says, laughing. "They are wonderful."
Lewis and Cook were indeed close in the final years of Lewis' life. Lewis had been a fan of Cook's stand-up act, and had sought Cook to be interviewed for the documentary "Method to the Madness," which had been in development for several years leading to its 2011 release.
Cook, who still felt "off-kilter" after the the recent death of his parents, was unable to participate in that filming. But the Lewis family — especially his wife, Sam Lewis, and daughter, Danielle Lewis — insisted Cook show up at the premiere at Paramount Studios in L.A.
"I had still never met Jerry Lewis, and he gets to the podium after the premiere and he says, 'Where's Dane Cook?' " Cook says. "Hearing my name said by somebody I admired like I admired him was staggeringly bizarre. He took my number and we formed a friendship from there."
Cook was at Lewis's 90th birthday party at Piero's Italian Restaurant in March 2016, and Lewis' memorial service at South Point Showroom in August. He recalled Lewis once telling him, "Dane, I have good news and bad news. The good news is, I'm making a new movie and you're going to star in it!"
"Oh, really?" Cook responded. "What's the bad news?"
Lewis fired back, "I'm also gonna direct it!"
Cook still has a note he jotted down during a call with Lewis. Cook was going through a "rough patch" in his career. Cook had missed out on some professional opportunities while being knocked around by critics who didn't realize how hard he'd worked to succeed in stand-up.
"He told me to grab a pen and write down, 'I am a very important person. I have wonderful ideas that need to be heard,' " Cook says. "Very simple, but I read it every day, and when I do, I think of Jerry."
Spirit of '76
Smith Center donors have just learned of a new ticket package to see "Hamilton" at Reynolds Hall. For $1,776 (the patriotic numbering entirely intentional) two guests will receive a pair tickets, dinner, lecture and a "swag bag" related to the production. This offer is for shows Wednesdays and Thursdays beginning next week.
Funds from this offer are being funneled to the Smith Center's Education and Outreach Department. The package is not advertised and is not even posted on TSC's official website. Those interested should simply call the Smith Center's development office through the direct line at 702-749-2000, a means of communication that dates almost to 1776.
'Weekender' this weekend
Melody Sweets' return to the stage is among the highlights of the Burlesque Hall of Fame Weekend at The Orleans. The former Green Fairy from "Absinthe" at Caesars Palace and a board member for the Burlesque Hall of Fame in the Arts District will perform a new, original number during Saturday night's Miss Exotic World competition.
Sweets, who left "Absinthe" in October after a 6½-year run as the show's singing chanteuse, will perform a mash of Black Sheep's "Flavor of the Month" and Prince's "Cream." Sweets has been recording a pair of new singles with members of Santa Fe & The Fat City Horns.
Also on Saturday's bill is a guest performance by 2017 Miss Exotic World champion Medianoche. The event's tribute to legends, the "Titans of Tease" show, will be at 8 p.m. Friday. The "Icons & All-Star Showcase" of legends and past Miss Exotic World titlists, is set for 8 p.m. Sunday. Parties and events are strewn through the rolling celebration (go to the bhofweekend.com site for info), which is the primary fundraiser for the Burlesque Hall of Fame museum.
A dash of Basil
Harry Basil is more than a funny person who performs stand-up at Laugh Factory at the Tropicana. Basil will headline this weekend, in fact. He is also the club operator, he books comics at the venue, and he has established the Laugh Factory Presents series at Tropicana Theater.
As we noted Tuesday, Basil was pursuing Roseanne Barr to fill one night or a weekend at the theater when her sitcom was cancelled by ABC. But we didn't know until Wednesday how close Basil was to actually signing Barr for that gig.
As Basil said Wednesday on my weekly radio show on KUNV 91.5-FM, "I was about to e-mail her an offer the day it happened. I woke up and my wife goes, 'You're not going to believe what happened.' I was thinking, 'Man, we really dodged a bullet there.' " Basil had also signed Barr in the 7 p.m. slot in the Laugh Factory club for a four-month residency in 2012.
John Katsilometes' column runs daily in the A section. Contact him at jkatsilometes@reviewjournal.com. Follow @johnnykats on Twitter, @JohnnyKats1 on Instagram.