David Perrico is Paul Shaffer's go-to man on Las Vegas Strip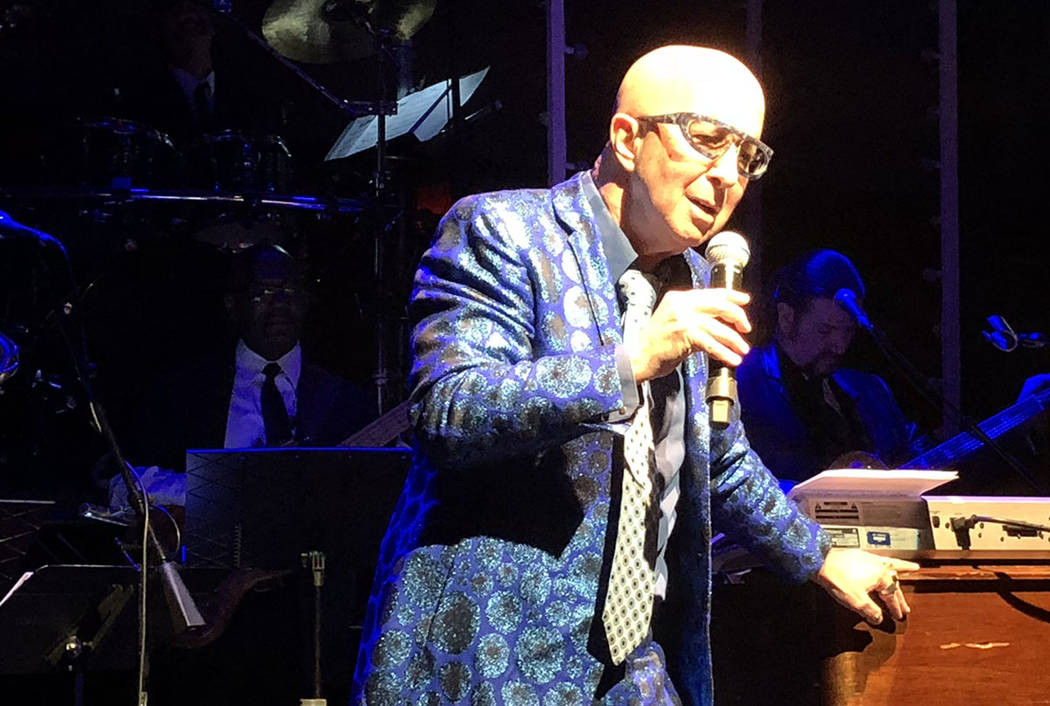 Asking David Perrico for the highlight of performing with Paul Shaffer is something of an unfair question.
"The highlight? The whole gig is a highlight," says Perrico, the trumpet virtuoso and acclaimed bandleader. "The experience with Paul is the highlight."
Shaffer and the band Perrico built for Vegas, the Shaf-Shifters, are coming back to Cleopatra's Barge at Caesars Palace. The engagement's first shows are Sept. 6-8, followed by Oct. 11-13, Nov. 29-Dec. 1 (tickets start at $49 and go on sale at 10 a.m. Saturday).
The Shaf-Shifters most recently performed nine dates at the Barge in late December and early January. Shaffer clearly delighted in playing the famed, moated entertainment enclave, donning a blue suit splashed with gold and green glitter and announcing he was performing "on the corner of Sin and City!"
Shaffer rolled out some old video clips (including reviving his role as Artie Fufkin on "This is Spinal Tap") and paid tribute to James Brown with a staggering "Please Please Please."
Shaffer was at home onstage — and his keyboard solos were something to behold — but he needed a hand in creating the right collection of musicians for this exclusively Vegas show. Perrico, who once toured with the Tommy Dorsey Orchestra, was a natural fit; his Pop Strings ensemble plays that very room at 10 p.m. Fridays and Saturdays.
"Paul is the consummate leader, he makes changes on the fly and you have to follow and adapt," Perrico says. "He's demanding, but not in a bad way. You just need to deliver."
Perrico has signed up most of the Shaf-Shifters from last winter's band: Vocalist Noybel Gorgoy, guitarist Jim Buck, bassist Keith Nelson, Andrew "The Fury" Friedlander on sax, Neil Maxa on trombone and Pepe Jimenez on drums. All are highly regarded, veteran Las Vegas artists.
"Paul made sure to call out and showcase the musicians," Perrico says. "He expects excellence, and he rewards it, too."
Shaffer had envisioned some drop-in performers, in the spirit of the Vegas of yesteryear, and that did happen. Bill Medley and Bucky Heard of the Righteous Brothers, Martin Short, bassist Will Lee (who played with Shaffer for three decades on David Letterman's World's Most Dangerous Band), Sonny Charles of the Checkmates and Martha Walsh (of The Weather Girls, who sang "It's Raining Men") were among those jammed with the Shaf-Shifters.
Perrico has again sold out Myron's Cabaret Jazz on Saturday night for his latest Pop Strings show at The Smith Center, with Las Vegas Tenors, Lily Arce, Mark Boals of "Raiding the Rock Vault," and Gorgoy as guest stars. Pop Strings is taking this weekend off at the Barge, returning July 20-21.
Perrico chuckles as he talks of working as Shaffer's bandleader.
"He introduces me as his music director, and I shake my head," Perrico says. "As far as I'm concerned, he's the music director of everyone."
The would-be Hawk
With NBA Summer League in town and (temporary) renaming of SLS Las Vegas to Grand Sahara Resort, we recall hotel owner Alex Meruelo was once very close to becoming an NBA owner.
Meruelo nearly snapped up the Atlanta Hawks in 2011, reportedly making an agreement to buy the majority stake in the team for $300 million. But talks unraveled late in the negotiations, and Meruelo announced in November 2011 the two sides "were not able to reach a mutually satisfactory agreement."
Had he made that purchase, which included the team's Philips Arena, Meruelo would have been the first Hispanic majority owner of an NBA franchise (his parents are Cuban immigrants). But he doesn't sound like a guy regretting his dashed hoop dreams.
"This purchase, to me, is bigger than owning a sports team," Meruelo told the L.A. Times in a rare interview in April (he consistently resists interviews). "There are over 120 sports teams you can buy, but there is almost zero real estate on Las Vegas Boulevard. It's one of the most unique purchases in the world."
All that bacon
Jerry Lewis and Jerry Seinfeld chatted over breakfast at the Omelet House for Seinfeld's Netflix show, "Comedians In Cars Getting Coffee." It was no ordinary breakfast. Lewis asked for three fried eggs "up," and a large order of "very, very, very stiff bacon."
A platter towering with stiff bacon was summarily delivered to the comics' table.
It was a real request. Lewis was known to ask for very, very, very stiff bacon on his visits to the Omelet House. He even ordered stiff bacon to-go, sending assistant Gary Smith to Omelet House on regular pick-up missions.
"I even ran a tab for him, for the bacon," Omelet House owner Kevin Mills says. "He'd have five or six orders of bacon, well-done, and then pay it off."
Mills went for comedic overkill when Lewis and Seinfeld ate at Omelet House.
"As a gag, I had 12 orders on one plate sent to their table," Mills says, adding that each order has four or five strips of bacon. "They laughed. It was great. I think it was the last time Jerry was in the restaurant, so it meant a lot."
John Katsilometes' column runs daily in the A section. Contact him at jkatsilometes@reviewjournal.com. Follow @johnnykats on Twitter, @JohnnyKats1 on Instagram.