Gray a colorful addition to new Palms team
Updated March 26, 2017 - 8:56 pm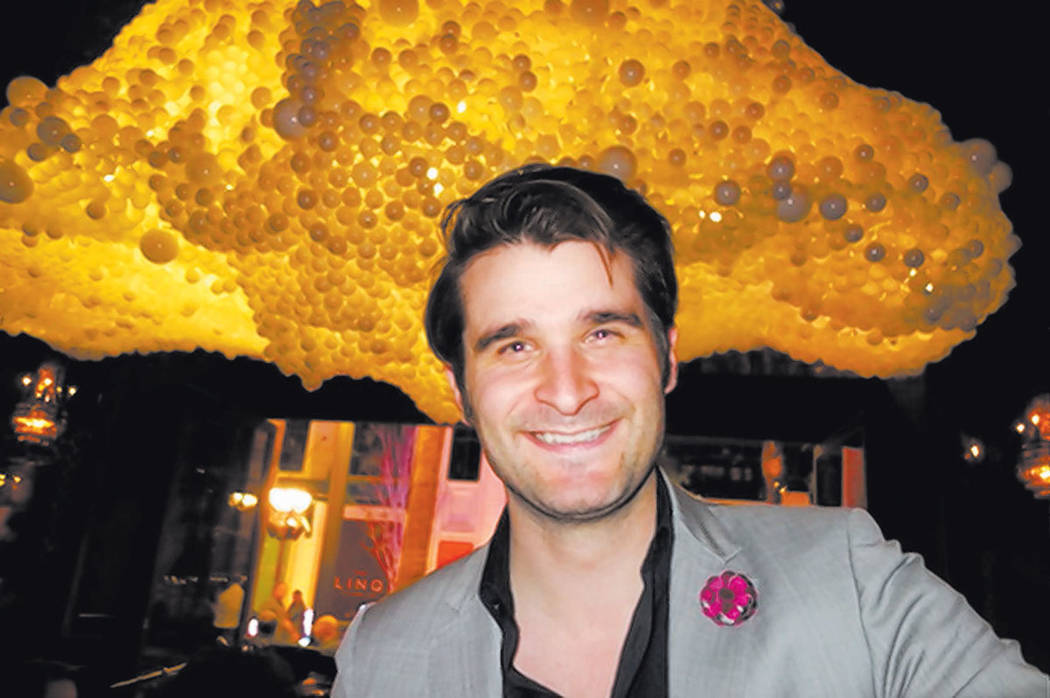 Running into the person who runs the Vegas hotel-casino where you're staying certainly adds to the customer experience.
A decade ago, it was common for guests to encounter Jon Gray, then-senior vice president and general manager of the hotel's restaurants, nightclubs,and pool events coming or going from one location or another. He regularly ushered celebs such as Jay-Z, Gwen Stefani, Kanye West, Maroon 5 and Britney Spears into VIP enclaves at Pearl Concert Theater. Always setting himself apart, during the opening Ghostbar Day Club in 2011, Gray donned a replica of the sky-blue tux worn by Jeff Daniels in the original "Dumb & Dumber. The ever-adventurous exec is back now, at age 33 but with a world of experience, as assistant general manager of the very hotel where he honed his management skills. Gray is working under new Palms General Manager Anthony Faranca, who most recently operated Parx Casino in Bensalem, Pennsylvania; and alongside assistant GM Cookie Dreschler, who has forged a 30-year career in Station Casinos, including stints as GM of Sunset Station and Fiesta Henderson.
Gray's arrival is part of an extensive shuffling of execs at Station Casinos. Former Palms GM Mike Jerlecki (appointed last October) has moved to Boulder Station. That hotel's outgoing GM, Don Richardson, is moving to Station's corporate office.
Gray was a key figure and walking manifestation of the Palms' hip-cool image during its mid-2000 heyday. The upstart exec from Tonopah, a UNLV grad who opened Wynn Las Vegas as a front-desk clerk, arrived at the Palms in 2005, just four years after the hotel's opening.
Gray was promoted to assistant hotel manager under then-owner George Maloof, and quickly became a key advisor to Maloof for projects such as the Fantasy Suites. Gray was later named senior vice president and general manager of N9Ne Group, heading up the hotel's nightclubs, restaurants and pool events.
As Maloof sold the hotel, Gray moved on to open Linq promenade, then made much-ballyhooed move to a top-level post with Nike in Oregon, uprooting his family for life in Lake Oswego.
Gray traveled the world burnishing the Nike brand and admits his was "a very cool job." But Gray still held an affinity for Las Vegas, which he considers his hometown. In mid-February, a little more than four months after Station Casinos began operating Palms, Gray took a call from Station exec Rich Haskins.
"What are you doing? Get on a plane and fly to Vegas," was Haskins' message. Gray made the trip and met with Station Casinos owners Lorenzo and Frank Fertitta III. The men bonded over their mutual fondness for the city (the Fertittas were born and raised here) and the history of the Palms, a hotel ripe for new initiatives.
What has not been established, or ruled out, is a name change. Palms was a Maloof creation, and is in fact a 15-year-old brand. But hotel spokeswoman Lori Nelson says only, "We have enjoyed building off the Palms brand and the emotional connection that everyone we have come into contact with from the early days has for it."
Regardless, the Palms is unique in the Station family, a rare acquisition for a company that builds before buying. The Palms is also the Station hotel that most closely resembles a Strip resort.
"We have to look at the Palms as a lifestyle property, a Strip property, with a lot of potential in nightlife and hospitality, in its suites and entertainment," Gray says. "What we want to do is really exciting … and we've already got some great things underway."
The Palms is overhauling its Twenty Four Seven cafe, with a new name, look and menu this spring. Keep an eye on its nightlife, team, as veteran nightlife operators Cy and Jesse Waits, late of XS and Tryst at Wynn Las Vegas are reportedly moving to the Palms to work with Gray on relaunching the hotel's nightlife lineup (the hotel has not confirmed their arrival, but I'm a believer).
Expect, too, a more adventurous use of Pearl, celebrating its 10th anniversary this year. "Pearl is a pillar to the strategy of the Palms … We need to think about how the Pearl can drive the overall experience," Gray says. "We want people to be partying pre- and post-show not just coming to the show and leaving. We need to look at how entertainment can bleed into other areas of the property."
As in his earlier tenure, Gray is very much the face and personality of the Palms. Such a role is not necessarily in his job description. It doesn't need to be. "It's all about the experience," he says. "It's about developing relationships, and that's just in my DNA."
LEWIS MEETS 'MINDFREAK LIVE'
Jerry Lewis saw "Mindfreak Live" on Saturday night, and was introduced to the crowd by star magician Criss Angel. Lewis told him, "Great show, Criss, just great. You're wonderful." Angel later said having Lewis in the audience was, "The biggest honor in my career. I'll never forget it."
'WEEKEND' ON FSE
Jeff Civillico's "The Weekend in Las Vegas" talk and variety show began filming (again) at the First Street Stage on Fremont Street Experience this month. The next telecast is 8 p.m.-10 p.m. Wednesday. Guests have included John Popper of Blues Traveler, John Payne of Asia, Frankie Moreno of Golden Nugget, Mike Hammer of Four Queens and Chris Kael of Five Finger Death Punch. The show streams online at theweekendlv.com.
THE LYNDE EXPERIENCE
"The Paul Lynde Show" at Windows Showroom at Bally's opened March 22. The ode to the man who inhabited the center square on "Hollywood Squares" from 1968-'81 stars comedian Michael Airington. The show is a retelling of Lynde's entire career, even though he is far better known for "Hollywood Squares" than any stage or TV shows (though he was in "Bye Bye Birdie" on Broadway and in the film, and was a cast member on the popular "Bewitched" sitcom).
A refreshing move: The show does employ a live band, led by ex-"Jersey Boys" music director Keith Thompson. And Lynde story not in the show, as told by frequent "Hollywood Squares" guest Pia Zadora: The game show recorded three shows per day. After the first two, Lynde was so unsteady from a day of cocktails that he needed to be strapped into his chair, for risk of falling over backward off the set. Lynde's fondness for the drink is well-known. In his Lynde character, Airington sips a "mocktail" throughout the show.
WHO WAS WHERE
Dallas Mavericks owner Mark Cuban at Tao Nightclub at the Venetian on Saturday … Dallas Cowboys receiver Terrance Williams at Drai's Nightop at The Cromwell, taking in rapper Lil Wayne's late-night spectacle … Williams and Denver Broncos receiver Cody Latimer on Friday at Tip "T.I." Harris' set at Drai's.
John Katsilometes' column runs daily in the A section, and Fridays in Neon. He also hosts "Kats! On The Radio" Wednesdays at 8 p.m. on KUNV 91.5-FM and appears Wednesdays at 11 a.m. with Dayna Roselli on KTNV Channel 13. Contact him at jkatsilometes@reviewjournal.com. Follow @johnnykats on Twitter, @JohnnyKats1 on Instagram.