Las Vegas broadcast icon Gary Waddell dies
Updated September 4, 2021 - 10:56 am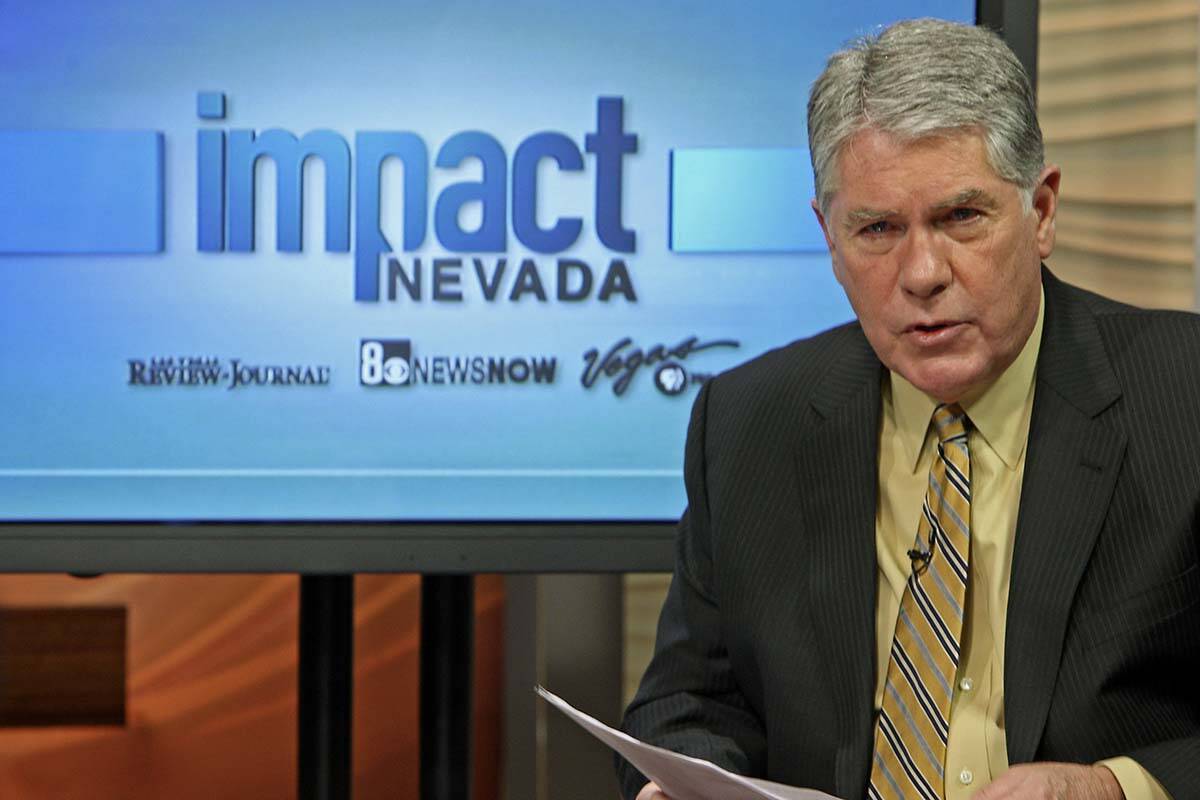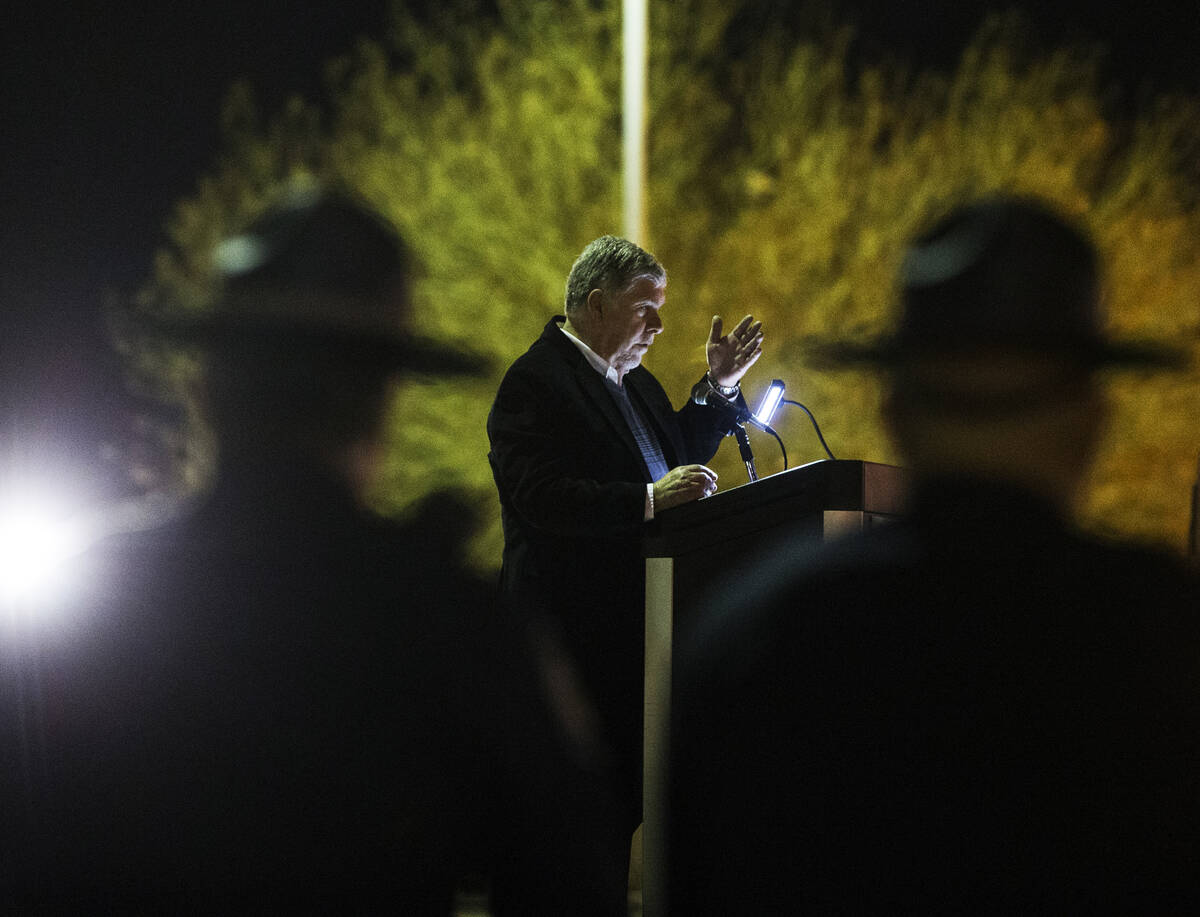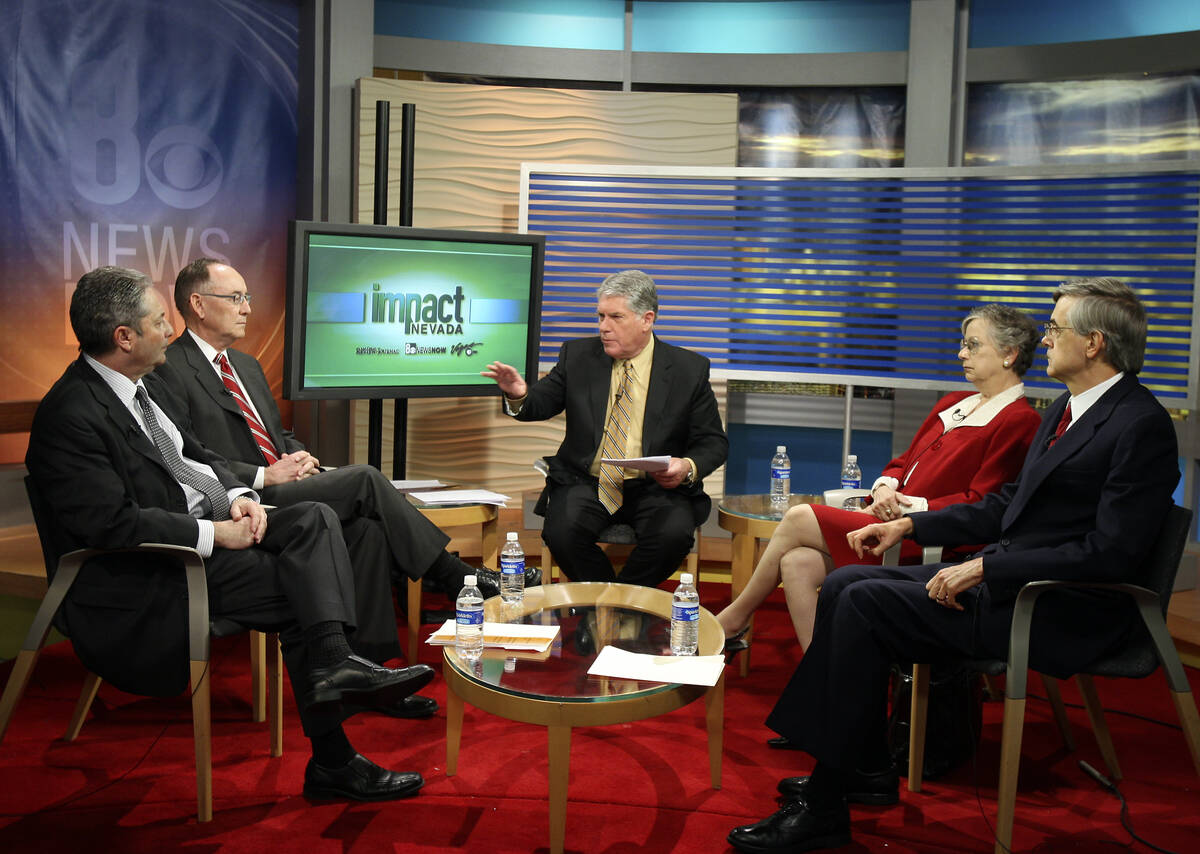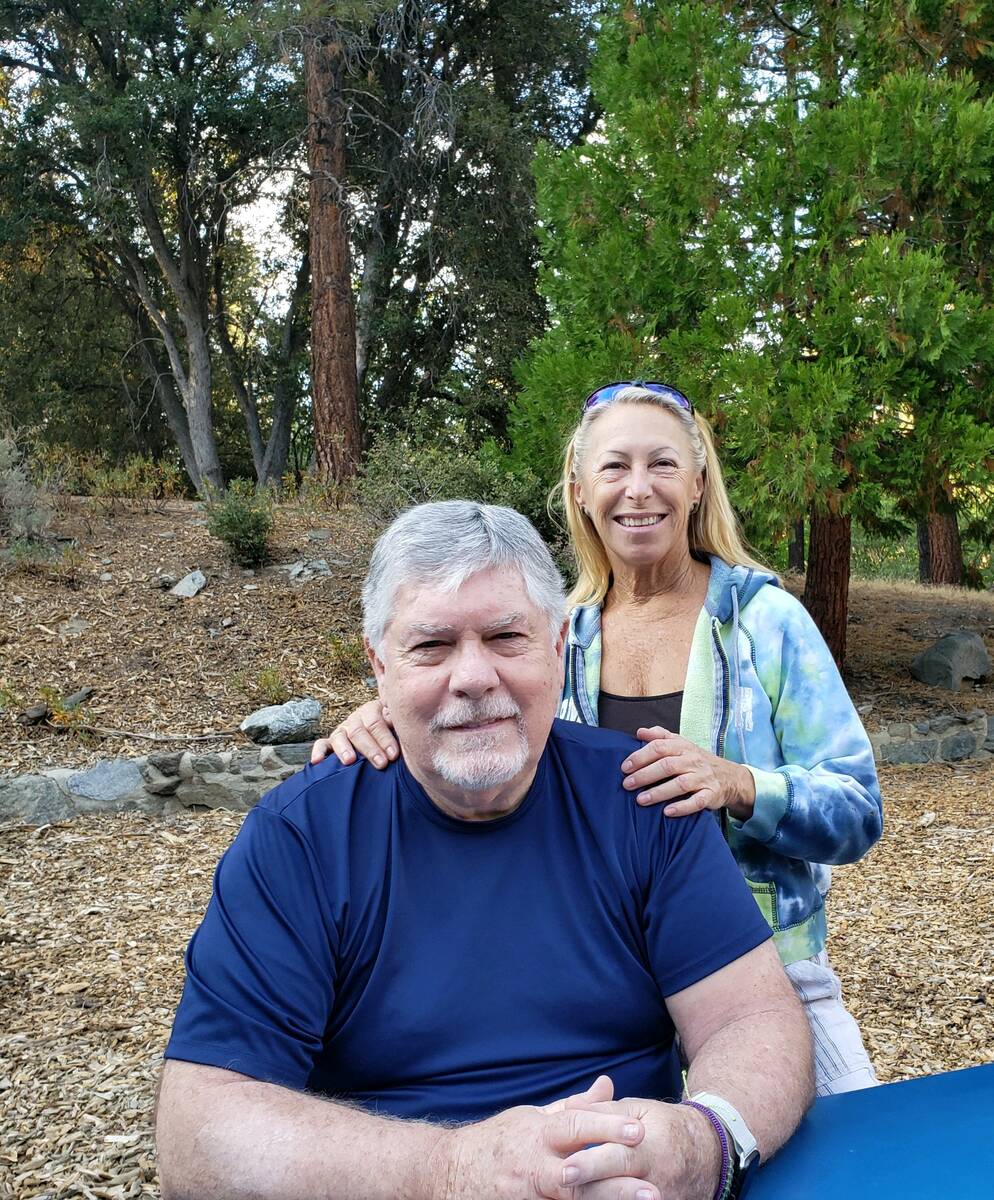 Gary Waddell retired nearly a decade ago. But it seems he never really signed off.
"I can't tell you how happy it made us that everywhere Gary went, he would be recognized and showered with affection. This was true in Las Vegas, in Hawaii, in Mexico, even in Europe on a motorcycle trip," Waddell's ex-wife, Chrisse Waddell, said in a statement. "The recognition and affection was so meaningful to Gary and to our family."
The iconic Las Vegas broadcaster, who spent 32 years at KLAS Channel 8, died late Thursday night of cardiac arrest He was 77. His death was brought on by complications due to COVID, at St. Rose Dominican Hospital, Siena Campus, in Henderson. Chrisse Waddell put the time of death at 11:43 p.m.
Waddell had been vaccinated for COVID. But the newsman also suffered from what a news release announcing his death described as "significant co-morbidities."
KLAS president and general manager Lisa Howfield said Friday morning, "Gary was an true icon. You can't have a conversation about the history of broadcasting in Nevada without mentioning Gary Waddell."
According to the station, Waddell was the longest-serving anchor ever in Las Vegas.
Waddell's longtime co-anchor Paula Francis said in Friday via text, "The years that I worked with Gary were the best years of my career. He was a great news man and a great friend. A truly special gentleman."
Gary Waddell's longtime friend, camera operator Tom Vanozzi, had known Waddell since the newsman arrived in Vegas. Upon Waddell's retirement, Vanozzi gave him an engraved pocket watch, a kind of gag gift.
"I had it inscribed, 'I Used To Watch You When I Was a Little Girl,'" Vanozzi said. "People came up to him and said that all the time. That was Gary."
Waddell covered the MGM Grand fire in November 1980, and PEPCON fire in Henderson in May 1988, among many other news events in the Las Vegas Valley.
Waddell retired after his broadcast on Aug. 3, 2012. He was inducted into the Nevada Broadcast Hall of Fame three weeks later. He was an Associated Press Television-Radio Association Mark Twain Award recipient and won several Emmy Awards for his distinguished career in Las Vegas.
Chrisse Waddell said Gary had been admitted to the hospital on Tuesday evening after feeling weak at his home in Henderson. He had just returned Monday from a trip to Wrightwood, California, in San Bernardino County.
Chrisse said that Gary had tested positive for COVID, though both he and his ex-wife had been vaccinated. He was being treated with Remdesivir and seemed to be making progress. But Chrisse spoke to him on the phone Thursday morning and became concerned for his health.
"He had been suffering symptoms for four or five days, but we thought he was doing fine," Chrisse Waddell said. "He was on a CPAP machine, helping him breathe, and he was talking to me on the phone through that. He said, 'I think I am going to die here.' I said, 'They are taking great care of you.' But the nurses checked on him, told him he shouldn't be saying things like that to me."
But at about 11 p.m., Waddell went into cardiac arrest. Chrisse Waddell said the staff worked on him for about 40 minutes before he passed. Services are pending. Chrisse Waddell said that Gary left no blood relatives, and the couple had remained very close in the years after their divorce in 2010.
In the mid 80s, I had the pleasure of being the co-anchor with Gary Waddell on our 6 pm and 11 pm newscasts each night. And in '86, KLAS was honored as the Best Newscast in the US. We had great fun and I learned so much from him. RIP pic.twitter.com/3ViAwxTCE9

— George Knapp (@g_knapp) September 3, 2021
A native of Kearney, Neb., Waddell arrived in Las Vegas from Chicago in 1971, spending four years at KORK-TV (now KSNV Channel 3). He was first a reporter, then a weatherman before moving on to an anchor role for two years.
Waddell took a five-year break, working in pubic relations and real estate, before being recruited by fellow broadcast legend Bob Stoldal at KLAS.
"Gary's work in real estate really helped him get to know the community," Stoldal said in a phone chat Friday. "He really was your neighbor."
Waddell worked with several co-anchors during his time at KLAS, covering 1980-2012. He was likely best remembered as working alongside Francis from 1991-2012. Over the years, Waddell also co-anchored with such prominent broadcasters as George Knapp, Sue Lowden, the late Polly Gonzalez and Denise Valdez.
Valdez worked the noon broadcasts with Waddell from her move to Las Vegas in 2006, until his retirement six years later.
"He was the first person to embrace me in the newsroom, and I knew he was a legend in the market," Valdez said Friday. "I had a proximity to power, the new girl sitting with the veteran, and he couldn't have been nicer."
Valdez recalled Waddell arriving each weekday and dropping his keys into a ceramic bowl.
"I'd be typing and I'd hear, 'Cling!' Gary's here!" Valdez said. "I just remember that Pavlovian feeling that the shift was beginning because he was there."
Several staffers and visitors recalled Waddell's pet tarantula, named Frankie, a popular newsroom conversation piece.
"He'd keep it in the little aquarium on his desk," Valdez said. "People would come in and he'd say, 'Wanna see something cool?' People would either love it, or be scared by it."
The news station's release said of Waddell, "For several years he led the news team that drew more ratings, more viewers, than the other Southern Nevada news stations combined."
Waddell and co-anchor Gail Westrup covered the Union Plaza's New Year's Eve fireworks show. It was the first televised New Year's Eve event from Las Vegas. That broadcast led to a tradition of live New Year's Eve coverage co-hosted by Waddell and Francis on Channel 8.
Stoldal said Waddell's wide-ranging abilities helped make that original live broadcast a reality.
I remember – many years ago – I brought my daughters with me to the station when I had an interview with Gary.

He had a pet tarantula he kept in the office. Safe to say, they weren't fans of the pet.

We'll be keeping Gary's friends and family in our thoughts at this time. https://t.co/hdS39ThkM8

— Governor Sisolak (@GovSisolak) September 3, 2021
"People don't realize that Gary had as much talent behind the camera as in front of the camera," Stoldal said. "He loved production, lighting and setting. I think that's what he wanted to do in life, but he was such a talent in front of the camera. The audience recognized his intellect, and his honesty from his heart, when he was in their living rooms. He and Paula made a team that was very comfortable."
Las Vegas Mayor Carolyn Goodman said Friday, "Gary was the face of serious and honest reporting, and always part of what has been the true Las Vegas family."
Waddell was active in community causes. He worked as a freelance stage manager for the Jerry Lewis MDA Telethon when the show was held at the Sahara in 1976, the famous night when Dean Martin was brought to the stage by Frank Sinatra to surprise Lewis.
In retirement, Waddell continued his passion for motorcycle riding (he most recently owned a BMW bike). He worked in a BMW Motorcycles of Las Vegas for a time, and was prominent in motorcycle-safety initiatives as a member of the European Motorcycle Club.
In April 2003, Waddell suffered three broken ribs when he was hit by a drunk driver on State Route 163 near Searchlight, on his way to Laughlin.
Asked of Waddell's legacy, Stoldal halted before answering.
"Maybe I'm just getting long in the tooth here, but this one really hurts, because Gary was so special to the community," Stoldal said. "But I'm remembering a letter a guy wrote years ago, his name was Bill. I can't recall what was happening at the time, a crisis in the Middle East or something. But he said, 'The world might be coming to an end, but please let Gary Waddell announce it. He'll do it in a calm way.'"
This is a developing story. Check back for updates.
John Katsilometes' column runs daily in the A section. His "PodKats!" podcast can be found at reviewjournal.com/podcasts. Contact him at jkatsilometes@reviewjournal.com. Follow @johnnykats on Twitter, @JohnnyKats1 on Instagram.