Melody Sweets set to take her final shot of 'Absinthe'
September 25, 2017 - 7:16 pm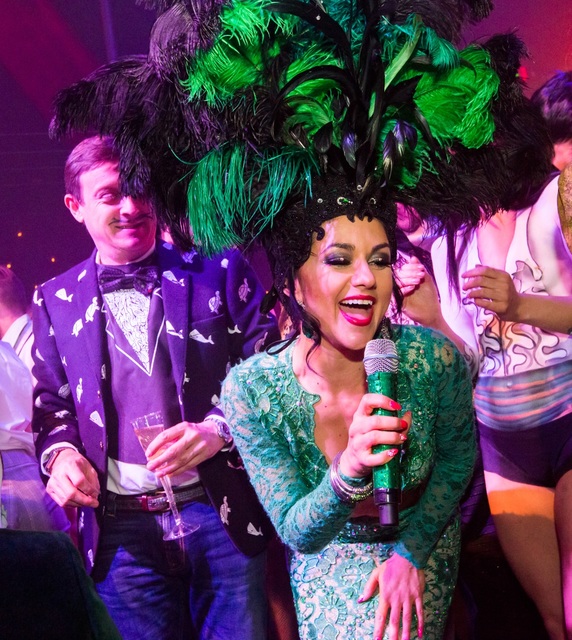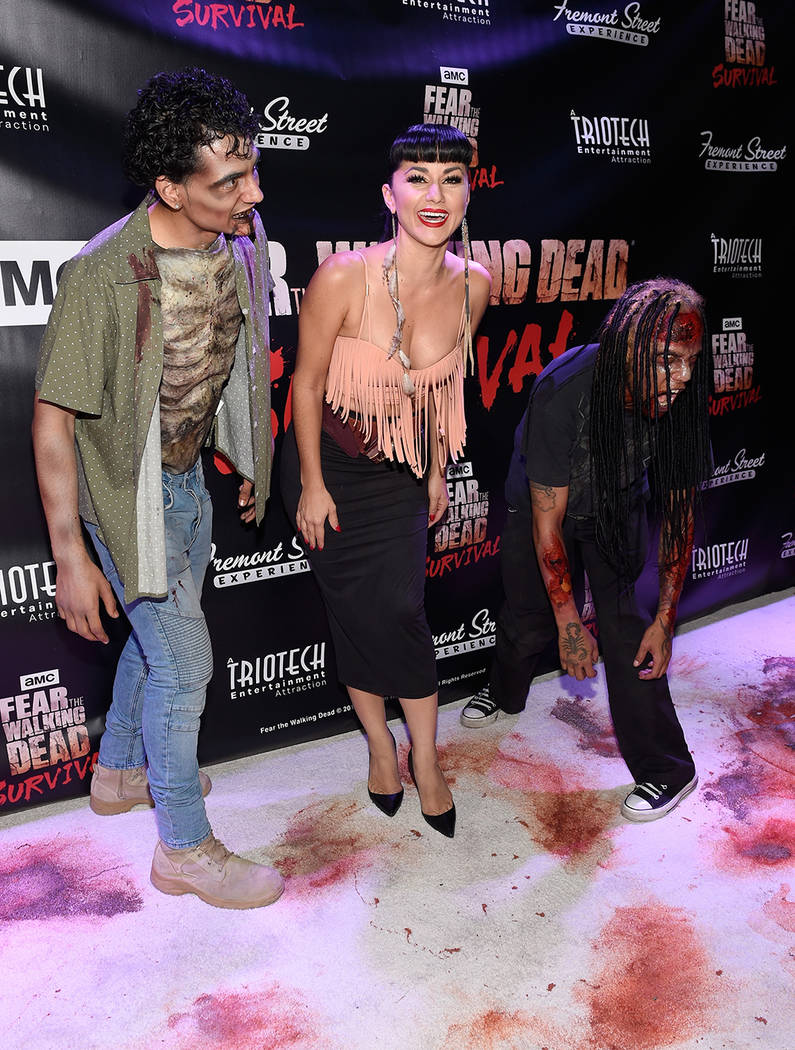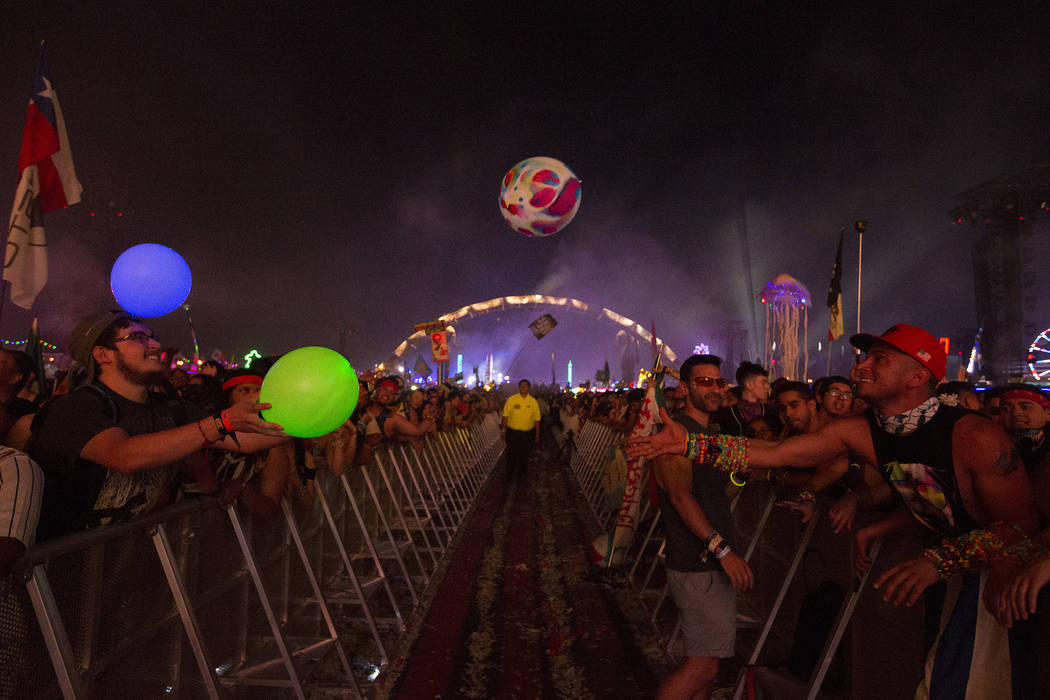 Melody Sweets, the original Green Fairy in the hit production "Absinthe," is leaving the Spiegeltent.
Sweets announced Monday she will depart from Caesars Palace's Roman Plaza on Oct. 22, when her contract with production company Spiegelworld expires. Sweets is an original cast member of the show dating to its opening on the Strip in April 2011, and she originated the Green Fairy character.
Sweets' tenure with the show pre-dates Las Vegas, as she joined the Spiegelworld production in New York in 2008. She plans to develop a stage and recording career outside of "Absinthe."
"After much thought and consideration, I have decided not to renew my contract with Absinthe," Sweets said in a statement issued today by Las Vegas publicist Michael Caprio. "It has been an amazing 10 years! What an honor to be able to sing my own music in a hit production, have the opportunity to create and cultivate the role of the Green Fairy, and to be able to see it to such a success.
"I'm so very proud, and grateful, to have been a part of such a phenomenal show."
Spiegelworld founder and self-styled "impresario" Ross Mollison has not yet said who will fill the Green Fairy role after Sweet's departure.
Sweets' character opened and closed the show with striptease numbers performed to her original song "Slice of Heaven," and also a cover of "Taboo." Since she debuted on the Strip, Sweets has produced and performed in nine solo shows with different themes at Spiegeltent and Myron's Cabaret Jazz at the Smith Center for the Performing Arts. Her next appearance is at Cab Jazz is 9:30 p.m. on Oct. 24.
Those shows have featured many of Sweets' friends in the burlesque world and have filled their respective venues. As she said in her statement, "Although it's a bitterSweets feeling, I'm looking forward to the future."
Hold off the 'Wow'
The opening of 'WOW,' the new water-enhanced production at the Rio, has been postponed a week so construction on the theater can be completed. The show was to open Tuesday night.
"Creating a production of the magnitude of 'WOW' from the ground up has been an exciting but also technically demanding process," said Hanoch Rosènn, the show's creator and producer. "There are so many wonderful elements to our show – from video, to staging and the state-of-the art holograms and special effects. However, the construction delays with getting the water — a major component to our production — into the showroom, has been a challenge so we felt it was best to postpone our first performance by one week to ensure the true 'WOW' water experience for our audiences."
Rosenn began his career as a pantomime, and he is an artist to root for. As we say, a mime is a terrible thing to waste …
'Bama on the horizon
Which band has sold more music than any other country act? Alabama. And that band is headlining Encore Theater at Wynn Las Vegas on Dec. 13, 15 and 16. The booking is another instance of Steve Wynn ropin' (hah) top country talent. He herded (hah) Kenny Rogers and his band to the Golden Nugget in the '70s, and ponied up (hah) the cash to land Garth Brooks at Encore in 2009.
What works in Vegas?
Femmes of Rock starring Bella Electric Strings at Myron's Cabaret Jazz. Nina DiGregorio's rocking violin ensemble has sold out two shows there Oct. 21-22. The ensemble covers such artists as Jimi Hendrix, Prince, Led Zeppelin, The Eagles, AC/DC, Metallica, David Bowie (but not The Archies, sadly).
Side note: DiGregorio is a serious Buffalo Bills fan. Dress accordingly …
Downtown action
Expect a Feb. 1 opening for Eureka!, the new anchor tenant at the Emergency Arts building on Fremont East. The Southern California chain of American eaterieswas to open this year, but construction won't be finished until next month and management plans to hire staff after the holidays.
The 177-seat restaurant will fill the first floor space formerly occupied for six years by The Beat Coffeehouse, a favorite Kats! Bureau outpost that closed last September.
Lay it away
Showing flexibility in the art of commerce, Electric Daisy Carnival organizers announced a layaway plan for fans purchasing tickets to the 2018 festival at Las Vegas Motor Speedway. Beginning Thursday, fans can pay a $49.90 deposit to set up a six-month payment plan of $59.85 due on the 15th of each month. The offer ends Saturday at 11:59 p.m.
EDC Las Vegas has moved to moved to May 18-20 2018, opting for more favorable weather than its previous mid-June dates.
Slammed Showroom
Plaza Showroom was filled to its 400-seat capacity Saturday night for a private performance by Life is Beautiful headliner MGMT. The show started — started, mind you — at 1:30 a.m., and finished at about 3:30 a.m.
It was reportedly a wild night with thepsychedelic rock band, and I'm sad to have missed it. But you know who didn't? Plaza Showroom headliner Frankie Scinta. Scinta is not normally a night owl, but had to see that room host stage a full-scale rock show.
John Katsilometes' column runs daily in the A section. Contact him at jkatsilometes@reviewjournal.com. Follow @johnnykats on Twitter, @JohnnyKats1 on Instagram.