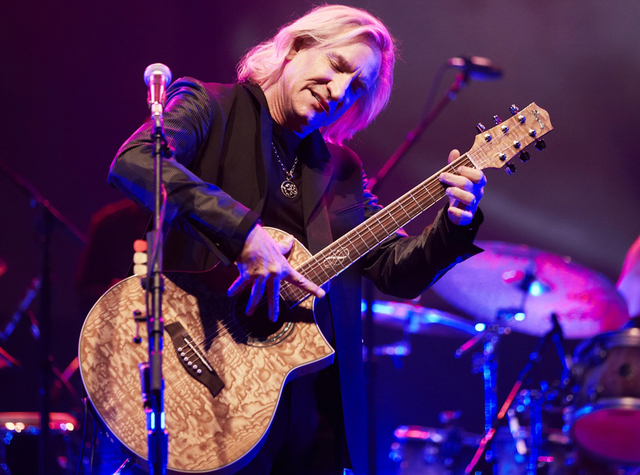 It seems a few free drinks loosen up the purse strings for charity.
Comic actor Patton Oswalt says he's donating half of his performance fee from his Dec. 2 show at the Joint at the Hard Rock Hotel to the Las Vegas Victims' Fund. He's throwing a few back, and paying it forward, too.
"I love Vegas and to be able to perform there and give back to the Victims' Fund means a lot to me," Oswalt says. "Plus, the Hard Rock comps my drinks." Oswalt is throwing 'em back and paying it forward, and tickets start at $49.95 (before fees) and are on sale now.
Going swimmingly
Steve Wynn was spotted at Encore Theater at Wynn Las Vegas on Monday, not a surprise since he owns the hotel and the venue. He took in the latest musical changes to "Le Reve," a project spanning the last couple of years. At one point, the eight-time Academy Award-winning composer Alan Menken (who won two Oscars each for "The Little Mermaid, "Beauty and the Beast," "Aladdin" and "Pocahontas") was enlisted to refashion the show's score, but his work was not deemed a good fit for production.
Wynn makes this call (and all other calls), in "Le Rêve." Expect the music to be introduced into the 13-year-old aquatic spectacular after the holidays.
Walsh's future
Ex-Eagle Joe Walsh polished off his three-show run at House of Blues at Mandalay Bay on Sunday night. Fans and hotel officials had hoped he'd be back with his solo show in 2018, but don't count on it. Walsh's schedule with the new Eagles lineup, which adds Vince Gill and Deacon Frey (son of late Eagles member Glenn Frey) to core members Walsh, Don Henley and Timothy B. Schmit. No Eagles dates are announced, but the band is reportedly Walsh's top priority entering '18.
Tough gig
On the topic of Eagles and House of Blues, Henley performed a corporate show earlier this month at the venue and it did not go terribly well. About 500 executives were in the venue (which seats upwards of 1,300 in its current configuration), and only half were even paying attention to Henley, a bonafide rock legend.
Amid the imbibing and chatter, Henley said, "I play arenas and stadiums, and I can hear everything you guys are saying out there." But he did finish the gig, performing wonderfully (as expected), and posing for the requisite meet-and-greet photos afterward.
Christmas Cloer
Ex- "Jersey Boys" cast member and busy solo performer Travis Cloer returns with his "Christmas at My Place" show at Italian American Club at 7:30 p.m. Dec. 4. This is the fifth year he has fronted a holiday production. IAC is opening on a Monday night — the restaurant is usually closed Mondays and Tuesday — and is serving dinner (separate from the $30 ticket) from 5:30 p.m. until showtime.
"I love the place," Cloer says. "I've been there four or five times and they usually get me to sing in the lounge. It's a very old-Vegas spot and we're coming in with a smaller band and just letting the music and vocals take over." Cloer has used a big band in his previous Christmas shows, but is going with a tight five-piece with guest vocalist Niki Scalera on duets.
What Works in Vegas
Zowie Bowie at Rocks Lounge. Chris Phillips' indefatigable groove-fest has just signed for another year at Red Rock Resort, marking his 13th year headlining the locals' casino. Phillips celebrated the event, and the act's recent Best of Las Vegas first-place award as the city's top lounge act, with a red carpet event Friday night. The 51-year-old showman and recent first-time father performed a few of his trademark high-leg kicks, forever acting like a kid. Specifically, a 13-year-old kid.
Ice Blue
Blue Man Group is performing between the first and second periods of Friday's Vegas Golden Knights-San Jose Sharks game at T-Mobile Arena.
Who Was Where
Ex-Spice Girl and current "America's Got Talent" judge Mel B. Monday night at the finale of Mike Tyson's "Undisputed Truth: Round 2" show at Brad Garrett's Comedy Club at MGM Grand. Brown was reunited with SPI Entertainment official Anthony Pecora from their days opening "Peepshow" at Planet Hollywood (Pecora was at Base Entertainment, producers of that show, at the time). One joke from the interloping scribe: What's the difference between MGM Grand and Chile? Tyson can get into MGM Grand (hey-oh!) …
Contact John Katsilometes at jkatsilometes@reviewjournal.com. Follow @johnnykats on Twitter, @JohnnyKats1 on Instagram.