Sting pulls Strip doubleheader with Carrot Top, 'Fantasy'
Updated June 3, 2022 - 5:58 pm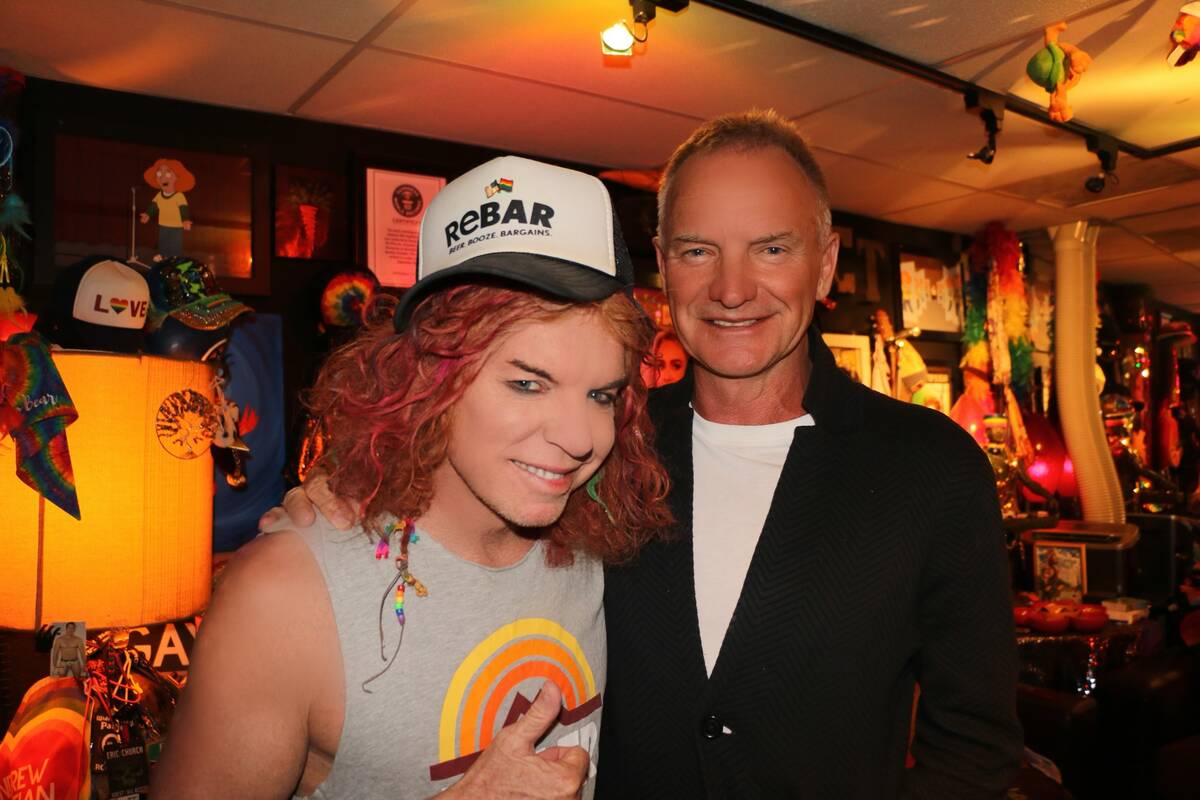 Sting wrote and sings the rock classic, "Roxanne." For years, the 1979 hit by The Police has powered a dance number in the adult revue "Fantasy" at Luxor.
Sting finally saw the show, and Lorena Peril's soaring performance of the song on Thursday night. Word from inside the revue was that he loved the performance.
As Peril said Friday, "It was exciting to have someone you have idolized for years watching you perform for an hour and a half." Peril usually says in the song's intro, "Anyone here like the music by The Police?" Sting responded by bopping his head through the number.
The 70-year-old rocker turned a Luxor double-header, taking in the Carrot Top show prior to the "Fantasy" experience.
It was the first time Sting had seen either production. He is back this weekend with his "My Songs" production at the Colosseum at Caesars Palace.
Friday morning, Carrot Top revisited his pre-show meeting with the former Gordon Sumner.
"He was nice. Taller than I expected" said the comic, whose legal name is Scott Thompson (Sting is listed as 5-feet-11 inches tall, FWIW).
Carrot Top also said Sting remarked, "I assume you're going be changing before you go out," referring to the typical Carrot Top outfit of a branded CTOP T-shirt, bright-orange pants with glittery knee patches, and black sneakers.
"No, this is what I wear," the comic said. "We can change outfits if you want."
Sting is now a member something of the unofficial Carrot Top Guest Hall of Fame of celebs who have seen the show, along with Nicolas Cage; Gene Simmons of Kiss, Steven Tyler, Flavor Flav, Shania Twain, former Eagles member Don Felder, Queen's Brian May and Roger Taylor, Kevin Cronin of REO Speedwagon and members of Styx, .38 Special and Lynyrd Skynyrd.
McBeath's Rio trek
Bill McBeath is among the Cosmopolitan's high-level execs who have ended their reign at the hotel as MGM Resorts International moves in. McBeath's final day was May 17, just after he made the announcement from The Blackstone Group that all 5,000 Cosmo employees were receiving $5,000 bonuses. McBeath has since confirmed he's advising the redevelopment at the Rio. That hotel can use some energy and inventive re-invention. We have high hopes.
Bruno wades in
Bruno Mars performed at the AMG Technology convention Thursday night at Mandalay Bay Beach. Social media posts showed him singing and grooving to "Just The Way You Are." None other than John Legend is expected to appear at the event, the annual event for the powerhouse software company. Word is that AMG, celebrating its 25th anniversary, has also booked all of Area15 on Saturday.
Bocelli's $10K performance
A pair of the most influential supporters of the Cleveland Clinic Lou Ruvo Center for Brain Health are joining in a high-end fundraiser June 17 at Spago in Beverly Hills. "Up Close and Personal With Andrea Bocelli and Friends" is a benefit for Keep Memory Alive (the Cleveland Clinic's charity organization, at keepmemoryalive.org), the Maria Shriver-led Women's Alzheimer's Movement, and the Andrea Bocelli Foundation. Cleveland Clinic co-founders Larry and Camille Ruvo co-host. KMA relies on these big-fly events to fund the work at the center in Symphony Park, which is at once extensive and groundbreaking.
'Absinthe' at 6,000
There was a time when an "Absinthe" anniversary would have merited some wondrous public spectacle, such as Gazillionaire sky-diving over the Cosmopolitan, or a performance of the "Le Petite Merde" number at the Caesars fountains.
No such luck.
Rather, the Spiegelworld juggernaut notched its 6,000th performance comparatively casually Wednesday, awarding a $6,000 check to couple from Salt Lake City (where Gaz owns several low-income, residential investment properties). These two earned the award with an especially inspired lap dance during the show's audience-participation segment. The crowd reportedly went nuts at the bit, which was worth about $97 per second. Drink up, Gaz, and here's to another 6,000.
What Works in Vegas
The hot-selling (hot, I tell you!) "Soul of Motown" groove review celebrates its 300th show at Westgate Cabaret at 8 p.m. Saturday. The production opened in November 2019.
Grimm in 'Red'
Elton John once starred in "The Red Piano" at the Colosseum at Caesars Palace. Vegas "America's Got Talent" season four champ Michael Grimm is also taking on that hue with "The Red Album," his latest release due June 25. The first two singles "Humdinger" and "How You Are" Grimm wrote the album a few years back, "When I was in a darker place," so the songs have a certain attitude.
As Grimm says of some of his material, "It's not a song, it's just me venting."
Grimm played the full album at Myron's at the Smith Center on Sunday. Bill Medley and Bucky Heard of the Righteous Brothers were in the crowd (and Heard was onstage as a backing singer, for a time). As is customary, Grimm's latest is something special. And so is this next item …
Cool Hang Alert
Grimm and keyboard virtuoso Bill Zappia are at Stirling Club's Spirits Lounge at 7 p.m. Saturday as part of the "Givin' It To 'Em" series. Michelle Johnson and Rockie Brown are the scheduled guest singers. Grimm and Zappia also headline the club July 2 and Aug. 6. Tickets are $35-$45 (swank included), go to thestirlingclub.com for info.
John Katsilometes' column runs daily in the A section. His "PodKats!" podcast can be found at reviewjournal.com/podcasts. Contact him at jkatsilometes@reviewjournal.com. Follow @johnnykats on Twitter, @JohnnyKats1 on Instagram.