Strip magician Goldrake to close at Tropicana; Burke leaves 'Caveman'
Updated July 24, 2018 - 7:42 pm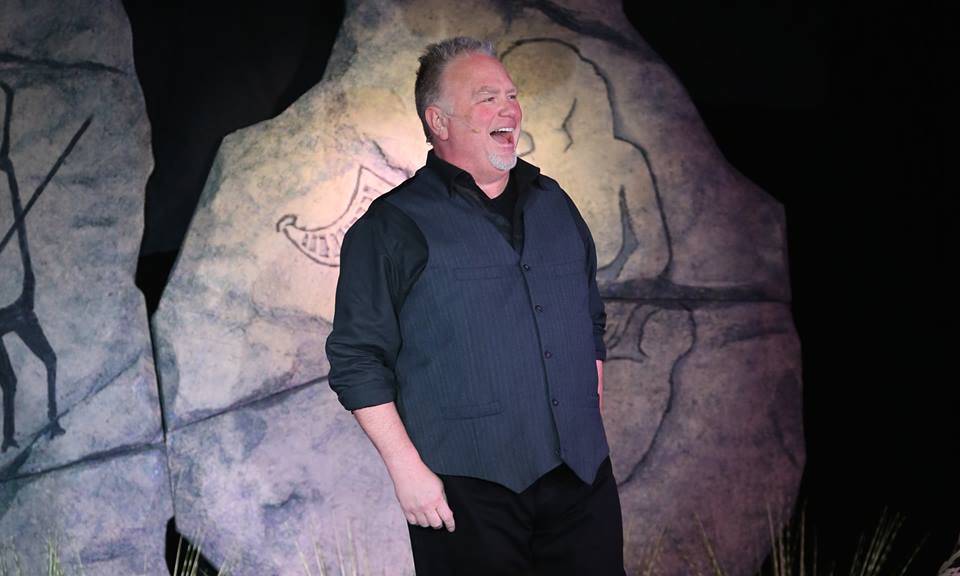 The Kats! Bureau at this writing is Patio Bar at the Flamingo Las Vegas, a few strides from the Donny & Marie Showroom. Tuesday, the stage show "Legends in Concert" celebrates its 35th anniversary.
Tina Turner, Michael Jackson and Johnny Cash are in the anniversary lineup. And, for the first time, the show is spotlighting impressionists portraying Jon Bon Jovi and Bob Marley.
Glow sticks all around, folks.
"Legends" is a noble reminder of how difficult it is to run a show in VegasVille. Earlier Tuesday, two headliners announced they're ending their time in their respective productions. Kevin Burke is capping his 11-year run in the one-man show "Defending the Caveman" at the D Las Vegas on Aug. 2.
Just a couple of hours after Burke's announcement, magician David Goldrake said his "Imaginarium" show is closing at the Tropicana Theater on Sept. 30.
"Caveman" will continue to run, with different actors in the lead role. The affable Burke toured the show for four years before opening at the Golden Nugget in 2007. He has logged more 5,000 shows as the "Caveman."
"You know, it's smart for an artist to know when it's time to stop," he said in a phone conversation Tuesday. "It's really nothing more than that. I mean, I was getting up into Yul Brynner territory."
That's a reference to Brynner's long run as King of Siam in "The King and I," and Burke actually performed more times in "Caveman" than Brynner did as the King (Brynner gave 4,265 performances in 30 years).
Furthering the "King"-"Caveman" connection, Burke once brought his show to the Shubert Theatre in New Haven, Connecticut, where "The King & I" performed its premiere in 1951. "I did Yul's 'King' bow during the curtain call," Burke recalled. "The audience got it."
Burke is not quite finished in the role, as he does plan to perform on tour after he ends his run at the D. The show's Las Vegas producer, John Bentham, is holding auditions for a new "Caveman" to supplant Burke.
Meantime, Goldrake and Tropicana entertainment partner Red Mercury Entertainment enforced a 90-day notice clause in his contract to move out of the Tropicana Theater. Goldrake will have run more than 300 shows since opening his steampunk-themed illusion show in June 2017.
Goldrake is a rare Vegas headliner who is backed financially by the government of his native country. The 20-year professional stage performer is an official cultural ambassador of Luxembourg, which gives him flexibility to seek a new venue as he leaves the Trop.
"We are talking to a couple of people, and I can't tell you who because things can change very drastically and very quickly," Goldrake said, offering that the show is to be on the Strip. "For that reason, I can't say anything other than we have four major groups, two are very interested, and we want to open in the spring of next year."
Goldrake mentioned early reports of "Masters of Illusion" opening at the Tropicana Theater — that show wound up at Bally's, where it is closing Sept. 3. Along with that show's closing, "Inferno" at Paris Las Vegas abruptly shut down last week. With a sudden dearth of illusion shows, Caesars Entertainment might be looking for a new magic production (especially one funded by the country of Luxembourg).
I asked Goldrake if Caesars Entertainment was among his suitors.
"I cannot tell you that," he said. "I don't want to get anyone in trouble."
Goldrake says he's staying in Las Vegas, performing road dates and corporate events.
'I have worked on a new show since early this year." he said. "I am looking forward to the next three months and planning for a great new experience in Las Vegas."
Route 91 site
There is every indication that MGM Resorts has no plans to resume live entertainment at Las Vegas Village, site of the Oct. 1 Route 91 Harvest massacre. I'm reliably hearing that all of the resort company's large-scale, outdoor festivals are heading to the 50-acre Las Vegas Resorts Festival Grounds.
In lay terms, all the stuff required to stage a music festival has been moved from the Village to the Festival Grounds.
That venue's next concert is the iHeartRadio Music Festival Daytime Stage on Sept. 22. The acts set to appear are topped by 5 Seconds of Summer, Dua Lipa, Lil Uzi Vert, Dustin Lynch, Bazzi, Greta Van Fleet, Belly and Bobby Bones and the Raging Idiots. Organizers are also planning a tribute to the victims and families of the Oct. 1 shooting.
Cool Hang Alert
The Space is frequently name-checked under the Cool Hang Alert heading, always justifiably.
"Top Rock," a classic-rock production, plays The Space at 5:30 p.m. Thursday and Friday. The show is stuffed with '80s and '90s classics, borrowing from Aerosmith, Queen, Bon Jovi , Journey, Heart and the Rolling Stones. Among the lineup of dynamite singers: Anne Martinez, Jaclyn McSpadden, Justin Rodriguez, Paul Johnson, Ricardo Antonio, Natalie Brown, Amanda Avila, Sandra Allen, Tawny Dolley, Rustin Cole Sailors, Neil Starkenberg and Brandon Alameda. Tickets are $20, which is, like $1.60 per singer. A steal of a deal.
Contact John Katsilometes at jkatsilometes@reviewjournal.com. Follow @johnnykats on Twitter, @JohnnyKats1 on Instagram.