Trump impressionist John Di Domenico's next portrayal: himself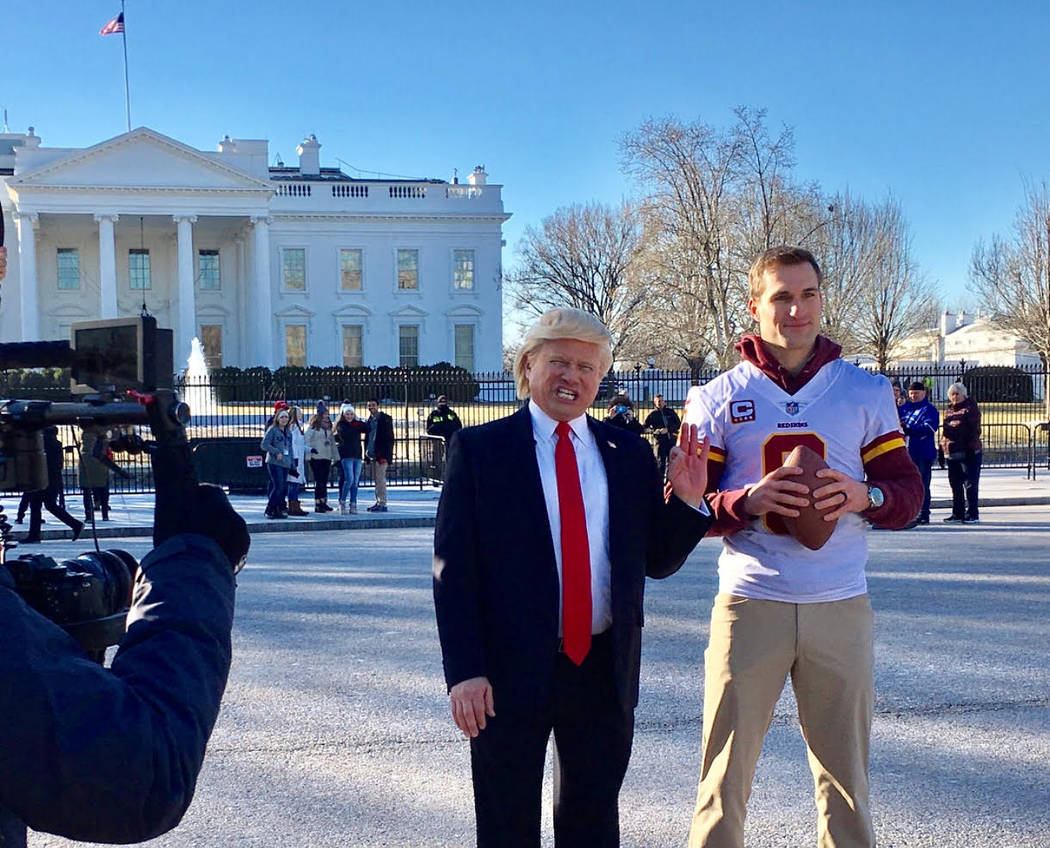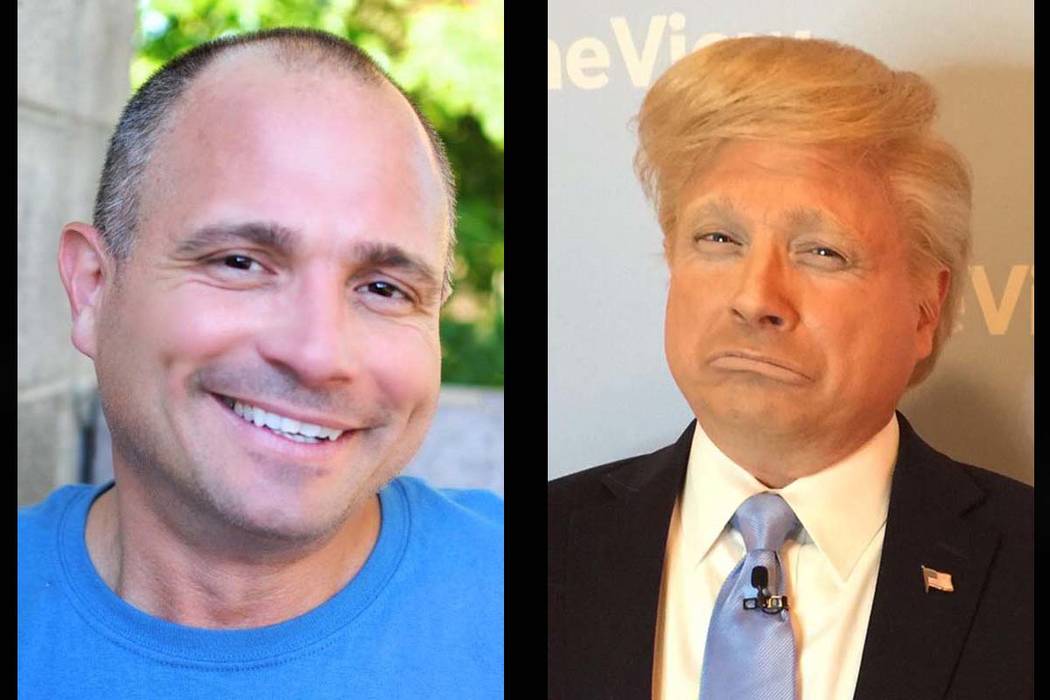 When John Di Domenico won the Laugh Factory's international Donald Trump impersonation competition in April, part of his prize package was a headlining run at the comedy club at Tropicana.
Ten months later, Di Domenico has not headlined at the Trop or any Laugh Factory outlet in the U.S.
But it's not because the offer has timed out. Di Domenico is working on a stand-up act largely devoid of his bracing impersonation of the president.
"I have not had time to put a new stand-up act together, and I want to do it as myself, not Trump, so I need some time to write new material," says Di Domenico, who continues to tour the country and travel abroad with his Trump impression. He is making appearances in Washington, D.C. (as Trump, naturally), and has finished a streaming project in which he portrays the president for a series he plans to pitch to Netflix, Amazon or Hulu.
Meantime, Di Domenico is reconstructing his stand-up act in his own affable image.
"I just need to get back onstage, and express my own views and what I think is funny, as me, and not someone else's," Di Domenico says. "I'm somewhat locked into Trump and all the other characters that I play."
Trump bolted to the top of Di Domenico's lengthy list of impressions as he campaigned for president in 2015-16. But in Di Domenico's lineup of characters, it might as well have been Austin Powers to occupy the Oval Office. With equal aptitude, Di Domenico performs that impression, and also Sean Connery; Larry King; Jay Leno; Mike Myers' Wayne Campbell character from "Wayne's World" and Dr. Evil from "Austin Powers"; and Dr. Phil McGraw.
"Don't get me wrong," Di Domenico says. "I love what I do, and I'm very grateful to do it and make a living at it."
It's just that stand-up is a more challenging format.
"When I used to do stand-up, it was very scary and really made me focus on every word, every breath, every action," he says. "My old stand-up act had impressions, but they were weaved into the material. I always wanted a logical reason to do a voice as opposed to moving from voice to voice.
"My entire closing bit was about growing up Catholic and had no impressions."
Di Domenico says he'll attempt to achieve what seems impossible — invoke moments of his Trump impression without creating a political chasm. He says he wants to express his own views — but are those views in line with the current office-holder, or independent?
"They are independent," says the man who plays Trump, "formed over my years on this planet."
Cool hang(s) alert
I've happened into a few under-appreciated (at least, across VegasVille) venues over the past couple of weeks. M Pavilion at M Resort is one. Clint Holmes sold out an 1,800-seat performance Saturday night, which served as an ideal forum to promote his "Soundtrack" residency with co-star Earl Turner at Westgate Las Vegas' International Theater.
The last time I'd been in that venue was in May 2015 for Holmes' appearance with Santa Fe & The Fat City Horns, also a hot seller for the resort that pulls from a high concentration of locals looking for value (Holmes' tickets were $20).
Late Saturday, it was Franky Perez & The Truth at Count's Vamp'd on West Sahara Avenue. This no-cover rock show is not for everyone, but Perez is never less then electrifying with his mix of heavy originals and covers such as Led Zeppelin's "Whole Lotta Love" and The Allman Brothers Band's "Whipping Post." Owned by Danny Koker of the "Counting Cars" History TV series, Vamp'd is an off-Strip treasure trove of rock 'n' roll, similar in vibe to the Viper Room on the Sunset Strip in L.A. That's likely why on Saturday, Perez wore a Viper Room T-shirt — totally soaked three songs into the set.
And Rampart Casino has a hidden gem of a room, Cascade Lounge, that's been running regular shows for about a year. The afternoon of Feb. 11, I caught Elisa Furr's note-perfect tribute to Celine Dion; this, too was a fairly ridiculous bargain at $18 per ticket. As Furr, a longtime "Legends In Concert" performer, promised at the top, "I'm going to save you a lot of money today," and she was right. Sweetening the deal was a 20-minute set from accomplished Vegas stand-up Kathleen Dunbar.
Cascade leans toward tribute shows, tapping into famous acts and familiar music. Up next, at 8:30 p.m. Saturday, is Mick Adams and The Stones. The person who tipped me off about Furr's show, Felice Garcia, late of "Million Dollar Quartet" at Harrah's and "American Superstars" at Stratosphere, is pitching a Carrie Underwood show at Cascade, which seats about 400 and would do well to drop "lounge" from the title.
Who was where
Rose. Rabbit. Lie. vocalist and 2005 "American Idol" finalist Mikalah Gordon and Chester Lockhart of "Sex Tips For a Straight Woman From a Gay Man" at Paris Las Vegas, Friday night at Peppermill … Dez Bryant of the Dallas Cowboys and Perrish Cox, last with the Seattle Seahawks, on Monday at Topgolf at MGM Grand … Justin Prentice of the Netflix series "13 Reasons Why," at Blue Man Group at Luxor on Tuesday night … Erik Haula of YOUR Vegas Golden Knights, at Mat Franco's 9:30 p.m. performance at Linq Hotel … Haula's teammate James Neal, Wednesday at the 8 p.m. performance of "Absinthe" at Caesars Palace.
John Katsilometes' column runs daily in the A section. Contact him at jkatsilometes@reviewjournal.com. Follow @johnnykats on Twitter, @JohnnyKats1 on Instagram.