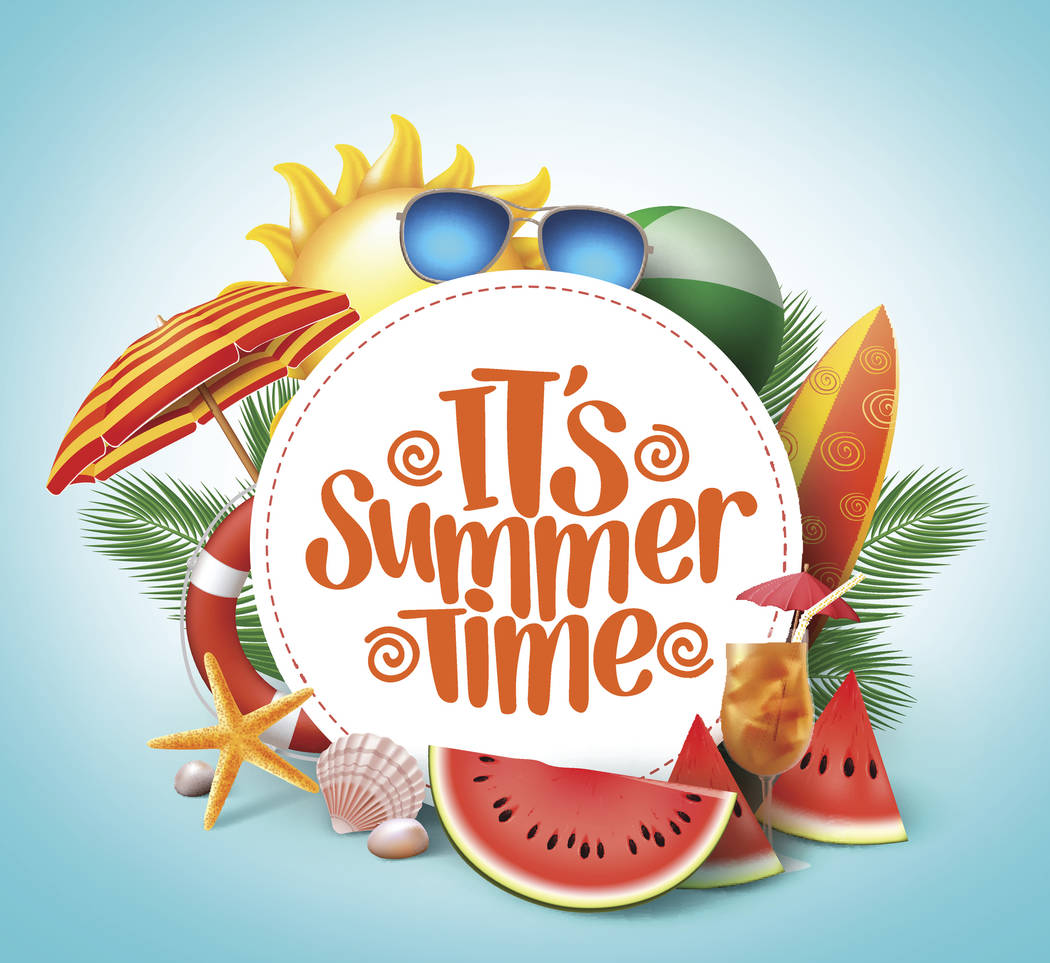 Summer spells boating, camping, backyard barbecues, biking, hiking and picnics. Be you the lazy type who wants to simply hang in a hammock or the energetic type who wants to fly a drone, Las Vegas is blessed with a myriad of things to do — even in this awful heat wave.
Summer officially began when you woke up to the solstice this morning (June 21) with the 5.24 a.m., sunrise. Summer officially ends Sept. 22. If you're counting that's exactly 93 days. And, we've found an activity for every one of them. Thanks to our friends at the Las Vegas Convention and Visitors Authority for helping us with this search for almost 100 summer activities.
Some are the expected, but several are off the beaten track. So check back every day for a new one to celebrate the lazy hazy days of the season.
Day 12 (July 2) Trick Eye Exhibit — is a 3-D experience to talk about as visitors become a part of the art at BLVD Plaza at Monte Carlo.
Day 11 (July 1) The outdoor gondola rides — are a one-of-a-kind experience with singing gondoliers at the Venetian. You will feel as if you are on vacation in the romantic Italian city of Venice!
Day 10 (June 30) Red Rock Canyon — Head away 15 miles west from the Strip and take a sunset horse ride through the wonders of Red Rock Canyon. For a moment you'll feel like a cowboy or cowgirl among the 2 million plus visitors to the 197,0000-acre national conservation area. It's also popular for hiking and rock climbing.
Day 9 (June 29) Family Movie Night – Enjoy summer movie viewing every Thursday at the downtown Container Park.
Day 8 (June 28) Shop for the designers at half the price — with a visit to the Fashion Outlets of Las Vegas on a daylong spree at Primm with one foot almost over the California border.
Day 7 (June 27) Gordon Ramsay — continues the five-year anniversary celebrations of his Steak restaurant in Paris Las Vegas with a special five-course menu.• Day 6 (June 26) Las Vegas Lift-Off Film Festival – Avenue for young budding filmmakers to showcase their work at the Brenden Theater of The Palms.
• Day 5 (June 25) Blues Brews & BBQs – 14th annual, Brews Blues & BBQ festival being held at the Cannery Casino for lots of fun, food and entertainment.
• Day 4 (June 24) Amazing Las Vegas Comi Con where Todd McFarlane, the creator of Spawn will be. Bring comics and toys! Comi con is an annual comic book and pop-up culture convention and it is being held at the Las Vegas convention center.
• Day 3 (June 23) Sunset Cinema on the Green – Experience a free outdoor movie under the stars every Friday of the month at the Silverton Casino! It's a perfect view of the big screen and the headphones feature self-controlled volume. Before this week's movie "Sing" unspools at dusk there's a free karaoke session. You are encouraged to bring your own picnic basket or pre-made ones are available along with a bar!
• Day 2 (June 22) SUP – Stand Up Paddle Board Tours at Lake Mead National Recreation Area is where you can learn how to paddle board and see Hoover Dam. The stand-up paddleboard craze is sweeping the nation and Lake Mead is the perfect place to try out the hot new sport. Check out kayaklasvegas.com.
• Day 1 (June 21) Indoor Art Hike – Sculptures, paintings, large-scale installations and more around every corner throughout the Aria. Enjoy a captivating experience as you walk through, viewing the Fine Art Collection at the Aria.