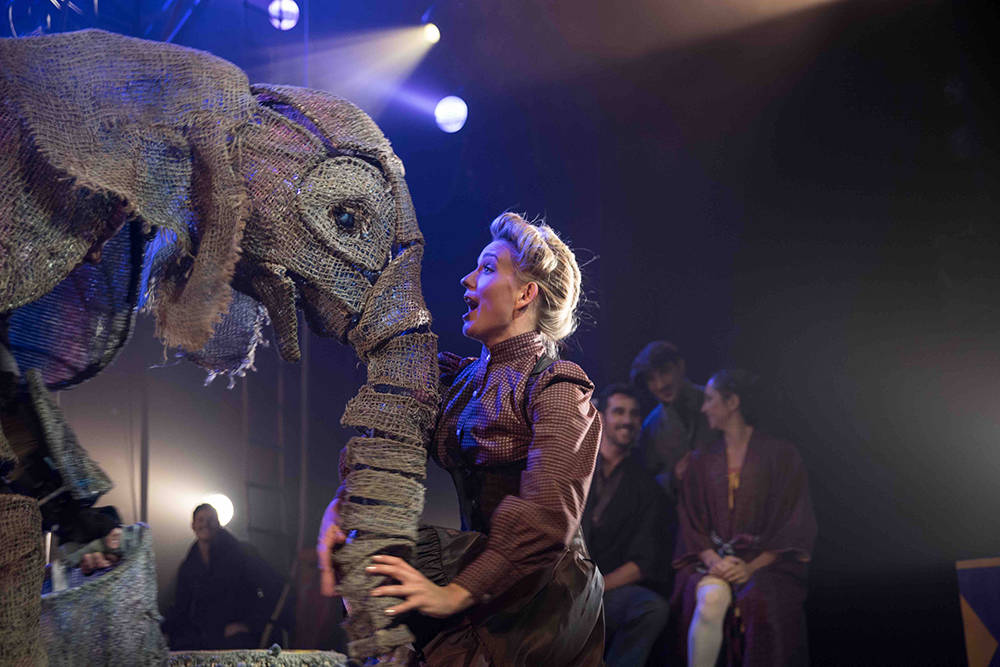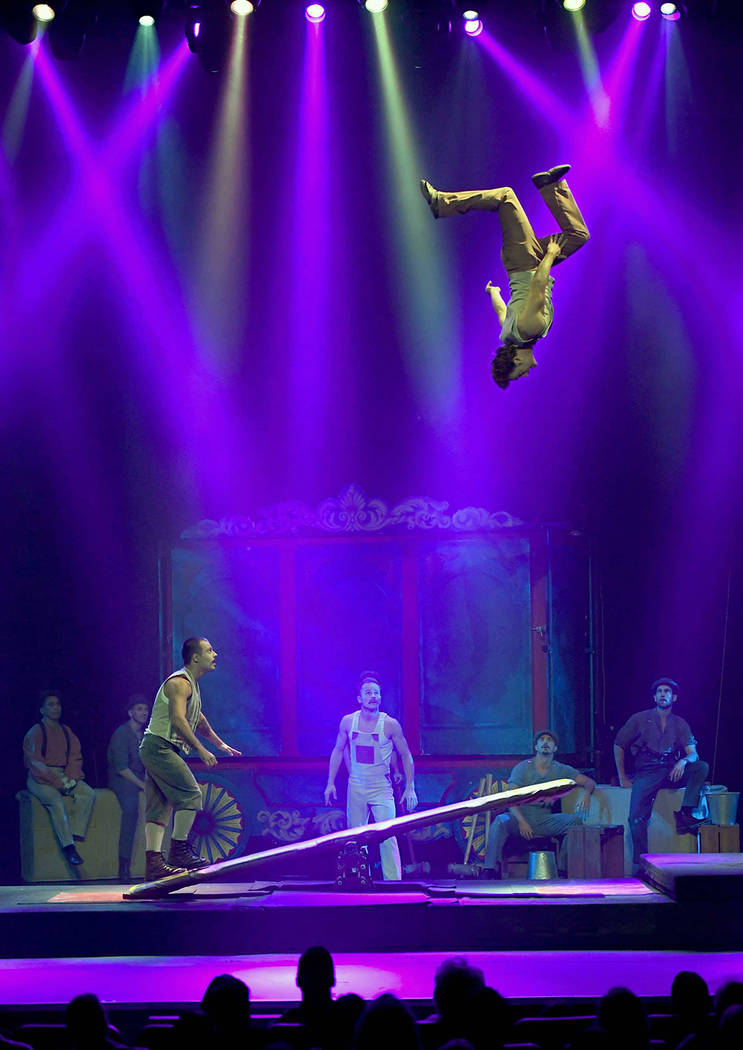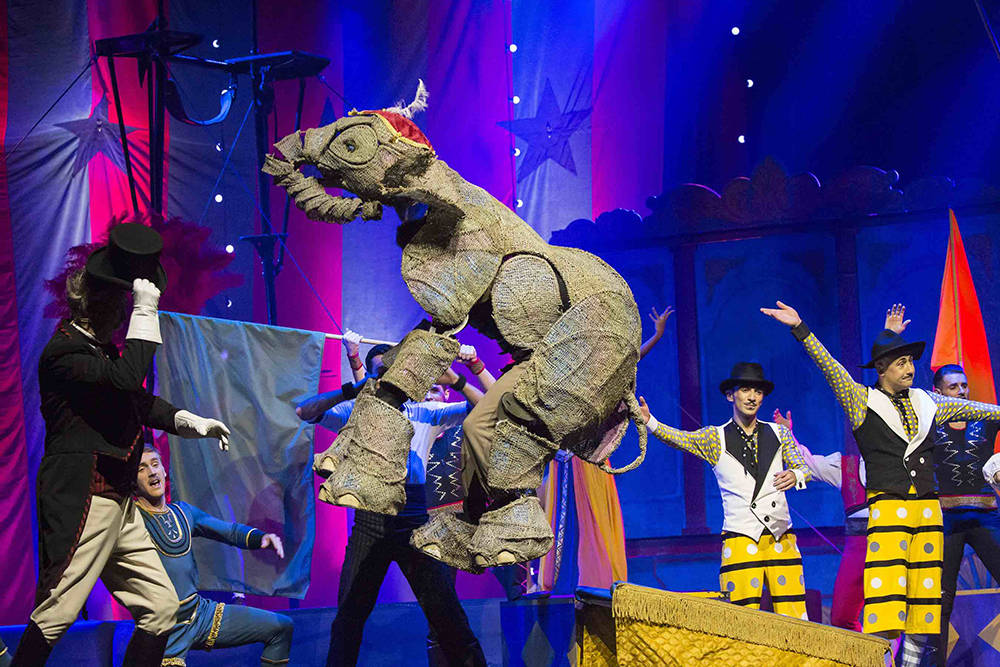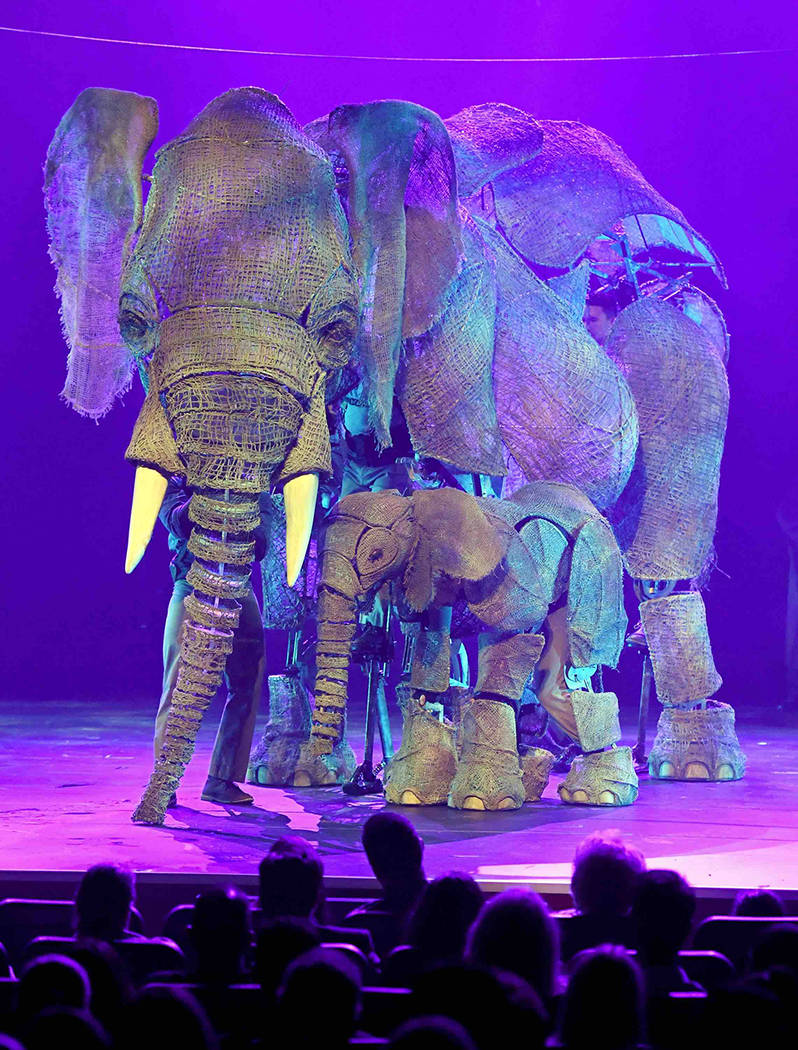 Comedy legend W.C. Fields once said that working with children was the kiss of death in show business, but "Circus 1903" ringmaster David Williamson happily risks his life nightly! The year 1903 marks the date that Ringling Bros. teamed with Barnum & Bailey for the ultimate circus touring show. And, David re-creates it magically every night in the former Jersey Boys theater at Paris Las Vegas.
As ringmaster Willy Whipsnade, he presides over a cast of jugglers, acrobats, tightrope walkers and two elephants all the while pulling amazing close-up card tricks on unsuspecting kids from the audience. As darling as the two elephants are — controlled by a team of incredible puppeteers — he winds up as the star of the show.
" I feel well-prepared for the circus. I spent seven years on a Disney Cruise Line and anything that could happen with children has happened. You name it. It's the most dangerous act in the circus, absolutely. But it has become my stock in trade," David told me. "My life is in my hand. It's far more than the high-wire bicycle acrobats. I have the most dangerous act. He just risks a broken femur. I risk the wrath of a child."
Before landing in Vegas as our newest residency with an open-ended contract, "Circus 1903" toured in Australia and across America enthralling youngsters and grandparents, alike.
"People are really drawn to the nostalgia of the circus," he continued. "We put a beautiful frame around these circus acts. Cirque, reinvented circus 30 years ago; put the production in the foreground and these amazing circus acts were atmospheric almost.
"I think our producer, Simon Tinker, has reversed that because he's put the production as a beautiful background and brought the individual artists forward as the stars of the show, presenting it in a linear fashion as per the traditional circus. The elephants get people in the theater, and the acts leave them well."
David admits there's been recent controversy over the use of performing animals in the circus and Ringling Bros and Barnum & Bayley's Circus eventually shuttered all of its animals. He commented: "My personal views are really unimportant to the show because our show's really for everyone, no matter what your personal view on performing animals. I didn't know much about the controversy because this was my first introduction to the circus world. I've been a magician all these years, and now I'm in this circus world. This controversy has arisen, you know, as far as the elephants in Barnum. It was barely on my periphery.
"There are good arguments on both sides and good people with good intentions on both sides and I think the producers have been wise to stay out of the controversy, and I stay out of it, and just invite everybody to our show.
"Our puppet elephant, Peanuts, is an extraordinary little character. Isn't it wonderful? And he really does reflect the personality of the puppeteer. Luke Chadwick Jones is a cheeky little fellow. He's a very athletic guy but he's a wonderful kind of spirit and Luke is up for anything. And he is such a fun and wonderful guy. And it's really reflected in his movements and his playfulness, and some nights with these kids on stage, we just have these wonderful magical moments between Luke, the puppeteer, and a kid, and it's just wonderful."
"There there been nights when the children in the audience and even the adults have actually thought or believed that these elephants are as real as the real thing? When they come out through the wings with the music and the lighting and the other external puppeteers and actors. It really is hard not to see them as real elephants. You have to try. And the kids absolutely accept them as real. Just a few exceptions, though — the kids are honest.
"But generally these kids from the audience, they're wonderful. You hope for those moments where they'll just do something unexpected and the audience just absolutely love seeing them. I try not to use the kids as props, I try hard not to just do a pre-programmed choreography, I want them to be themselves.
"My goal is to celebrate childhood and it's as magical as anything else in our circus. Because you know, a lot of the adults are taken back to their childhood when they watch the circus. I've been walking through the crowd and doing a few cards tricks before the show lately, and I'll walk up to, especially older people, seniors, I'll say, 'When's the last time you were at the circus?' And, almost to a one, they go, 'Oh, it's been decades, 40, 50, 60 years.' So I know that they're being transported back to their childhood and I think that's pretty cool."
There's a significance to the year 1903 for the circus! David explained: "Our historian, Chris Berry — who's a wonderful circus historian — who wrote our program, says 1903 was the year. It was the heart of the golden age of circus. It's when Ringling Bros. and Barnum and Bailey came together. And that year — I think it was — Ringling Bros. came back from a large European tour; and in 1903, along with Barnum and Bailey, mounted a huge circus train and they took off for the United States with dozens of circus cars and thousands of cast members and hundreds of animals. So that was actually a big year.
"Our show saluting 1903 — we call it a proscenium circus because it's a theatrical circus. Isn't it? It's Broadway meets the traditional circus, and there are many attempts at that. So, we're basically a narrative, we're telling the story of the circus coming to town.
"Our rigging is very innovative, too. I'm told by our lead engineer and our circus riggers, we have specialized riggers — that our circular grid was necessary to actually present the high-wire act. I've been told we're the only proscenium circus that can do a proper high-wire act because their tight wire is actually tightened up above. It goes up above into the grid. It's tightened by a rigger up there, so 5,000 pounds per square inch tightness. So, the high-wire is basically a large circle above the lighting system, rather than being ballasted down at the ground — as traditional circuses — because we don't have enough room. So, yeah, there were a lot of considerations like that.
"We started a year ago, November of last year, in Australia. We opened in Canberra, at the Theater Center, we played two weeks at the Sydney Opera House, in the wonderful concert hall there, and also Melbourne at the Regent Theater. So we toured Australia for two months. And then we toured the United States, we started in the Pantages in Los Angeles in February, and we've been to Denver and Chicago and Boston. We actually played New York and Madison Square Garden.
"We did an 18-city tour across the U.S. before we landed in Vegas. Now we have our open-ended run on the Strip in Las Vegas. People love our show even though it's tough here in Vegas because it's Cirque-heavy. I think people might even be a little Cirque-weary. But I think we're sort of a more accessible circus.
"It's obviously a traditional circus and it's very charming and I think we're one of the few overtly family-friendly shows in Las Vegas on the Strip right now. I know there are a lot of family-friendly shows on the Strip, but ours is … appealing and overtly family-friendly because we want to see all three generations, kids, parents and grandparents. together — that's my ideal. …"
This is the first time that David has run away to join the circus. He has been featured on ABC- TV's "Champions of Magic," where he appeared with Princess Stephanie as he performed his miracles at different locations in and around Monaco. David also has co-starred in several top-rated, prime-time network specials including CBS' "Magicians' Favorite Magicians," NBC's "Houdini: Unlocking His Mysteries," and NBC's "World's Greatest Magic III." He can be seen this season on "Masters Of Illusion."
In 1981, David won first place in the International Brotherhood of Magicians' sleight-of-hand competition and became the first ever recipient of the prestigious Gold Cups Award of Excellence in close-up magic. David was voted "Sleight of Hand Magician of the Year" for two consecutive years by his peers at Hollywood's renowned Magic Castle. He was also twice awarded the "Magic Castle Lecturer of the Year" and the "Magic Castle Parlor Magician of the Year." Recently, David was honored with the Performance Fellowship by the Academy of Magical Arts and Sciences at the Magic Castle.
He has developed programs for Walt Disney Productions and ABC, as well as consulting for illusionists David Copperfield's and David Blaine's TV specials. Most recently, David appeared on "Masters Of Illusion" and PAX TV's World Magic Awards special where he was awarded comedy magician of the year.
Here's David with his troupe on last week's James Condon's "Late Late Show."
The producers of the world's biggest magic show, The Illusionists, have teamed up with the award-winning puppeteers from War Horse to present a thrilling turn-of-the-century circus spectacular. Sensational puppetry puts elephants back in the ring as never seen before along with a huge cast of the most unique, amazing and dangerous circus acts from all four corners of the world, from strong men to contortionists, acrobats to musicians to high-wire acts. This is where one discovers the golden age of circus as the show captivates audiences of all ages
I loved every moment of it. David is certainly the glue that holds all the different circus acts together. There's the incredible juggler, the really dangerous high-wire act, the extraordinary Ethiopian contortionist, the acrobatic bicyclist, the amazing balancing duo and the list goes on.
Step right up. Step right up for an amazing evening of feats, thrills, excitement, hair-raising adventures and the most unbelievable charming magic you'll ever see right before your eyes.