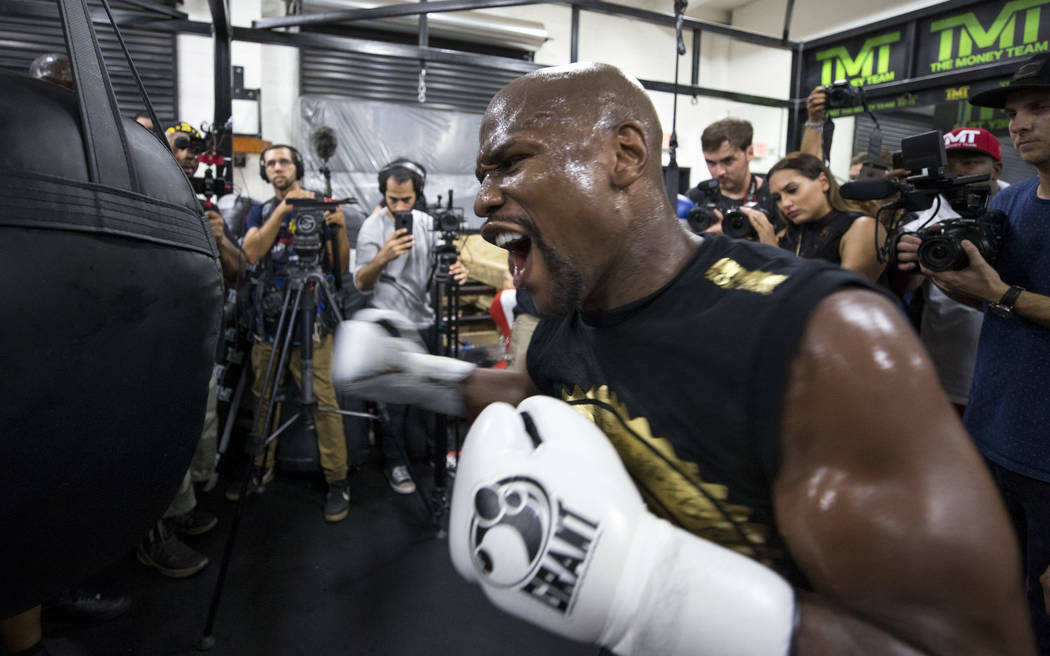 The showdown in the ring tomorrow night (Aug. 26) between Floyd "Money" Mayweather and UFC champion "Notorious" Conor McGregor will no doubt be a fight fan's bonanza with endless possibilities and outcomes — but our Vegas nightclubs will have their own battles brewing as to who can capture the biggest crowds with the biggest stars.
Conor who has been training solidly says he's ready to change the face of the fight game. Floyd, meantime, seems to have developed a "cool as a cat" attitude enjoying parties all weeklong at his new topless adult club surrounded by glamorous girls. Somewhat strange behavior, let's admit, for a fighter who hasn't had a ring bout in nearly two years!
"I'm taking this very seriously," counters Conor.
The fight weekend will attract Hollywood celebrities en masse and sports aficionados from around the world. Irish fans are packing the city for their native son.
"That booking was a total coincidence — nobody had any idea of a major fight taking place that same weekend all those months ago." I was told by a DLVEC executive.
Our local heroes, The Killers have their own part to play: The band's newly released track "The Man" video will be shown during the fight. Here's the YouTube video:
For those interested in money, 40-year-old Floyd is worth about $650 million while 28-year-old Conor is worth just $22 million. Floyd expects to make $100 million from this epic showdown. Conor might clear $40 million.
Floyd enters the ring with a record of 49-0 with 26 KO's while Conor is 21-3 with 18 KO's in his MMA career.
The experts are predicting $340 million in Nevada betting on Floyd or Conor. Floyd himself is alleged to have bet $800,000 at the South Point on himself to win — in case that gives you an idea about confidence in the outcome.
But whoever wins pales by comparison to the showdown between our nightclubs. I'm told VIP tables at some clubs may sell for $1,000 a person.
• Movie superstar Jamie Foxx will host at Jewel in the Aria.
• Rehab at the Hard Rock is presenting great hosts Puff Daddy, Ice Cube and Meek Mill.
• Over at the rival MGM Grand Wet Republic pool, the star daytime DJs are Kaskade and Nervo
• At Light and Daylight in Mandalay Bay, T-Pain and Tyga will hold down the fort with Rick Ross and Ludacris
• Hakkasan at MGM will feature Steve Aoki and Travis Scott.
• Calvin Harris is at Omnia nightclub in Caesars Palace tonight (Aug. 25) with Kaskade tomorrow night (Aug. 26).
• At TAO nightclub DJ Eric DLux and Gucci Mane will keep the party going.
• Vice, Ruckus and DJ Mustard will be the DJ names at Marquee in The Cosmopolitan.
• Over at the Wynn, it will be DJ Snake and The Chainsmokers at XS nightclub and Cedric Gervais at Surrender.
Fight Weekend began on Tuesday (Aug. 22) with a boxing matchup (Alexis Santiago vs Juan Carlos Payano at Sam's Town) and at the Wynn began on Aug. 23 and runs through tomorrow night (Aug. 26) — four nights and 96 hours of partying. The weigh-in is today (Aug. 25) at the T-Mobile Arena with Floyd and Conor standing on the scales at 3 pm.
Expect to see Conor at the Wynn nightclubs after the fight as part of his new residency deal. I'm betting Floyd will hit a number of nightclubs as part of what he believes will be the ultimate victory lap and wind up at his new topless adult burlesque club, The Girl Collection.
It's expected that last-minute ticket demand for the "dream matchup at the T-Mobile Arena will make it a sellout. Earlier in the week, the cheapest price was at $1,500. However, nine hotels on the Strip will also be showing it on closed circuit.
Should Floyd win it gives him his 50th fight victory tying with Rocky Marciano's record.
By tomorrow night (Aug. 26) we'll know the winner — and if they'll be a rematch!