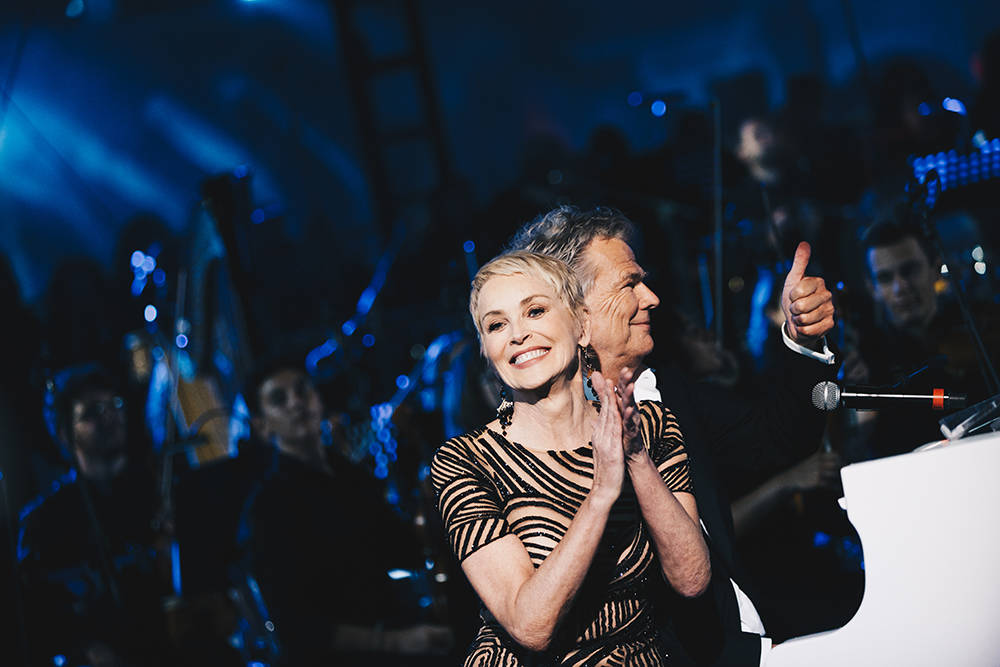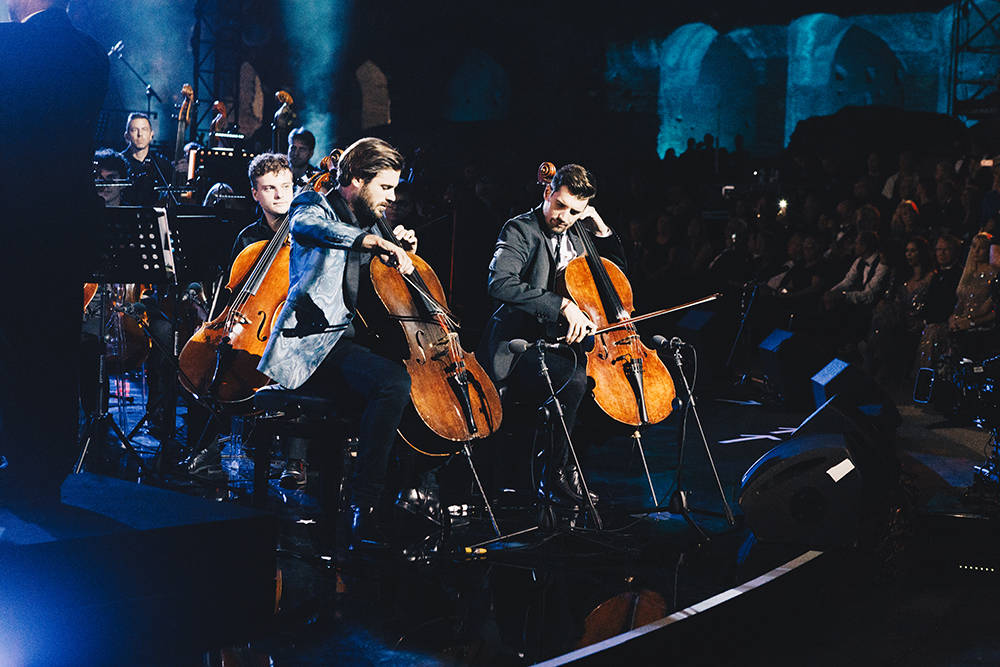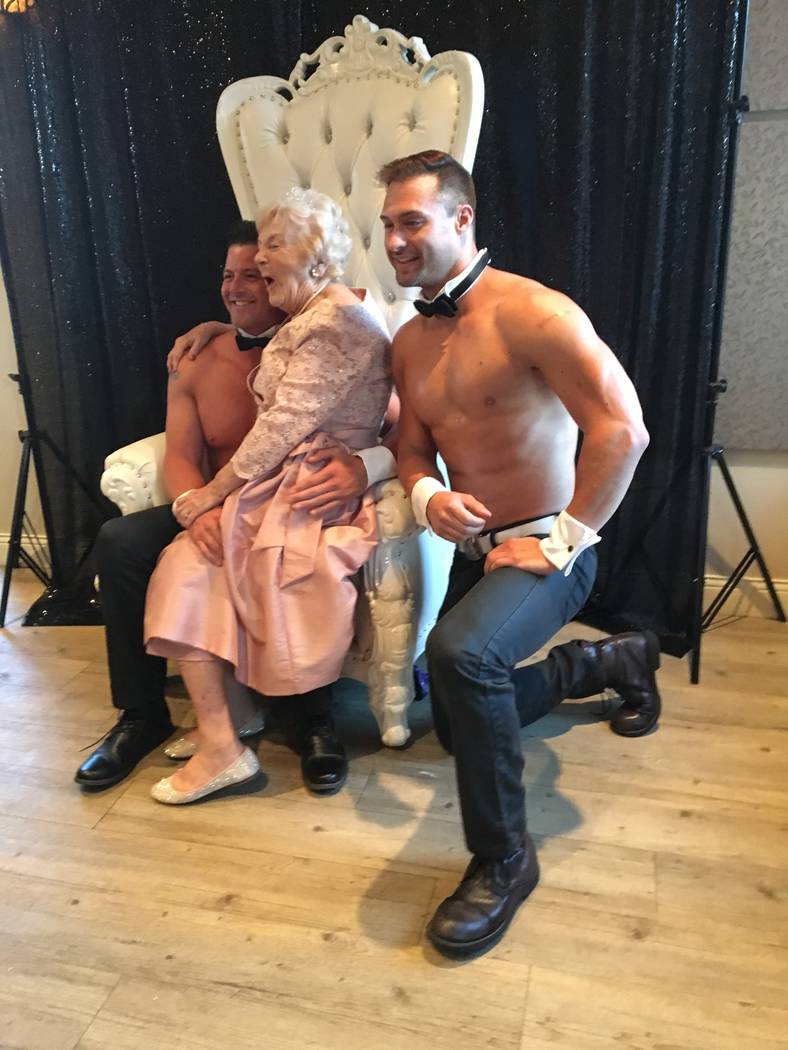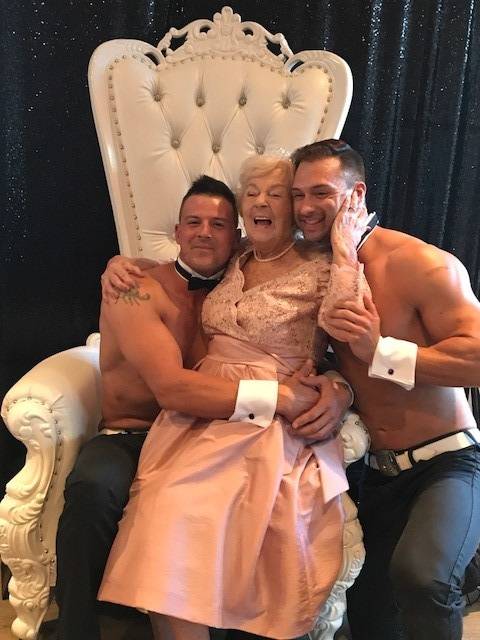 MINDFREAK MAGICIAN DONATES $100K TO CANCER KIDS
Superstar magician Criss Angel took his "Mindfreak Live" Luxor show on the Strip to the Gran Rex Theater in Buenos Aires, Argentina, for six-sold out shows to more than 20,000 fans.
He carved out time in the frenetic travel schedules to join with "Maestro" Mateo Amieva to perform at the children's hospital for kids struggling with childhood cancer. Criss admits he was so moved he donated $100,000 to the struggling pediatric cancer unit for much-needed supplies. Now back home in Las Vegas he vows to return with an event to help the needs of these kids to a greater degree.
He told me: "Yes. I donated $100,000 from the Johnny Crisstopher Foundation for the Argentina Children with pediatric cancer who are in desperate need of help! I was so moved by these kids and their condition. It was an overwhelming river of emotion. No child should suffer with this horrible disease!"
ROMAN HOLIDAY WRAPS
The pinnacle of the seven-day trip to Rome for well-heeled donors of our Keep Memory Alive charity took place over the weekend. In addition to wine tours, donors attended an exclusive dinner at Galleria Doria Pamphilj, where Renaissance arches and adjoining halls housed a large, private art collection dating back to the 16th century. The night continued with a feature performance from pop era superstar Andrea Bocelli and Caesars Palace headliner Sir Elton John, joined by Steven Tyler, David Foster, trumpet titan Chris Botti and other prestigious guests in the world-famous Colosseum.
BALANCE STUDIO OPENS
Cirque du Soleil stars Marco and Paulo Lorador, who perform nightly in "Mystere" at Treasure Island and who have been performing for the Montreal company for more than 25 years, have opened their own Absolute Balance on Fort Apache Road. Their guests included: Ricardo Laguna; Mrs. Nevada, Stephanie Barrett; and Mrs. Red Rock, Amanda Klein, along with several cast members from "Mystere."
Marco, Paulo and their sister, Carmita, come from a famed European circus family that gave them a superior foundation in balance and agility, The trio has been accomplished hand balancers for over 40 years. Now their unique studio will offer hand balancing, aerial and power yoga, pilates and contortion — all taught by the Cirque acrobats.
They were born into a renowned multigenerational European circus family where dedication and long hours taught them discipline and skilled hand balancing. Marco and Paulo perform worldwide and appear as guests at Cirque festivals. They had the honor to perform for the Queen of England and former British Prime Minister Tony Blair, plus Oprah Winfrey, and special events for Arnold Schwarzenegger. For more information, visit alexisbrothersbalance.com.
JAZZ SONGS SIZZLE
Grammy-nominated jazz singer Sacha Boutros jetted in from San Diego to entertain at The Las Vegas Jazz Society with a special show at The Bootlegger. She received standing ovations for her incredible renditions of such classics as "They Can't Take That Away From Me" and "One for My Baby" before joining with Jonathan Krarants on "The Very Thought of You." Jonathan is a board member of the Jazz Society. She also thrilled the audience with "Those Were the Days" and "La Vie en Rose." It was a superb performance. Sacha was accompanied by Joe Singer on piano, David Osterm on bass and drummer Andrea D'Abgelo. Before she raced back to Southern California for an evening concert, the Society won a promise for her to return with another show within six months.
TERRY FATOR LAUNCHES NEW FOUNDATION
Mirage headline entertainer Terry Fator has been performing for audiences around the world as the $1 million-winner of Season 2 of "America's Got Talent." The entertainer, impressionist, singer and Las Vegas resident marked the anniversary in a very special way — he launched the Terry Fator Foundation.
Since winning America's Got Talent in 2007, Terry has been a continuous supporter of many charities ranging from military-focused organizations, including Airpower Foundation and Snowball Express to the Arthritis Foundation, in which Terry has a family connection. As most fans know, 100 percent of profits from Terry's merchandise sales at The Mirage performances in Las Vegas, his out-of-state touring shows throughout the year, and even purchases made at the Terry Fator online store, benefit multiple military charities.
The foundation (currently pending its 501(c)(3) status), along with its online homewww.TerryFatorFoundation.com, gives Terry's fans a way to participate by traveling along this philanthropic journey with the entertainer. They follow Terry, his tales of giving backdated on the website, charity spotlights and highlights from the foundation's donations, appearances and events. Once the tax-exempt status is complete, everybody can donate directly to the foundation to help others.
"I'm so grateful to have a foundation that will allow me to work with my board and make sure that our giving is doing the most good for the largest number of people and families that need help the most," Terry said. "I have so many causes that I'm passionate about and personally connected to, and as I would share these stories with my fans, I would find a lot of them are directly tied to some of the same charities or have family members with certain struggles that are assisted by these groups — you never know who is affected."
Terry became a household name in 2007 when he won Season 2 of "America's Got Talent" with his unique brand of entertainment that combines singing, comedy and unparalleled celebrity impressions. After 25 years of honing his skills at county fairs and venues across the country, the Dallas-bred entertainer's big "AGT" win at age 42 catapulted him into the upper echelon of entertainers, landing him at No. 3 on Forbes' list of the top-earning comics behind Jerry Seinfeld and Kevin Hart in 2015. The feat is due largely to his multimillion dollar deal with The Mirage where his award-winning show, "Terry Fator: The Voice of Entertainment," has been running since 2009. With a cast of characters including Winston, the Impersonating Turtle; Emma Taylor, the little girl with the big voice; Maynard Thompkins, the Elvis Impersonator; Duggie Scott Walker, the annoying neighbor, Fator has been raking in awards, accolades and industry admiration ever since.
CHIPPENDALES DANCE FOR 90-YEAR-OLD BIRTHDAY GIRL
When Betty Fitzgerald celebrated her 85th birthday, she told her daughter, Gail Qualey, that if she made it to 90, she wanted the Chippendales at her party to make one remaining bucket list item come true. Well, fast forward five years and this past weekend, Gail pulled off the miracle and had Chippendale hunks James and Nathan surprise Betty during her 90th birthday bash. The duo was a hit, taking photos with Betty and her party guests throughout the night.
FOOLING PENN & TELLER
Vegas magician Jeff Mcbride became only the eighth performer of this season's "Fool Us TV" series to actually fool Penn & Teller. Master magic teacher Jeff McBride told the pair that, "Magic is not always a puzzle to be solved, but sometimes a mystery to be experienced." Jeff proceeded to fool them completely with one of his signature pieces, known as "Rainmaker," which conveys the story of a mysterious unseen force that causes two metal bowls to fill and refill with seemingly endless amounts of water. And not a drop gets spilled!
Jeff is a teacher of the art of magic and has been wowing Las Vegas audiences since he first appeared at Caesar's Palace with Diana Ross back in the 1980s. He became one of Las Vegas' youngest stars when he headlined at The Las Vegas Hilton (now the Westgate) when he was only 25. McBride also headlined Caesars Magical Empire, and for the past nine years has hosted his own magic nightclub, Jeff McBride's Wonderground in Henderson.
McBride's Magic & Mystery School was founded in 1991. The School is a "Real life Hogwarts" that teaches stage magic and close-up magic to hundreds of professional magicians from all around the world. His students include "AGT" winner and Linq hotel headliner Mat Franco. Designated "the world's most prestigious magic school," by BBC TV, McBride's School is a major influence on the art of magic around the world.
Most recently, Jeff returned from a two-month, five-city tour of China with his Las Vegas Magic Stars show, conceived and produced in concert with local illusionist Greg Gleason. The show is scheduled to return to touring early in 2018.
What's next for Jeff? "At this point, I'm focusing mostly on our magic school and bringing quality magic to audiences who wouldn't otherwise receive it. I've been strongly inspired by my late teacher (and dean of our school for 26 years), Eugene Burger. Eugene said, "The enchantments of magic point beyond mere illusion to the great mystery of life, the eternal transformation of life, death and rebirth."
TONIGHT'S TIPS
Gorgeous bombshell blonde, former "Jubilee" showgirl, Sabina Kelley launches her new pinot noir wine at the Double Helix Wine and Whiskey Lounge in Town Square. Call it a "pin-up" bottle release party because on the label she's clad solely in black bra, stockings and garter belt. But with each bottle comes a sticker sheet with 10 different outfits you can peel off and "dress" Sabina on the label! You can pick her shoes, her dress, her jeans, her tops, her dresses, her corset or a riding crop.
The 2016 pinot noir's innovative packaging produced by Sort This Out Cellars features innovative packaging that lets you decide what Sabina should wear as you pour it at your next dinner party. With clothing options from Stop Staring! clothing and tattoos by NIXX, you'll be the director of your own burlesque production. Sabina will be on hand tonight (Sept. 12) to sign bottles and take photos. The fun runs for two hours starting at 7 p.m. and many Vegas burlesque queens have promised to show up to taste the grape and cheer her onto more success. She plans to be back here before the end of the year to kick off her own variety/burlesque show.